Morgan Warns Against Early Optimism
Morgan Warns Against Early Optimism
Morgan Stanley says it's too soon to call a rebound in DWDM and other photonic components It's too soon to predict a recovery for photonic components, according to a report issued yesterday by analysts at Morgan Stanley Dean Witter & Co.

In the report, titled "Optical Component Recovery In Sight?" analysts David A. Jackson and David Siniscalchi discourage investors from placing too much emphasis on recent guidance from companies such as JDS Uniphase Inc. (Nasdaq: JDSU; Toronto: JDU) that suggests optical components may be in line for a rebound within the foreseeable future (see JDSU Sees Stability).

"Recent comments by optical components vendors suggest that order cancellations are declining and revenue visibility is improving," the analysts write. "Some investors are interpreting this as evidence of a sustainable upturn in the optical components market… We argue that it is too soon to claim that a components recovery is underway."

The analysts say the recent rally in optical component stocks "may not continue," because it's driven in part on assumptions that a work-down in optical components inventory will presage a return of demand for DWDM gear and other optical systems.

It ain't necessarily so, say Jackson and Co. They say false market expectations in early-to-mid 2000 inflated inventories so much that it's tough to predict what's going to happen based on traditional rules of supply and demand. Instead, they say, it's more realistic in the current environment to expect flattening out in both component supplies and system demand. "Our analysis leads us to believe the recovery will be gradual."

To back up their claims, they point to a range of reductions in revenue predictions for 2002, starting with those of several key component suppliers: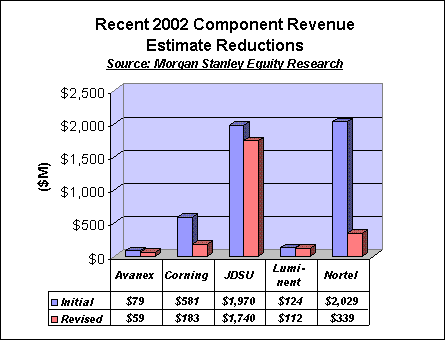 On average, these suppliers have reduced their revenue expectations for next year more than 40 percent, based on the following specific changes:




Besides posting reduced guidance, vendors like these, Morgan Stanley says, aren't putting funds in places that would signal a ready comeback: "If component vendors expected an imminent recovery in sales, they would invest in manufacturing technology, we think."

Related market sectors continue to reduce expectations as well, the report says. Key system vendors, carriers, and cable operators continue to post reductions in guidance for upcoming quarters.

Bottom line? Morgan Stanley analysts counsel investors to take care when buying optical component stocks. "We would recommend investors select stocks based on the ratio of price to tangible book value, and enterprise value to forward sales," they write. "We look for companies with critical mass, sophisticated manufacturing methods, strong intellectual property, and attractive valuation."Do any companies meet such criteria? Yes, according to the report: Agere Systems (NYSE: AGR).

"We continue to rate Agere a Strong Buy on the basis of... critical mass, sophisticated manufacturing, etc.," says the report.

— Mary Jander, Senior Editor, Light Reading
http://www.lightreading.com
Subscribe and receive the latest news from the industry.
Join 62,000+ members. Yes it's completely free.
You May Also Like
---