AUSTIN, Texas -- Big Communications Event -- Masergy is working on its app store, which will allow customers to decide when they need a different type of firewall or another virtual router. Currently, the company has five apps but CEO and Chairman Chris MacFarland said they would have more than 100 over the next 24 months.
Masergy Communications Inc. MacFarland spoke about the key elements that service providers need to have in place in order to deliver a better customer experience during his keynote address Tuesday morning here at BCE.
MacFarland talked about the importance of automation using APIs and forward-facing web services.
"Then you combine that automation with the fact that we are in a world today where machine learning is now a reality," MacFarland said. "We use it today in our managed security service where it allows us to literally look at billions of pieces of information per day and then predict the behavior of all of the machine-to-machine communications for our customers."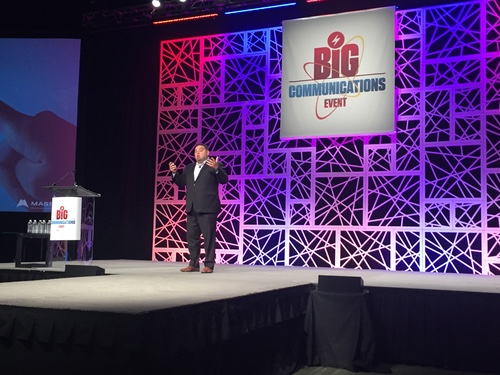 MacFarland said a global Internet customer was using its technology to watch and monitor its machinery across the world, but he foresees even bigger applications down the road.
"I'll tell you that with machine learning, we're kind of in the first epoch for artificial intelligence," he said. "When you think about what we're going to have over the next ten years, and the implications it will have on us as operators and services, it's incredible."
On the NFV front, Masergy has been delivering an NFV service on customer premise basis for just over a year.
"We've seen the impact it can have from a resource allocation standpoint and the democratization of IT," he said.
Another element of delivering a better customer experience is providing visibility and controls.
"You can have all of the automation in the world, but it doesn't make a whole lot of sense if you don't have a lot of visibility into what is taking place," he said. "So having all of these dashboards and APIs that integrate to broader solutions is absolutely paramount."
MacFarland said combining all of the elements into modular building blocks allows customers to pick and choose the things they want, but guardrails need to be in place in case customers choose something that might disrupt their services.
While the ability to provide mass customization to customers is key, MacFarland said service providers needed to think beyond the platforms they offer.
"I can tell you without a doubt from a customer experience standpoint that at the end of the day human capital is the most important asset," he said. "You have to have a commitment from a core value and culture standpoint, which I think we have today."
— Mike Robuck, Editor, Telco Transformation