DENVER -- Cable Next Gen-Technologies & Strategies -- While home broadband use has plateaued, the pay-TV market is shrinking and landline customers are diminishing, triple play isn't dead -- it's just that the game is evolving, says Shaw Communications' Dennis Stevens during his keynote today.
Stevens, SVP of product development and strategic programs for Shaw Communications Inc. , says prices for broadband have risen over the past ten years and the growth rate has started to flatten out over the last five years, as more customers rely on their smartphones and aren't even in the market for broadband in the home.
"Particularly with millennials, they don't see the need for [broadband] so they just don't buy it. They're not even in the market," Stevens said.
Looking at pay-TV, customers aren't going away, they're just seeking other video options like OTT services, he explains. The cable industry "had a good run with voice" but customers often don't see the need for landlines anymore and rely on cell phones in the home instead. Across the board, the cable industry is changing, and Stevens says, "we need to start rethinking what we're doing about that."
Millenials are effecting the OTT market. Customers don't want to buy OTT services like they traditionally bought cable and there's "a lot more pick and pay in the market," says Stevens.
"There has to be some evolution in the cable industry. We can't afford to do business the way we've always done it," he says.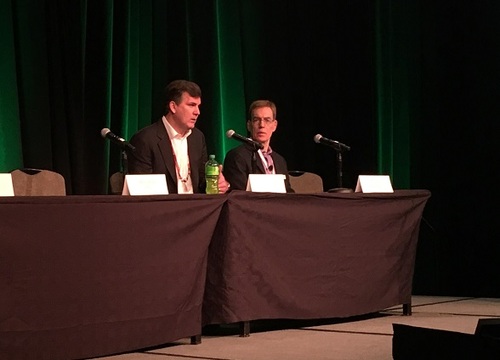 So what does this new business model look like? Referencing Dr. James Carse's game theory, Stevens says there are finite and infinite games and Stevens likens the cable business to an infinite game where players can continue as long as they have the resources and drive or will to "play." Applying those gaming principles to the cable industry, Stevens outlines a new business model with a clever, tongue-in-cheek name. Stevens dubs it "Stevens' Model."
Stevens' Model is based on capabilities or "lego blocks" cable companies can leverage to build a new business model, which includes rethinking connectivity and infrastructure -- how customers are connected and the type of infrastructure and services that they're using. The next building block for the new business model is investing in new use cases for applications like entertainment and video, IoT, healthcare and communications.
"As operators, we need to start thinking beyond triple play into 'what are these new use cases, these new applications, that could be relevant to us in the future and which ones do we choose to get into and how do we manage those over time?'"
Analytics is the third building block, using automation, advanced advertising, big data and more to understand who is using applications, how they're using them and how operators can monetize those applications.
"The way I take these building blocks together and commercialize them, I have to start thinking in terms of use cases. What are the jobs people are trying to do -- whether it's being entertained, communicating or something else -- how do I put that in terms of a product that's easy to understand, easy to purchase, easy to use, easy to provision and is there a sufficient business model around it to sustain it?"
Changing the game also means rethinking operations, security and privacy considerations, BSS/OSS and employee skillsets, he adds.
"Nobody wants a cable guy in their house," says Stevens. "How do we do this all digitally so there aren't call centers?... How do we push our businesses more into these digital models?"
---
You're invited to attend Light Reading's Big Communications Event -- the ONE event that delivers fresh perspective on the rapid transformation of the telecom industry and the road ahead. We'll see you May 14-16 in Austin -- communications service providers get in free!
---
As the communications industry increasingly moves from hardware to more software-based operations, service providers' employees have to adapt new skillsets and their businesses must change to meet what the market is demanding. If operators aren't already on that trajectory in their digital transformations, they're behind, says Stevens.
"There's another gaming theory -- if someone has another strategy and they're beating you with it, adopt that strategy."
— Kelsey Kusterer Ziser, Senior Editor, Light Reading