Nearly 67% of Google's 'Fiberhoods' Reach Goal
Google
(Nasdaq: GOOG) says 135 of the 202 "fiberhoods" in the Kansas Cities (almost 67 percent) have reached their pre-registration goals as the deadline of the first Google Fiber "rally" approaches. Residents have until midnight Sunday to put in their lot.
GigaOm
counted them up
and determined that about 21,000 people have paid the $10 pre-registration fee heading into the weekend.
Put another way, Google Fiber's already got $210,000 in revenues in the door. But it'll be giving some back, since Google has promised to refund fees to people who pre-register but whose fiberhoods fail to reach their goals. (See
Google Tweaks 'Fiberhood' Data
.)
It looks like the Crown Center section is tops on the Missouri side, with 400 pre-registered, while Hanover Heights (215 pre-registrants, good for 47 percent of the fiberhood) leads the way in Kansas. At this point, they'll be first in line to get services. (See
How Long Will Google Keep the Fiber Flowing?
and
Google Fiber's Drive for Density
.)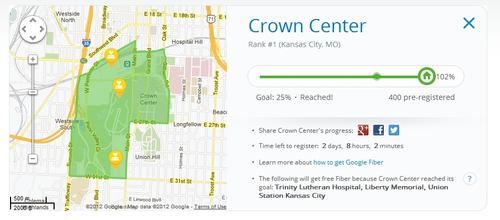 Google Fiber hasn't pinpointed a date for when services will get turned up, but spokeswoman Jenna Wandres says the organization will tally the final figures, figure out the buildout plan, and then open the site so qualified households can pick those services. Google will start to build fiber soon after that, she says.
Google's 1Gbit/s service will run $70 per month, with its subscription TV add-on selling for $120 per month. The first TV box and Nexus 7 tablet come with the TV service, but additional set-tops will cost $5 each per month. Google will waive a $300 construction fee if customers agree to one- or two-year service contracts. (See
Google Fiber Bundles TV, Shuns Data Caps
.)
— Jeff Baumgartner, Site Editor,
Light Reading Cable
PARTNER PERSPECTIVES
- content from our sponsors