Google Fiber Now a Wireless ISP!
Google Fiber Now a Wireless ISP!
Google Fiber closes on Webpass acquisition, taking on the startup company's fixed wireless technology and 'tens of thousands' of broadband customers.


Google Fiber hasn't laid to rest any doubts about its prospects for becoming a competitive network operator.
To date, the company still has an infinitesimal share of the broadband provider market, its timeline for deployments has stalled and unnamed sources have reported that Google Fiber Inc. is laying off hundreds of employees -- a claim that parent company Alphabet Inc. refuses publicly to either confirm or deny. (See Google Fiber Downsizing Not Confirmed.)
However, as of today, Google Fiber has officially expanded its broadband reach and achieved new status as a wireless Internet service provider. In a corporate blog post, Google Fiber announced that it has closed on its acquisition of San Francisco-based Webpass, taking over that company's point-to-point wireless business and gigabit broadband customers in five major US markets. (See Google Fiber Buys Webpass in Wireless Play.)
Figure 1: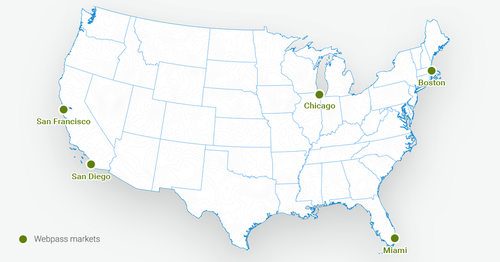 Source: Google Fiber
To be clear, the acquisition of Webpass doesn't do much to add to Google Fiber's customer volume. Even with deployments in San Francisco, San Diego, Chicago, Boston and Miami, Webpass only claims "tens of thousands" of total subscribers. But Google Fiber has made it clear that it hopes to use the Webpass technology to supplement its fiber-to-the-home networks for gigabit delivery.
From today's blog post: "Of course, at Google Fiber we're particularly excited about Webpass' application of point-to-point wireless deployment methodology. As we've said, our strategy going forward will be a hybrid approach with wireless playing an integral part. Webpass has proven that point-to-point wireless is a reliable way to connect more people to high-speed Internet in a densely populated environment, by setting up wireless transmission links between buildings."
The rollout of Gigabit broadband access networks is spreading. Find out what's happening where in our dedicated Gigabit Cities content channel here on Light Reading. While Google Fiber has been lacking in strong results from its broadband business to date, parent company Alphabet hasn't been shy about spending money on networking technology. Far beyond the Webpass acquisition -- about which Google Fiber hasn't divulged any financial details -- Alphabet reportedly has an annual capex budget of $9.9 billion, almost all of which funnels toward network and compute infrastructure development. (See Nokia: Why Web Scale Alone Can't Win.) Meanwhile, the news about Webpass comes on the eve of further Google announcements planned for October 4 around the company's so-called "Made by Google" event. Pundits predict that new products launched at the event will include phones, a Google Home device, a 4K Chromecast and even a new WiFi router... for Google's continuing effort to put its fingers in all the Internet pies. — Mari Silbey, Senior Editor, Cable/Video, Light Reading
Subscribe and receive the latest news from the industry.
Join 62,000+ members. Yes it's completely free.
You May Also Like
---