Who needs fiber-to-the-home? Not cable, at least not any time soon, according to a new bandwidth and performance technology assessment from Motorola Inc. (NYSE: MOT).

Most cable operators, Moto found, can squeeze another seven to 10 years out of their hybrid fiber/coax (HFC) networks if they proceed with a plan that involves splitting their node sizes at least two more times, coupled with a "mid-split" that beefs up the amount of spectrum that can be allocated toward cable's upstream. Moto based that conclusion on an analysis of future performance expectations and the costs required to reach those performance levels.

Node splits, by general rule, double the amount of bandwidth available per home passed. A mid-split, which happens to be one of several upstream-boosting options CableLabs is looking at, would expand the upstream spectrum range from the current 5 to 37MHz, to 85MHz, giving the operator a clean swath of capacity to play with. (See CableLabs Eyes a Super-Sized Upstream .)

Given that most MSOs still operate networks that serve about 500 homes per node, those future node splits would end up hitting a serving group "sweet spot" of 100 to 150 homes passed, giving operators the capacity they'll need to most economically support gigabit-class speeds in the downstream, more than 100Mbit/s in the upstream, plus the ability to go with unicast IPTV services.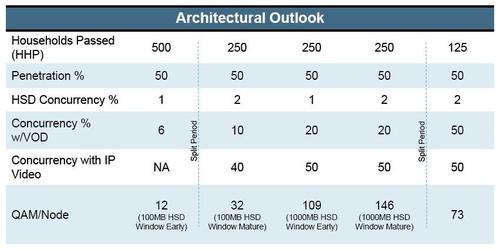 Results of the study have "reframed how we look at the market. And leading off is how many homes [a cable operator] should serve per node," says Floyd Wagoner, Motorola's director of global product marketing and marketing communications.

But the study was based on some assumptions on several expected market forces, factoring in how much HD, video-on-demand, IP streams, and raw Internet capacity operators will be expected to offer over the next decade.

Cable's window for the 100Mbit/s downstream is already open and, driven by competition rather true customer requirements, is poised to reach relative ubiquity by 2013 or 2014, in Moto's estimation. Today, several operators, most recently Videotron Ltd. , have either met or breached that mark. (See Videotron Opens the D3 Throttle , US MSOs Get Rolling With 100-Meg Wideband , and Comcast's Target: 105-Meg D3 Downstream .)

The next window -- a 1Gbit/s downstream -- is expected to open sometime between 2015 to 2020, based on Jakob Nielsen's Law of Internet bandwidth, which holds that downstream bandwidth availability grows at a 50 percent compound annual growth rate (CAGR).

A 125-home-per-node architecture would also give operators the capacity they'd need to migrate completely to an IPTV service. "You're practically at unicast when you're that small," says John Holobinko, VP of strategy and business development for Motorola's Access Networks Solutions unit.

And it would likely be more efficient from a bandwidth perspective. MSOs will also be able to dial in MPEG-4 and variable bit-rate video streaming, says Dr. Robert Howald, who works for the CTO Office at Motorola.

Odd men out: The 'high-split' and N+0
The technology loser in Moto's conclusions isn't FTTH -- cable's move to that at any scale goes well beyond the study's seven-to-ten-year window.

Instead, the study suggests that cable can extend the life of the HFC network without burning a bunch of cash on a fresh upstream that could be placed above 1GHz, sometimes referred to as a "high-split," or hop arbitrarily to an Node-Plus-Zero (N+0) architecture that would eliminate all electrified amplifiers between the node and the home while still hitting the homes-per-node sweet spot Motorola's advocating.

"Why invest in [a high-split] upstream when you buy a few years with a mid-split?" Howald asks. He acknowledges that the current North American Docsis upstream (5 to 42MHz) has some room for growth with technologies like S-CDMA, but it "has a foreseeable exhaustion point" that can be fixed with a less intrusive mid-split and avoid the pain and "unreasonable expense" of installing an upstream path above 1GHz. (See Moto: S-CDMA Starting to Spread and Moto Preaches Cable's Upstream Savior .)

A high-split will give cable the ability to hit gigabit-class upstreams, but Moto assumes that's overkill in both costs and performance because its models show that cable will need only to build out for a 100Mbit/s upstream within the next decade.

It's making a similar argument with N+0, claiming that the architecture, despite being the easiest to manage, just isn't worth it from capex and opex standpoints. Motorola instead suggests that a move to "N+small" (a move from N+5 to N+3, for example) offers a more cost effective option.

"N+0 is an extremely painful thing without a lot of benefit to it," Holobinko argues. He allows that it may be the right move in some rural areas and in new-build scenarios but is not a viable upgrade path for the average cable operator.

Wagoner says the move to N+0 "sounds beautiful," but it won't be cost effective on a grand scale for another decade.

But not everyone agrees. Aurora Networks Inc. has been championing the use of N+0, scoring deployments with a range of Tier 1 and 2 MSOs, including Suddenlink Communications , and Bresnan Communications LLC (soon to become part of Cablevision Systems Corp. (NYSE: CVC)), as well as two Canadian MSOs: Videotron and Rogers Communications Inc. (Toronto: RCI). Of that group, Videotron is the marquee example, as it's deploying N+0 widely. Rogers is using it only in new-build scenarios. (See Videotron Plants 'Fiber Deep' .)

Aurora maintains that N+0 is the easiest HFC architecture to maintain and operate, is less costly over the life of the network, and is just plain greener. And, at 85 to 125 homes per node, N+0 also hits near Motorola's purported sweet spot, and gives MSOs the capacity they'll need for narrowcast and unicast video. (See Aurora Networks Plays the 'Green' Card.)

Aurora VP of marketing John Dahlquist allows that node splits can also help MSOs get there, but he calls it a "quick-fix, stop-gap" approach.

"You can get more mileage on node segmentation, but you're driving up your operating costs," he says, contending that N+0 saves 50 percent to 60 percent of plant-related power costs.

Although many N+0 deployments are occurring in new builds and on older systems that require healthy upgrades, Dahlquist still believes the majority of the cable industry will go with the architecture within the next five to seven years.

So, Motorola and Aurora appear to be in agreement on node sizes of the near future, but not on the number of amps that will be serving those smaller (but higher capacity) nodes.

What about FTTH?
A controversial 2006 report from CableLabs suggested that it would make economic sense for operators to switch to FTTP once node sizes fall below 125 homes passed. Although not everyone agreed with that analysis at the time, Motorola's study indicates that HFC has at least a decade left before such a drastic measure might need to be considered on a large scale.

These days, the use of Radio Frequency Over Glass (RFoG) or PON-fueled cable FTTH deployments remains a targeted endeavor, largely relegated to small greenfield residential opportunities, for plant extensions in rural areas, or as a tool to serve business customers. And no one appears to think that'll change any time soon. (See Arris Gets Some RFoG Action , Costs Could Keep RFoG a Niche Player , and MetroCast Rolls With Moto's RFoG.)

"We don't see anything replacing the HFC network overnight," Wagoner says.

RFoG remains a "niche" technology, although it is getting some traction in parts of the world where cable networks aren't developed or don't exist at all, Dahlquist says. For now, just a fraction of Aurora's revenues come from its RFoG lineup, with the majority tied to sales of its Fiber Deep (N+0) products.

— Jeff Baumgartner, Site Editor, Light Reading Cable