Consumer advocates, industry groups still quibbling over broadband label rules
Requirements for forthcoming consumer broadband labels are nearly finalized, but a new batch of FCC filings shows there are still key points of disagreement between public interest groups and industry organizations representing ISPs.
Last November, as required by the Infrastructure Investment and Jobs Act (IIJA), the FCC published rules for broadband nutrition labels. But the Commission also released a further notice of proposed rulemaking, seeking comment on additional unresolved questions about pricing information and bundles, label accessibility, performance metrics, service reliability, making labels available in multiple languages and more.
In public comments filed with the FCC, which were due on March 16, consumer advocates including Next Century Cities and Consumer Reports expressed opposing views from industry groups like NTCA–The Rural Broadband Association and the Wireless Internet Service Providers Association (WISPA) on some of those matters.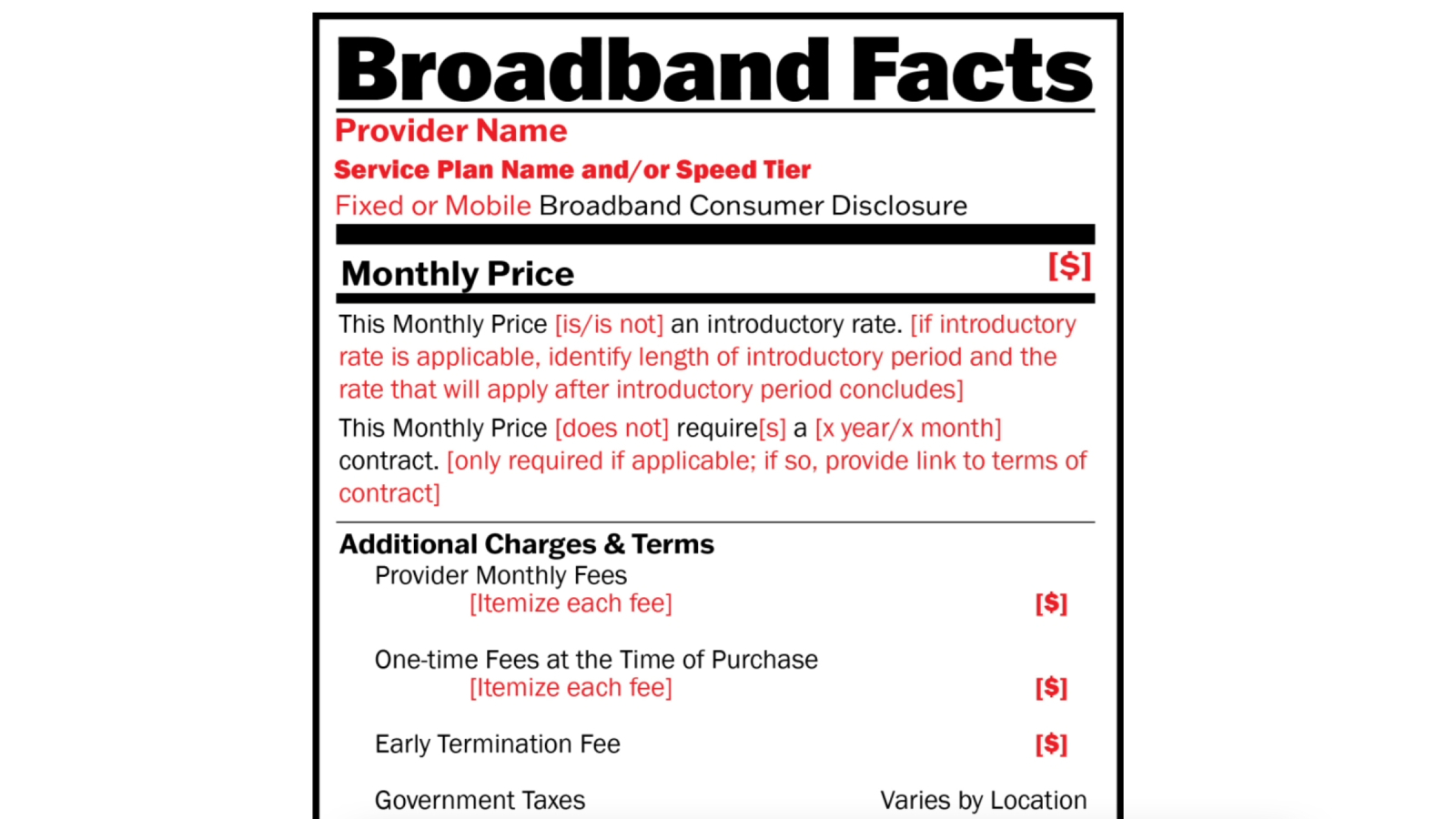 To be sure, industry groups representing service providers are against the FCC making additional changes to the rules released in November. As ACA Connects argued, "at minimum," the FCC should "wait until the labels have been implemented and there has been an opportunity to evaluate their effectiveness as a consumer resource before considering the need for additional rules."
WISPA and NTCA expressed the same, writing in a joint filing: "There is no evidence of deficiencies in the label requirements adopted by the Commission, and indeed there can be no evidence of deficiency since the newly adopted label requirements have not yet been tested. Nonetheless, several parties suggest additional prescriptive measures that, even if well-intentioned, would ultimately impose counterproductive outcomes."
Here are some of those remaining sticking points.
Promotional rates and discounts
As per FCC rules published in November, the broadband labels would require ISPs to display the full, non-discounted broadband plan rate. ISPs can then publish additional pricing information regarding applicable discounts, promotional rates and promotion expiration dates via a link.
But in a joint filing from Next Century Cities and Consumer Reports, the public interest organizations argued that "a link puts this content just out of reach for those that do not have the time or digital literacy skill to hunt for additional information."
Instead, they say: "the label must be explicit whether a consumer is paying a promotional price — even if the full price is listed on the label — and crucially, when the promotional rate expires. Anything less does not satisfy the one thing the law mandates to be included in the label."
The groups further warn that "the practice of attaching fees and discounts to internet service which can obscure the price or change it over time is a deliberate choice exercised by ISPs."
Industry associations are opposed to that argument. Instead, filings from NTCA and WISPA, as well as USTelecom and ACA Connects, argue that including discounted and promotional rates on the label would risk confusing consumers and overwhelming providers.
"The Commission already decided on a voluminous record that it should not mandate inclusion of detailed price information on the label, such as bundles, local taxes, and all discounts, because doing so could be 'confusing for consumers' and 'overwhelming' so as to 'effectively render comparison shopping impossible.' Nothing warrants departure from this approach," wrote USTelecom.
Label languages
Consumer advocates and industry representatives also disagree on making broadband labels available in multiple languages. Currently, the FCC's broadband label rules would require ISPs to only produce labels in non-English languages when the company markets in that language.
As Next Century Cities and Consumer Reports argue, "Making broadband labels available in languages such as Simplified and Traditional Chinese, Korean, Vietnamese, Tagalog, and Arabic (the next five most spoken languages in America) expands accessibility to populations who speak the next five most spoken languages in the United States."
Further, they add, while ISPs "have incentives" to limit their marketing materials to English and Spanish, "Every person in every community must be able to access their provider's broadband nutrition label. Without doing so the Commission cannot fulfill Congress's intent to promote understanding about broadband service plans."
Industry groups, on the other hand, are pushing the FCC to stick with its existing rules, comparing broadband nutrition labels to food and drug nutrition labels: "the Food and Drug Administration ("FDA"), upon whose nutrition labels the broadband labels are based, does not impose requirements for the publication of food nutrition or even pharmaceutical information in non-English languages, despite the fact that food and pharmaceutical consumption can implicate actual life and death consequences," said WISPA and NTCA.
Performance and reliability data
Another area the FCC sought input on was whether it should require additional performance and reliability data on broadband labels.
There's some evidence consumers would like to see that: A study conducted last year by Carnegie Mellon University's CyLab showed consumers wanted broadband labels to display speed data for "poor" and "normal" performance times as well as service reliability data.
Referring to that study, the National Digital Inclusion Alliance (NDIA) urged the FCC in its latest filing "to include this metric on the label to give consumers and digital inclusion practitioners a complete picture of the service."
But citing filings from other groups representing broadband providers, WISPA and NTCA argued against including reliability metrics, noting that reliability "is not a function of poor network quality, as one commenter suggests, but of an infinite number of external and unpredictable events that can occur at any time."
Further, they add: "Those advocating for reliability to be expressed on the label may have good intentions, but they cannot overcome the inherent difficulties in explaining reliability or the lack of meaningfulness with respect to future reliability ... disclosure of downtime in any form cannot accurately predict the extent of future outages and could even be misleading."
Related posts:
— Nicole Ferraro, editor, Light Reading, and host of "​​The Divide" on the Light Reading Podcast.
EDUCATIONAL RESOURCES


PARTNER PERSPECTIVES
- content from our sponsors