Cable, Telecoms Spend Millions to Fete Trump
Cable, Telecoms Spend Millions to Fete Trump
And AT&T tops the list. Tech companies may have proceeded cautiously in either supporting or opposing the polarizing figure of Donald Trump during the election, but many nonetheless decided it was in their best interest to proffer a financial donation to the president elect in advance of his inauguration festivities in January.
Big cable and telecom companies were no exception.
In a record-breaking fundraising effort, the 58th Presidential Inaugural Committee attracted nearly $107 million in donations, which it reported in a filing with the Federal Elections Commission this week. At the top of the list, AT&T Inc. (NYSE: T) donated $2 million in cash for the event, and more than $82,000 in mobile equipment and software. Verizon Communications Inc. (NYSE: VZ) ponied up a much smaller amount of $100,000, and Comcast Corp. (Nasdaq: CMCSA, CMCSK) and Charter Communications Inc. each donated $250,000 toward the ceremonies. The Charter figure is somewhat deceiving, however. In addition to the company donating money, both John Malone and Greg Maffei also wrote checks for $250,000 each. Malone and Maffei are chairman and CEO respectively of Liberty Broadband , which has an ownership stake in Charter. Sister companies Liberty Media Corp. (NYSE: LMC) and Liberty Interactive also gave $250,000 each to the Trump committee.
In theory the donations don't buy companies any government favors, but they do deliver access, as evidenced by the VIP invitations many high-level donors received to private inauguration events. Access can be helpful, particularly when a company is looking for regulatory approval on a merger deal, as AT&T is doing with its bid to acquire Time Warner Inc. (NYSE: TWX). (See How AT&T's FCC End Run Could Backfire.)
In fairness to AT&T, the company spent even more money in support of President Barack Obama's inauguration in 2013, with a gift of $3 million in cash and another $1.6 million in services and equipment. AT&T wasn't actively pursuing a deal at the time, but 16 months later the telco did announce its plan to acquire DirecTV, a transaction that closed in 2015.
Figure 1: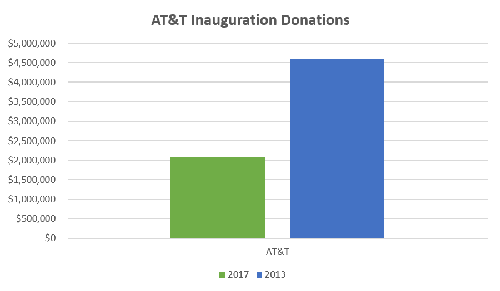 Source: Federal Election Commission
AT&T was the only telecom company to spend more in 2013 than it did in 2017. Comcast donated only $31,000 to President Obama's second inauguration, while Verizon wrote the same $100,000 check both this year and in 2013 for Obama. Charter was notably absent from the donations list four years ago, as were John Malone's other companies.
In 2009, Obama didn't accept corporate donations for his inauguration and surrounding events.
For fixed broadband market coverage and insights, check out our dedicated Gigabit/Broadband content channel here on Light Reading. In addition to cable and telecom service providers, several other notable tech companies also opened up their wallets for the Trump festivities. Qualcomm Inc. (Nasdaq: QCOM) donated $1 million, while Microsoft Corp. (Nasdaq: MSFT) and Intel Corp. (Nasdaq: INTC) each gave half a million to the inaugural committee. Google (Nasdaq: GOOG) donated $285,000; Samsung Corp. gave $100,000; and Amazon.com Inc. (Nasdaq: AMZN) delivered $50,000 plus more than $7,700 in web hosting services. Apple Inc. (Nasdaq: AAPL) and Facebook did not donate money. Figure 2: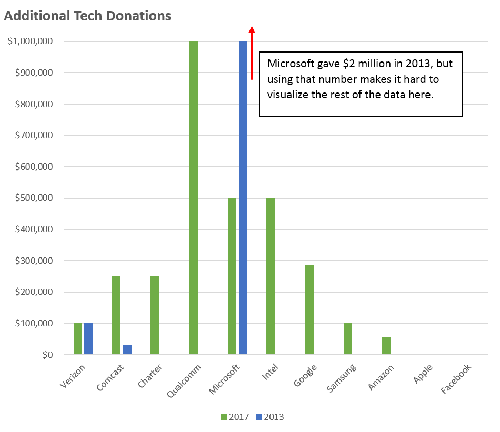 Source: Federal Election Commission — Mari Silbey, Senior Editor, Cable/Video, Light Reading
Subscribe and receive the latest news from the industry.
Join 62,000+ members. Yes it's completely free.
You May Also Like
---