Broadband Incumbents Should Be 'a Little Bit Nervous' About Starry – Analyst
Broadband Incumbents Should Be 'a Little Bit Nervous' About Starry – Analyst
Starry's millimeter wave-powered fixed wireless technology and biz economics 'appear to be working' as startup prepares to enter several more markets. Despite ongoing skepticism about the limitations of using millimeter wave (mmWave) spectrum to deliver speedy broadband services, a top industry analyst came away bullish about Starry's technology and the economics underpinning its business.
In a blog post recounting a visit with Starry Inc. this week, MoffettNathanson LLC analyst Craig Moffett said the update from the startup, now that it has some real-world data about its business, was "eye-opening."
"The short answer is... the technology, the economics, and the business itself all appear to be working," Moffett wrote.
That summation arrives as Starry, which views itself as a 5G player, prepares to launch its cap-free, low-cost fixed wireless broadband service to almost 20 more markets following initial rollouts in parts of its home town of Boston, as well as New York, Los Angeles and Washington, D.C. Other markets in the deployment plan include Denver; Cleveland; Chicago; Houston; Dallas; Seattle; Detroit; Atlanta; Indianapolis; San Francisco; Philadelphia; Miami, Memphis; Phoenix; Minneapolis; Manchester, N.H.; Portland, Ore.; and Sioux Falls, S.D. (See Starry Scores $100M More for Wireless Broadband.)
Targeting apartment buildings and other multiple-dwelling units early on with plans to offer service to single-family homes in the second half of 2019, Starry has been using mmWave signals (operating a 600MHz slice of spectrum in the 37GHz - 38.6GHz band) to deliver symmetrical speeds of 200 Mbit/s, starting at $50 per month. Starry has also filed to participate in the FCC's spectrum auction in the 24GHz band. (See Starry Sets NYC Launch, Aligns With Real Estate Developer , Starry Fixed Wireless Debuts at $50/Month and Cable Nearly a No-Show in mmWave Auction.)
Figure 1: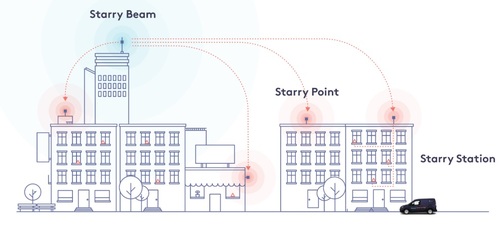 A high-level view of Starry's architecture. Starry has been focused on MDUs, but has plans underway to serve individual homes in the latter part of 2019, according to Moffett.
Starry is a broadband-only service, but does steer its customers to various over-the-air and OTT-TV options, including YouTube TV, Hulu (live TV), Sling TV, PlayStation Vue, DirecTV Now and fuboTV.
Moffett, who met with Starry about 18 months ago, acknowledged that Starry's business is still "small." The Boston-based startup hasn't announced customer numbers, but the analyst estimates that it's reasonable to assume that it's currently measured in the tens -- not hundreds -- of thousands.
However, he said there are signs that Starry's business is ready to scale as the company heads into 2019.
Aligning on a cost model
Part of his reasoning stems from Starry's cost model, which is getting close to the company's target of $20 per home passed, or the total cost per tower divided by the number of serviceable homes in the radius of each tower, Moffett explained. He said a prototype for a new, smaller version of the Starry Beam receiver tailored for the single-family home use-case indicates that Starry has achieved its goal to get that piece below the $200 mark.
"With low costs and a price to the consumer of $50 per month... their economics are compelling," Moffett said. He added that company founder and CEO Chet Kanojia said the "breakeven" for a new microcell is a mere 120 paying customers.
Based on customer acquisition costs that come in under $450, Starry can reach breakeven on an individual customer, Moffett said.
Starry told the analyst that it typically achieves 25% market share in newly-served buildings within the first 30 days via a combo of word-of-mouth and the use of door hangers and other in-building marketing pieces. Though the buildings that Starry serves today are not huge, they are adding more than 1,000 new subs per week.
Starry's approach does, of course, draw comparisons with Verizon Communications Inc. (NYSE: VZ)'s new 5G Home product, which also uses mmWave signals and leans on a small cell infrastructure. However, Kanojia, Moffett said, is skeptical that Verizon's planned dual-use of the technology for mobility and fixed wireless broadband will be feasible. (See Verizon's Home-Grown 5G Arrives Today.)
The use of mmWave spectrum, in general, requires towers to be close to the home or building, and does not perform well in the presence of buildings, trees and foliage. It also has trouble penetrating walls and windows.
Starry disputes that its approach is saddled with those issues, claiming to Moffett that its hybrid analog/digital beam-forming technology can achieve greater propagation distances than other use cases.
Kanojia, who started up Starry after his previous company, Aereo, got run into the ground by the broadcasters, also argued that mmWave can be useful indoors, telling Moffett: "Anyone claiming these frequencies can penetrate modern construction materials -- insulation-lined walls, for example, or modern glass -- is lying." [Ed note: We've asked Starry to provide more color on how it overcomes these well-known obstacles for mmWave signals.] (See Last Chapter (11) for Aereo and Supreme Court Halts Aereo's Flight.)
Despite being impressed with what Starry has done so far, Moffett is also realistic about Starry's competitive impact on the broader US broadband market, as its approach is expected to apply to maybe a third of the country and be limited to urban areas. For now, it appears that Starry could, at the very least, be a nuisance for other service providers to be mindful of in pockets of the markets where Starry ends up.
"Thus far, Starry's serviceable markets are little more than specks on the country's broadband map," Moffett said. "Even with their rapid rate of growth, Starry won't be much more than a rounding error in broadband market share calculations for the next few years (and scaling even to that size will require additional capital and dramatic expansion of personnel, which takes time)... And, despite all the caveats, it is impossible not to be at least a little bit nervous about what Starry means for the broadband incumbents."
— Jeff Baumgartner, Senior Editor, Light Reading
Subscribe and receive the latest news from the industry.
Join 62,000+ members. Yes it's completely free.
You May Also Like
---