Broadband data usage reaches parity between subs on capped and unlimited tiers – study
Home broadband usage among customers on unlimited data policies have long outpaced the usage of households on capped or usage-based policies. However, the data consumption gap between those two groups has finally closed, according to OpenVault.
Results from the Q1 2023 edition of OpenVault's Broadband Insights report (registration required) found, for the first time, that the amount of data consumed by home broadband subs has effectively reached parity among those on usage-based billing (UBB) and unlimited, flat-rate billing (FRB) plans. And that gap has closed despite the fact that overall usage continues to rise on a year-over-year basis.
In Q1, OpenVault found that consumption by UBB subs climbed to 537.7 gigabytes, just ahead of the 555.5GB used by subs on unlimited FRB plans. The average weighted data across all home broadband subscribers analyzed in the quarter reached 560.5GB, up 9.1% from year-ago totals.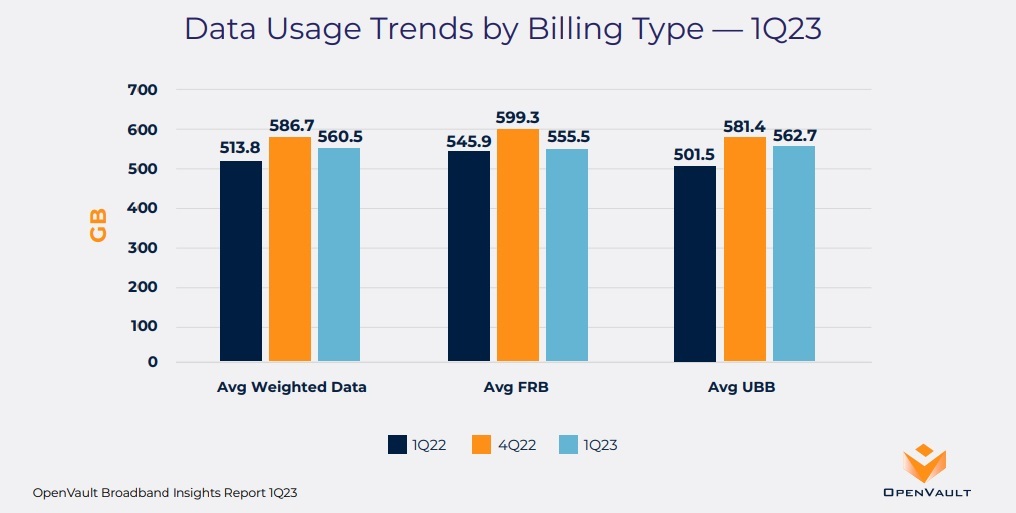 OpenVault, a company that specializes in collecting and analyzing household broadband usage data, bases its quarterly reports on anonymized and aggregated data from "millions of individual broadband subscribers."
Broadband operators gravitating to unlimited data options
A convergence of data consumption levels among broadband customers on unlimited or usage-based/capped tiers is due in part to a broader gravitation toward unlimited data options among operators that also support usage-based policies.
Cable One, an operator that offers both options, is seeing more of its customers migrate to its unlimited data offering compared to its usage-based plans, company CEO Julie Laulis said earlier this month during Cable One's Q1 earnings call. As a result, usage-based plans are now having a smaller impact on overall broadband average revenue per user (ARPU) than in the past, she said.
Cable One's ARPU did rise 4.5% in the quarter, but the company attributed the gain to customers upgrading to higher speed tiers alongside a modem rate increase that was implemented in the fourth quarter of last year.
Meanwhile, Comcast is starting to steer customers toward unlimited options. New tiers affixed with faster upload speeds now come with xFi Complete, a package that typically sells for an additional $25 per month and includes a lease of a Comcast gateway, the operator's advanced cybersecurity product, Wi-Fi controls and unlimited data. Comcast's standalone unlimited data option costs an additional $30 per month.
That's all taking shape as some operators, including Comcast, start to put more emphasis on ARPU growth (rather than raw subscriber growth) as the key metric of performance for its broadband business.
Charter said it has no plans to implement usage-based policies as an FCC ban on Charter's use of data caps lifts today (May 18).
"UBB is gradually becoming a less effective tool for moderating usage," OpenVault said.
Rise of the 'power users'
That trend is also taking shape as the percentage of "power users" – those that consume 1 terabyte or more per month – continues to rise. OpenVault found that the percentage of power users in Q1 was 17%, up 16.2% year-over-year. Meanwhile, "super power users" – those consuming 2TB or more per month – rose to 3%. Notably, gains in both categories were similar among the UBB and FRB subgroups.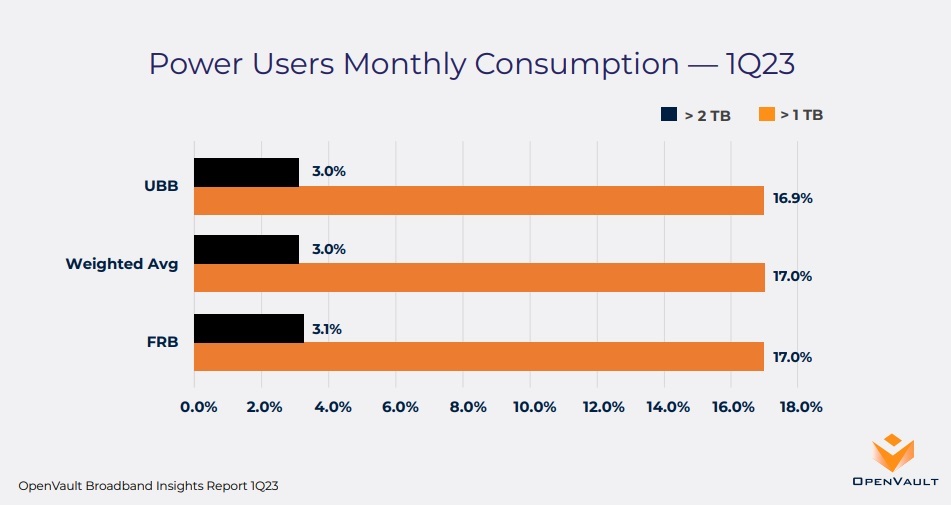 From a broader perspective, OpenVault's Q1 report found that about 18.1% of broadband subs now take speeds of 1 Gbit/s or more. On the other end, the percentage of subs provisioned for speeds of less than 200 Mbit/s dipped down to 19% – a 39% year-over-year decrease.
And while the trend in broadband is shifting toward symmetrical, multi-gigabit speed tiers, data usage continues to be highly asymmetric. OpenVault said the average downstream speed in Q1 was 435.4 Mbit/s compared to the average upstream speed of 24.1 Mbit/s.
Data consumption trends were similarly asymmetric. Average monthly downstream usage was 524.8GB in the quarter versus an upstream usage average of 35.7GB.
Related posts:

— Jeff Baumgartner, Senior Editor, Light Reading
EDUCATIONAL RESOURCES


UPCOMING LIVE EVENTS
June 6-8, 2023, Digital Symposium
June 21, 2023, Digital Symposium
December 6-7, 2023, New York City
All Upcoming Live Events
PARTNER PERSPECTIVES
- content from our sponsors