Cable One pins DOCSIS 4.0 network upgrades at $200 per household
Cable One pins DOCSIS 4.0 network upgrades at $200 per household
Cable One's expected costs for DOCSIS 4.0 upgrades are similar to Comcast's. But the mid-sized operator says it intends to roll out D4.0 'selectively' on a market-by-market basis.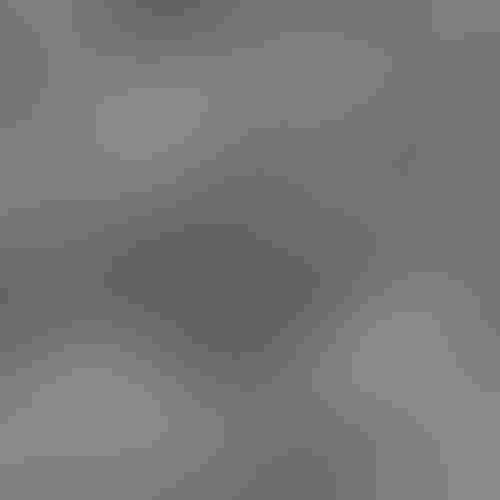 Cable One is the latest cable operator to assign a cost to its future upgrade to DOCSIS 4.0, an emerging platform for hybrid fiber/coax (HFC) networks that delivers symmetrical broadband speeds along with a promise of lower latencies and improved security.
"As the network evolves to DOCSIS 4.0, we estimate that these network upgrades will cost around $200 per passing," Julie Laulis, Cable One's president and CEO, said Thursday on the company's first quarter 2023 earnings call.
Figure 1: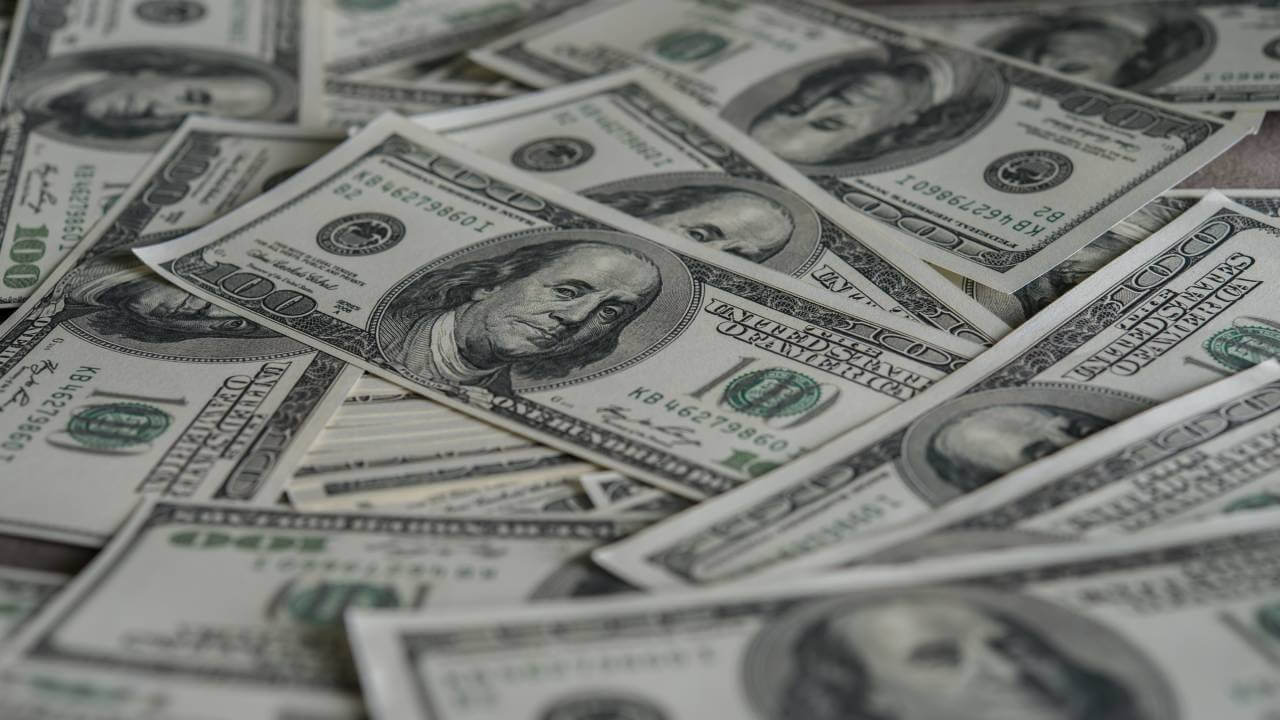 Cable One doesn't expect DOCSIS 4.0 network upgrade costs to break the bank.
(Source: Image by jcomp on Freepik)
Those costs don't include any new modems and gateways that can take full advantage of DOCSIS 4.0's capabilities. New CPE won't be much of a requirement, anyway. The company confirmed to Light Reading that it has no plans to eliminate the spectrum dedicated today to DOCSIS 3.1, so legacy modems are expected to continue operating for years to come.
Cable One's costs for D4.0 fit within the range that Comcast and Charter Communications have signaled for their respective HFC network upgrades. Comcast anticipates less than $200 per household passed for its D4.0 network implementation. Charter expects its multi-phased "network evolution" plan, which includes a deployment of full D4.0 in 35% of its HFC footprint, to run about $100 per household passed.
Cable One has previously indicated that it will use the Extended Spectrum DOCSIS (ESD) option for DOCSIS 4.0. That version envisions a network built to 1.8GHz while keeping downstream and upstream traffic flowing in dedicated spectrum. Comcast's approach with Full Duplex DOCSIS (FDX) will keep its spectrum ceiling at 1GHz and add an FDX band that allows upstream and downstream traffic to occupy the same block of spectrum.
Cable One didn't offer a lot of detail on the timing and extent of its coming D4.0 upgrades. However CFO Todd Koetje said Cable One will look to roll it out "selectively" on a market-by-market basis.
Laulis added that the deployment would be selective based on a "variety of reasons." The level of broadband competition from fiber competition will undoubtedly play a role in where Cable One targets its DOCSIS 4.0 upgrades.
Competing with FWA
Though DOCSIS 4.0 will enable Cable One to deliver speeds well beyond the 1-Gig it can offer today on HFC and help it to compete with fiber-to-the-premises (FTTP) providers, the company is also looking into lower-level plans that would pair up against fixed wireless access (FWA) offerings. Cable One's current entry-level broadband service delivers up to 200 Mbit/s in the downstream.
Offering lower-level tiers is "something we are looking at," so long as it can be done profitably, Laulis said. "It would open up a new cohort for us."
For now, Cable One is only seeing a small competitive impact from FWA, particularly from former DSL users who are "experimenting" with fixed wireless, Laulis said. Similar to Charter's view, Cable One also believes FWA customers will eventually migrate to wireline broadband as data usage requirements rise.
She said nearly 21% of Cable One's residential broadband customers are exceeding 1 terabyte of data per month. However, average network utilization during peak hours has actually dropped from 23% to 21% year-over-year, reflecting ongoing investment in the network, Laulis added.
Not rushing into mobile
As for adding mobile to the bundle, Cable One is content to stay on the sidelines for now and focus on defending and growing its broadband market share.
Laulis said Cable One has not heard that its customers are looking for a converged home/mobile product. "If it's what our customers want, then that's something we can move towards," she said.
Cable One has an option if it so desires. Cable One is a member of the National Content & Technology Cooperator (NCTC), an organization that now offers members a way to market and sell mobile services through deals recently cut with Reach and AT&T.
Financial snapshot
Cable One posted Q1 revenues of $421.89 million, down 1.1% year-over year. Residential data revenues climbed 5.5% to $242.69 million and residential revenues dropped 17% to $70.28 million.
Cable One added 4,100 residential and business broadband customers in the quarter, down from +11,500 in the year-ago period.
The operator also lost 13,200 residential video subscribers. Reflecting its indifference to pay-TV, Cable One's video penetration has plummeted to 6.1%.
Meanwhile, the average revenue per unit (ARPU) for broadband continues to climb – up 4.5% to $83.58. Cable One attributed that partly to upgrades to higher speed tiers and a modem rate increase implemented in the fourth quarter of last year.
According to MoffettNathanson's analysis, Cable One's broadband ARPU remains heads and shoulders above its publicly traded cable peers:
Figure 2: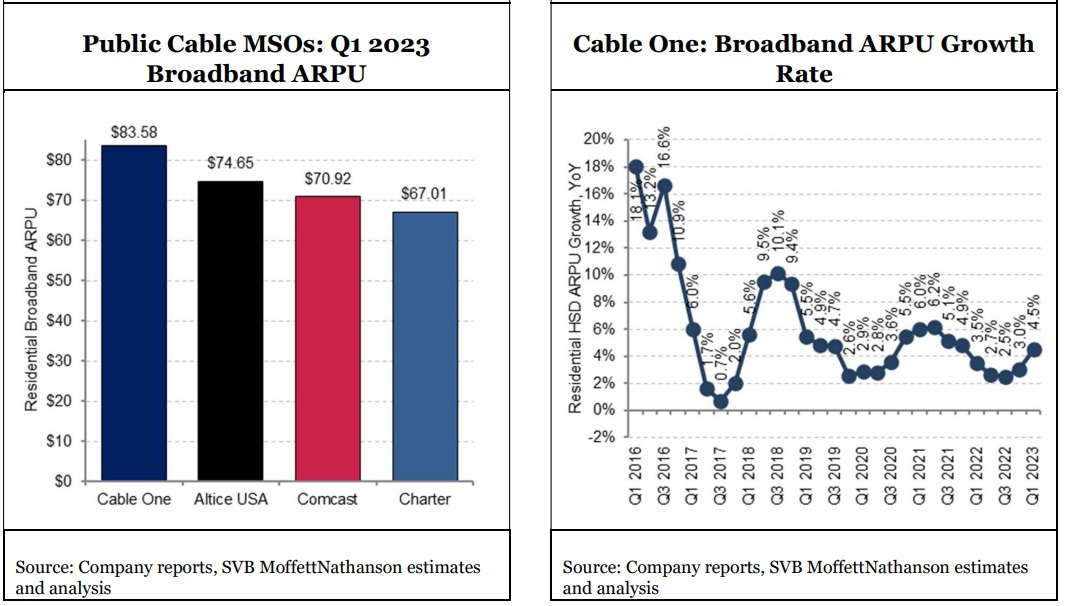 Click here for a larger version of this image.
Related posts:

— Jeff Baumgartner, Senior Editor, Light Reading
Subscribe and receive the latest news from the industry.
Join 62,000+ members. Yes it's completely free.
You May Also Like
---