Atlanta Wraps Up RFIs for Fiber, Wireless
Atlanta Wraps Up RFIs for Fiber, Wireless
RFI submissions for new municipal projects in Atlanta are due on December 22. The City of Atlanta will wrap up three Requests for Information (RFI) next week, including queries on a planned municipal fiber build, a new WiFi deployment and a smart city project that will create connected utility poles with cameras, sensors and other wireless devices.
Response submissions to the RFIs are due on December 22 and will join proposals collected in response to a fourth request by the government for information and recommendations around the testing of autonomous vehicle systems. Submissions for the RFI on autonomous vehicles were due on December 2.
Like Boston and several other cities, Atlanta is looking to tie new infrastructure investments to smart city applications designed to make the metro region safer and more efficient. (See Verizon's Boston Smart Cities Pilot Begins.)
In Atlanta's case, the effort is only about a year old, and the municipal government is still largely in the planning stages of development. Funding comes from a $250 million infrastructure bond issue that was approved in 2015, and Atlanta is now working out how best to use that money to achieve its connectivity goals.
In the fiber RFI, the city says it's willing to consider joint builds and infrastructure swaps as well as options that would involve having partners either lease fiber to the city or from the city where excess capacity is available.
Figure 1: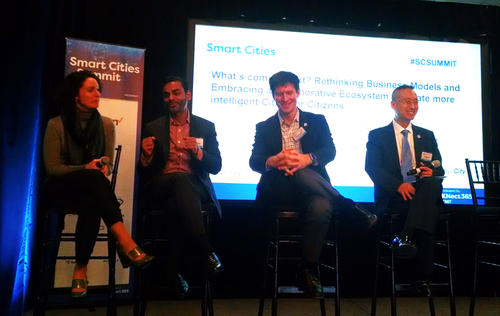 Pictured from left to right at the Informa Smart Cities Summit: CIO of Chicago Brenna Berman, CIO of Atlanta Samir Saini, CTO of Seattle Michael Matmiller and Dr. Sokwoo Rhee, Associate Associate Director of Cyber-Physical Systems Program, National Institute of Standards and Technology (NIST)
Atlanta's CIO Samir Saini, meanwhile thinks there's much to be gained from having the city own its own fiber network. Speaking at the Informa Smart Cities Summit recently, Saini noted that, "The business model to monetize that network is huge because that is our own."
Options for potential new revenue include leasing the fiber network to service provider partners, as well as leasing small cell antennas on connected utility poles to wireless carriers. According to the RFIs, the city also believes it can reduce operational costs by using smart city devices to "facilitate more efficient allocation of the City's staff and resources."
For more fixed broadband market coverage and insights, check out our dedicated gigabit/broadband content channel here on Light Reading.
The city government isn't alone in investing in Atlanta's infrastructure. Major commercial telecom providers have also gravitated toward the region, with Comcast Corp. (Nasdaq: CMCSA, CMCSK) launching its first gigabit broadband service based on DOCSIS 3.1 technology in Atlanta and AT&T Inc. (NYSE: T) announcing the metropolitan region as one of its first spotlight smart cities earlier this year. Google Fiber Inc. is also active in Atlanta. (See In D3.1 First, Comcast Goes Gig in Atlanta and Alphabet Is Serious About Google Fiber.)
Atlanta's leaders aren't ignoring these commercial ventures. On the contrary, they list AT&T Inc. (NYSE: T) and Google Fiber among their smart city partners from the private sector, along with Cisco Systems Inc. (Nasdaq: CSCO), Deloitte Development LLC , CTC Technology & Energy and local startup MetroTech. The city is also teaming up with Georgia State University and Georgia Tech, as well as several municipal organizations.
The work in Atlanta is representative of numerous public/private initiatives now taking place in cities around the country. No single model will work for every region, but with multiple experiments underway, there will soon be data from many different models available, and presumably a list of successful strategies to choose from.
— Mari Silbey, Senior Editor, Cable/Video, Light Reading
Subscribe and receive the latest news from the industry.
Join 62,000+ members. Yes it's completely free.
You May Also Like
---