AT&T GigaPower Ready to RSVP
AT&T GigaPower Ready to RSVP
AT&T has criteria for choosing its GigaPower cities, including public policies and local demand, but invitations to serve are always welcome.

CHARLOTTE, N.C. -- Gigabit Cities Live 2016 -- Want AT&T to bring its GigaPower fiber network to your city? Then you should send them an invitation, the head of the carrier's North Carolina operations said here today.
Of course, it helps to already be part of AT&T's local service footprint and to have public policies for things such as rights-of-way and permits that make building out fiber easier. Oh, and being able to demonstrate local demand definitely counts as well.
But in a question-and-answer session at Light Reading's Gigabit Cities event here, Venessa Harrison, president of AT&T Inc. (NYSE: T)'s North Carolina operation, said the network operator likes to be invited to participate as a private company in municipal fiber-to-the-premises networks, either by a city or county government that is clear on what it needs and expects from a fiber network operator.
Figure 1: Making Her Point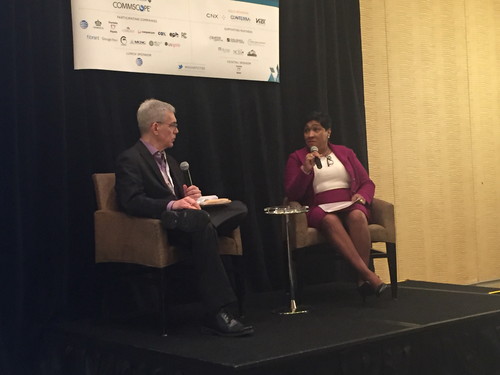 Light Reading's Alan Breznick discusses Gigabit broadband rollout strategies with Venessa Harrison, president of AT&T's North Carolina unit.
"We look for areas that demonstrate a demand, where there is infrastructure that is in our traditional service territory -- where we can expand our facilities, enhance our facilities and deploy new facilities. And we also look for adoptability -- areas where it is easy to adopt," Harrison said.
Learn more about Smart Cities at our upcoming Big Communications Event in Austin, Texas, May 24-25. You can register now.
Under the FCC's terms of approval for the DirecTV acquisition, AT&T agreed to build out fiber to 12.5 million homes nationwide and is doing that across its existing footprint. North Carolina is home to seven cities on the AT&T GigaPower roadmap, some of which pre-date the DirecTV deal, and that's in part because the state has long had policies that encourage private investment, Harrison said.
More recently, the public-private partnership North Carolina Next-Generation Network (NCNGN) brought together six municipalities and four major universities that invited private operators to compete to provide a gigabit network, and chose AT&T as their network operator. That's the kind of public-private partnership invitation that AT&T likes, Harrison said, because it clearly spells out what the local communities need. Communication between potential partners is one of the most important factors.
"We look to come to the table and say, 'Here are the facilities we have. How can we partner together to meet your need?' " she said. It's important for communities to do their own needs assessment and know what they are looking for in a fiber network, and also what resources an operator is expected to bring to the effort.
"Deploying fiber is a big job and it takes a lot of time, and a lot of resources including a number of employees," she noted. It's important that the municipality's needs be clear upfront, so expectations can be correctly set, but the city must also recognize its responsibilities. That includes the ability to issue permits in a timely fashion, for example, which can create stresses on staff municipal departments.
AT&T has been known for taking action, politically and in the courts, to fight municipalities that want to build and operate their own networks, but Harrison insisted her company does not oppose government-owned networks. "We only want to have a level playing field for all competitors, so everyone works by the same rules and regulations," she said. That means a municipality can't favor its own network when it comes to using public rights of way or issuing permits in a more timely fashion.
— Carol Wilson, Editor-at-Large, Light Reading
Subscribe and receive the latest news from the industry.
Join 62,000+ members. Yes it's completely free.
You May Also Like
---