Altice USA tweaking fiber, mobile strategies under new CEO
Almost four months after taking the reins of Altice USA, new CEO Dennis Mathew is starting to put his stamp on the company and outline strategies aimed at returning the operator to growth.
Part of that plan includes a revised fiber-to-the-premises (FTTP) upgrade and buildout strategy that largely will be focused on Altice USA's dense, urban footprint in parts of New York, Connecticut and New Jersey. In its more rural western markets, formerly known as the Suddenlink footprint, Altice USA will take a much more measured approach with FTTP and put more emphasis on DOCSIS 3.1 upgrades of its hybrid fiber/coax (HFC) plant.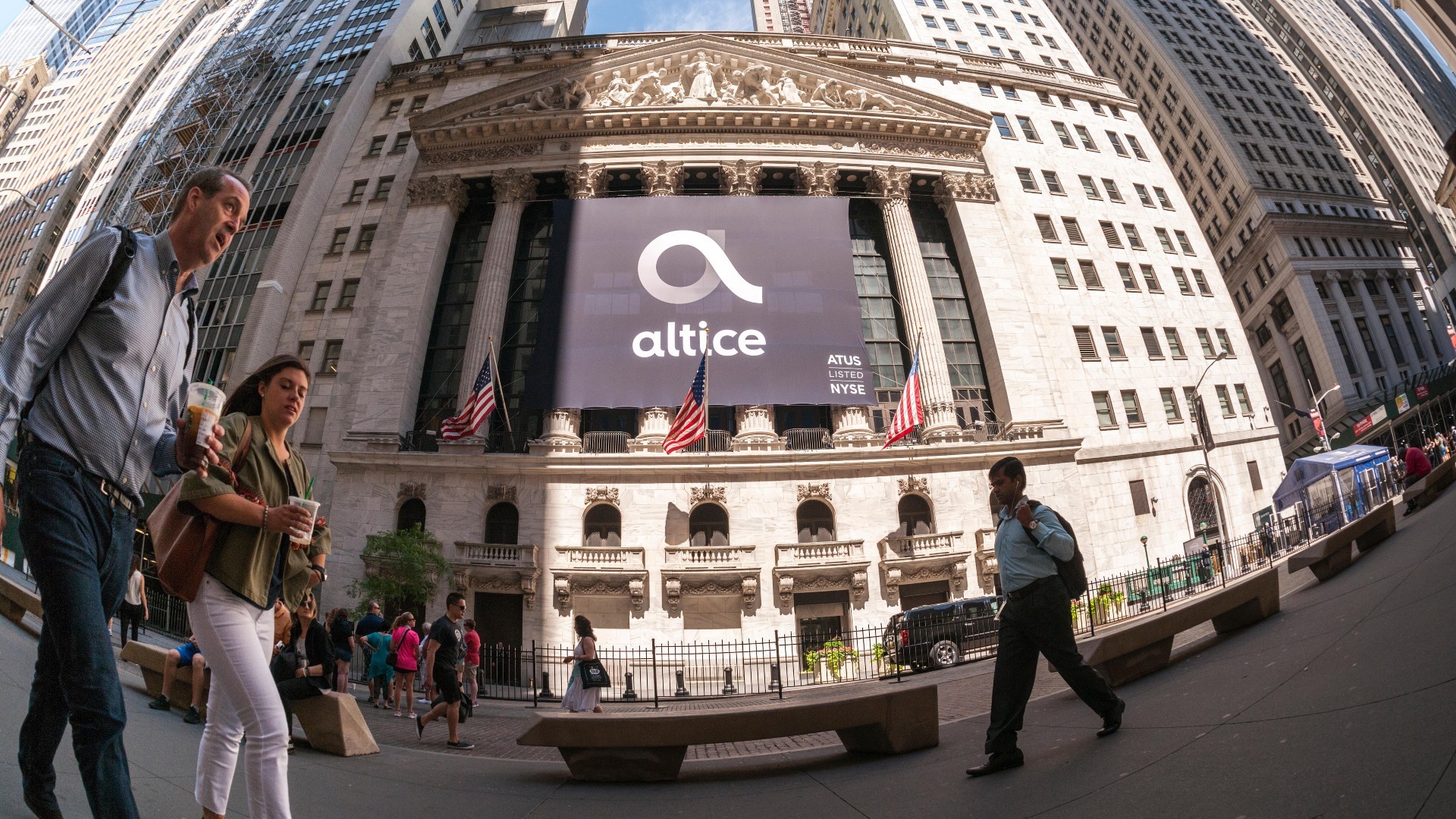 Meanwhile, "mobile will take on a more meaningful role," Mathew said Wednesday on the company's Q4 2022 earnings call. "We are looking at our overall product roadmap as we formulate a new bundled offer to take advantage of our capabilities in this regard."
Mathew, an exec most recently with Comcast, didn't spell out how that will take shape at Altice USA, which has an MVNO deal with T-Mobile and a national roaming pact with AT&T.
It's possible that Altice USA will explore the development of a broadband/mobile convergence package that mimics Charter Communications' "Spectrum One" bundle or a similar bundle recently introduced by Comcast.
Altice USA's mobile strategy, which added just 4,000 lines in Q4 2022, has yet to come anywhere close to the gains seen at Comcast and Charter Communications. Mobile "is largely an untapped opportunity for us," Mathew acknowledged. Altice USA now has 137 retail stores that can showcase mobile and more will be launched later this year, he added.
Fiber: A tale of two regions
Altice USA's FTTP upgrades will be laser-focused on the New York tri-state area, where it competes with Verizon Fios and Frontier Communications. Altice USA built out another 251,000 FTTP passings in the fourth quarter of 2022, and about 988,000 for the full year, extending total fiber passings to 2.16 million. The company expects to tack on another 900,000 FTTP homes passed in 2023 and eclipse the 3 million mark – equal to about a third of the entire Altice USA network.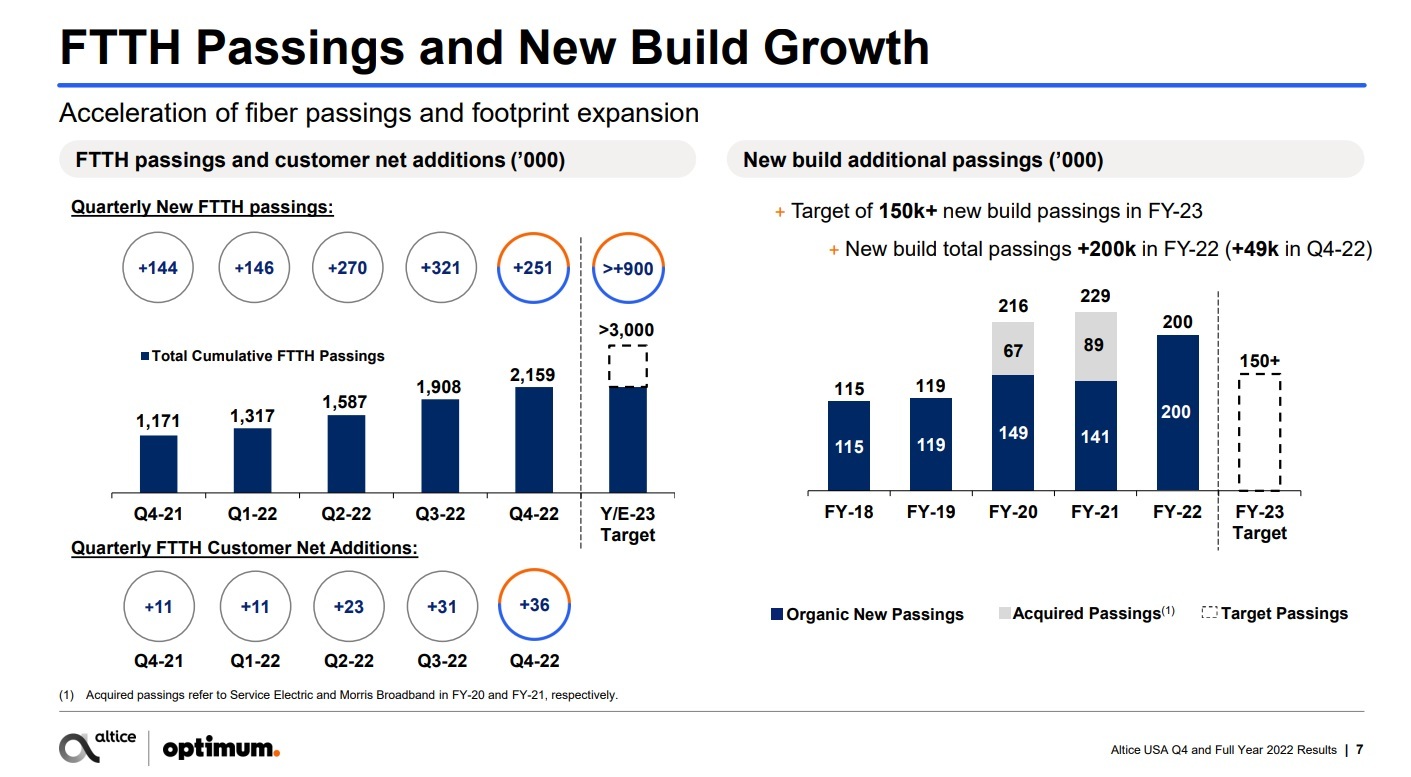 Altice USA is also seeking broadband subscriber growth with a new-build initiative that added 200,000 fiber homes passed in 2022, with another 150,000-plus targeted for 2023.
As for the former Suddenlink areas, recently rebranded under the "Optimum" umbrella, the company will be "more opportunistic about where we upgrade fiber in the near-term, focusing on areas that give us the best return on investment," Mathew said.
Altice USA's western footprint is only 25% overbuilt by fiber, with AT&T representing about half of it. "It's a different profile," Mathew said. "I think we need to do a different approach."
Mathew declined to comment on rumors that Altice USA has been exploring a fiber joint venture akin to the one being put together by AT&T and BlackRock Alternatives.
Pricing under scrutiny
Mathew said he's revisiting Altice USA's pricing strategy across its markets, noting that the company had some aggressive offers that might need to be revised with bundles that pair broadband and mobile. Of note, only 10% of Altice USA's are paying the company's "rack rate" for broadband.
What will come out of Altice USA's pricing review is not yet known. But pricing is an issue that some analysts view as critical to the company – more so than its fiber network upgrade project.
"It remains our view that Altice's problem is not a technology problem; it's a pricing problem," SVB MoffettNathanson analyst Craig Moffett explained in research note issued after Altice USA's earnings call. "Until Altice rips off the band-aid of excessively high broadband prices – a move that will only worsen already-ugly trends in broadband subscribership in the near term to right the ship over the long term – we struggle to see why Altice's currently dispiriting trends will change."
"Talking about pricing is a positive, in our view," he wrote. "They are at least thinking about what we believe is their most important issue."
Financial and subscriber snapshot
Mathew's strategy is to return Altice USA to growth. Some of the company's subscriber metrics improved in Q4, but were still largely negative.
Altice USA lost 8,000 residential broadband customers in the period, better than the -29,000 expected by analysts. Those Q4 losses did improve on a loss of -43,000 in the prior quarter and a loss of -16,000 in the year-ago period. Additions of 36,000 fiber subs in Q4 helped the broadband cause.
Mobile remains a minor contributor some four years after Altice USA launched its original offering. Adds of 4,000 mobile lines in Q4 fell short of the +9,000 expected by analysts. Altice USA ended the period with 240,000 mobile lines, with 31,600 lines receiving free service.
The operator also shed another 53,000 video subs in the period, improving on a year-ago loss of 71,000. Mathew noted that the company plans to introduce a new streaming box later this year that will help to facilitate self-installations.
Total Q4 revenues dropped 6%, to $2.37 billion, and residential revenues declined 5%, to $1.82 billion. Business services revenues dipped 9.3%, to $368.3 million, and news and advertising revenues dropped 10.8%, to $151.8 million.
Altice USA looking a bit more Comcastic
Tied in with these strategic adjustments, Altice USA also announced four new top execs, including three that are late of Comcast, Mathew's former employer.
Marc Sirota has been appointed CFO effective March 1, succeeding current CFO Michael Grau. Sirota was previously with Comcast in various financial roles at the division and regional levels.
David Williams, the company's new EVP and chief revenue officer, recently served as chief marketing officer and SVP of sales for Comcast's Central Division.
Shuvankar (Shu) Roy, now EVP and chief customer experience officer, previously led connectivity operations at Comcast. He's also late of Canadian cable operator Cogeco.
A new hire not hailing from Comcast is Leroy Williams. Williams, Altice USA's new EVP and chief growth officer, previously served as chief product officer at Samsung Electronics America.
Related posts:

— Jeff Baumgartner, Senior Editor, Light Reading
EDUCATIONAL RESOURCES


PARTNER PERSPECTIVES
- content from our sponsors