6 Steps Towards a Gigabit City
6 Steps Towards a Gigabit City
Experts offered tips on how to spread the gigabit love at this week's Light Reading Gigabit Cities Live event in Atlanta. ATLANTA, Ga. -- Gigabit Cities Live 2015 -- Not everyone's lucky enough to live in a Google gigabit city, or in a community where the local ISP has decided to roll fiber to the home.
But for those on the outside looking in, there are ways to improve the gigabit odds.
Here are six suggestions from participants at the Light Reading Gigabit Cities Live event. (See Gigabit Cities Live Hits Atlanta .)
1. Follow the money
Whenever possible, take advantage of an existing financing structure. If your city is proposing to issue a bond for infrastructure upgrades, Herb Sih, managing partner and co-founder of business incubator Think Big Partners, said he recommends piggybacking on the effort to get network improvements added to the budget agenda. Not only is there a funding model already in place, but the labor required to upgrade roads, bridges and water systems can often be concurrently applied to the up-front tasks of getting a next-generation broadband network in place. Once workers are already digging up a roadway, it's efficient to lay network infrastructure at the same time.
2. Know your assets
The anchor institutions in a community -- libraries, schools -- sometimes receive government funds or other types of subsidies to build out advanced networks. When leaders in Flint, Mich., didn't have a way to woo commercial gigabit providers to their region, they engaged with local community members and discovered that a high-speed network already existed in their region connecting local university campuses. As Co-Founder of US Ignite , Joe Kochan explained it, once community leaders discovered that asset, they were able to add in grant money from the National Science Foundation and the Department of Justice to spread high-speed networking across a larger area of the Flint region.
3. Connect with local service providers
It's difficult to convince a service provider (even Google) to deliver gigabit broadband if there aren't favorable economics. However, Suddenlink Communications Vice President of Engineering Operations Rodney Lanham told the audience at the Gigabit Cities event that sometimes service providers will team up with a community when there's an economic development initiative underway. If a community has funded development of a new business park, for example, an ISP is often willing to lay fiber when early construction work begins. Senior Director of Product Management for Consolidated Communications Inc. Rob Koester reiterated that point: "Where we've seen the most success is where we have a seat at the table with the economic development council."
4. Prove the value of a gigabit
Chattanooga, Tenn., is one of the most famous and successful gigabit cities, but to hear Mayor Andy Berke tell the story, that achievement was far from guaranteed when the community first built its network. Early on, the advanced broadband infrastructure didn't attract businesses and venture capital to Chattanooga the way the city had planned. It wasn't until advocates started to show what a gigabit could do -- from smart grid applications to video-based business scenarios -- that interest started to build. Today, Chattanooga is still working to measure the economic impact of its gigabit deployment, but anecdotally, the city has improved its government services and new businesses are cropping up that wouldn't have existed without the gigabit network. (See Chattanooga Rocks 1-Gig FTTH Service.)
Figure 1: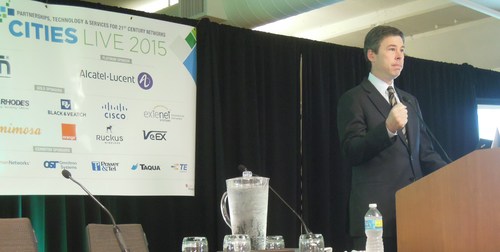 Chattanooga Mayor Andy Berke told the Gigabit Cities audience that attracting investment and companies once the fiber broadband network was built was not as straightforward as everyone had envisaged.
5. Sell the halo effect
When new broadband speed tiers are introduced, it usually takes a while to gain mainstream adoption. However, even while customers may not sign up for the highest speed tier on day one, the very presence of gigabit broadband causes many consumers to upgrade their existing service to a new level. "We call it the halo effect," said Matthew Apps, manager of Internet product management and development at TDS Telecom .
Koester from Consolidated Communications agreed, noting that the minute his company launches gigabit service in a region, there's a huge uptick in sales of service tiers delivering speeds of 50 and 100 Mbits/s. As service providers run the numbers on launching a gigabit network, that halo effect is a variable that should be taken into account.
6. Know your audience
Even when a service provider plans to offer gigabit service to everyone in a community, it helps for planning purposes to know where early pockets of adoption are likely to take place. Oddly enough, though, predicting those early-adopter audiences isn't always intuitive. For example, Suddenlink's Lanham noted that trailer parks are a great target for high-speed network deployments. Not only are residents densely packed together, which makes laying fiber easier, but many rely heavily on Internet access.
Fiber to the home? Great. Fiber to the trailer park (FttTP)? Maybe even better.
— Mari Silbey, Senior Editor, Cable/Video, Light Reading
Subscribe and receive the latest news from the industry.
Join 62,000+ members. Yes it's completely free.
You May Also Like
---