NEW YORK -- Future of Cable Business Services -- SD-WAN services are just the tip of the spear of a new generation of business services that will need to be flexible, on-demand, secure and customer-controlled, a panel of experts agreed here last week.
All of that points to greater automation of service delivery, since what the customer needs is a simple set of options, not a complex cockpit of controls, multiple speakers noted.
"I look at the next generation of business services from a [software-defined networking] perspective -- it's that self-service orchestrated solution set," commented Jeff Lewis, vice president of data product management at Comcast Business , which this year announced its first SD-WAN offering. At the same time, he added, if giving the customer greater agility and faster service turn-up through self-service comes with a boatload of complexity, customers won't get on board. (See Comcast Packs More Powerful SD-WAN Punch.)
"We need to focus more on how the customer interacts with a product -- a lot of these products are developed for engineers, and we have been challenged for years with how you deliver a next-generation service," he said. Customers want service providers "to please bring it forward in a way I can comprehend," and "doing that through a simple automated customer portal is an approach to doing that."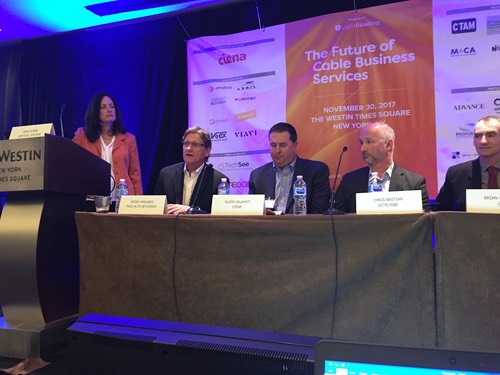 What SD-WAN offers is an opportunity to make the needed agility easier to implement, giving enterprises a closer look at how their networks and applications are performing in the process, says Brian Washburn, practice leader for Ovum Ltd. 's Network Transformation and Cloud Services.
"SD-WAN is evolutionary in terms of the feature set, it looks like it's the next stage in private networking but it's revolutionary in terms of the overall service experience," he commented. "In terms of going from an entire flight deck to something where you can run your applications and do it in a relatively simple case, you can understand how business is performing" without multiple layers and screens.
That doesn't mean SD-WAN services move in and take over. As moderator Erin Dunne, director of research for Vertical Systems Group , stressed, the new generation of services will ride on an underlying foundation of Carrier Ethernet, and likely be paired with remaining MPLS offerings.
"Carrier Ethernet is still the foundation for enabling technology for everything we have talked about today -- if this doesn't work, then all of the services that get stacked up on top of it, whether it is SD-WAN or anything else, will have a harder time," she said. To the extent that SD-WAN displaces MPLS, it will be the TDM services, largely based on expense T-1 lines, that get retired.
That is why service providers are focused on a hybrid service portfolio, with SD-WAN as a lead service for accelerating innovation, commented Stan Hubbard, communications director for MEF, which makes and certifies Carrier Ethernet standards and now, next-gen service standards such as SD-WAN. MEF is developing standards for inter- and intra-carrier interfaces that enable both the retail and wholesale delivery of SD-WANs and more.
"We have to agree on common terminology and we are excited about the support we have received from service provider community, including many MSOs," he said.
There are multiple other pieces of the next-gen services puzzle, including building in security from the outset, and making it possible for data and analytics that drive a better quality of experience for the end-user, according to other members of the panel.
"One of the things we are seeing that is consistent across the entire segment is the desire for agility with services and the over-arching request for quality of experience for users, so that means analytic tools, toolkits and a visualization of what is happening," said Glenn Calafati, cable segment market leader for Ciena Corp. (NYSE: CIEN). That is driving operators to create a platform that reacts and responds to hybrid technologies within a connection to the customer, linked with an analytics engine that focuses on delivering QoE.
Collecting metrics off the service will enable the operator to improve network performance, but also deliver more data to customers via a service portal that lets them track that performance, said Chris Bastien, CTO of the Society of Cable Telecommunications Engineers (SCTE) .
Bastien and Peter Margaris, head of service provider product marketing for Palo Alto Networks Inc. , a security software company, stressed the increased need for security, given growing threats. But Margaris pointed out that managed security services represent a "huge opportunity for network operators, growing from an already healthy $14 billion now to a projected $30 billion by 2021."
Many small and mid-market businesses will not have access to security expertise, he noted, since there is a massive shortage in that field even for much larger companies, and they'll be dependent on service providers to deliver security.
Dunne noted that bandwidth-on-demand, using consumption-based pricing, is one driver of next-gen services. But she added that the shift away from fixed pricing is also a challenge for businesses. Lewis said he thinks it's early days for discussing new business models and that's something that cable operators and customers still need to work out.
— Carol Wilson, Editor-at-Large, Light Reading