DENVER -- NFV & Carrier SDN -- These days, the networking business is no place for any company that can't rapidly get to scale, an Equinix executive said here last week. The shift away from purpose-built hardware has reduced capex considerably but it's changed economics in ways that don't just favor bigger players but make it riskier for niche operations and new entrants that can't scale quickly, Bill Long told the conference.
"What we are spending our money on in order to bring a network product to market has fundamentally changed," said Long, who is vice president of interconnection services for Equinix and a telecom industry veteran who previously worked at Level 3 Communications. "At scale, the total cost is actually less so the implications of this is that software-enabled networking, while initially more expensive, over time and at scale actually is cheaper and that has major implications."
Prior to the shift to software-defined networking, the higher, variable costs were for purpose-built network hardware and highly manual support operations expenses, he explained, while software had a lower fixed capex. Today, that has shifted to higher fixed capex for software to create online services, improve customer experience, automate network configurations, and manage and monitor them and lower hardware capex.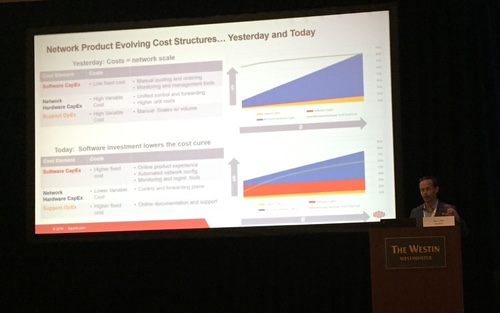 "The cost of the networking equipment after we have separated the control plane from the forwarding plane has come down dramatically so we are dramatically reducing what you have to pay per unit of network gear, but what you have to spend on software for creating the product experience, as well as the back-end automation, has dramatically increased," he said.
That includes higher fixed costs for online documentation and support.
"One of the first implications of this is that low-scale players are in real trouble in this market," Long said. "So for basic products where you are offering a network product, and you want to bring it to markets, you are going to have a really hard time in this new business."
One example of this is European Internet exchanges that only operate in one or two markets. Long says these companies will struggle, although that might just make them acquisition targets for companies like Equinix. But new entrants will also face the daunting task of getting up to massive scale quickly, which favors those with an established base of services and customers -- like Equinix, he said.
"We are going to see new entrants come with huge [amounts] of VC money and some of them will be successful but a lot of them will not," Long commented.
---
How will service providers enable automated and efficient network operations to support NFV & SDN? Find the answers at Light Reading's Software-Defined Operations & the Autonomous Network event in London, November 7-8. Take advantage of this opportunity to learn from and network with industry experts – communications service providers get in free!
---
Part of that ability to scale rapidly is the ability to automate. The Equinix exec said his company looks at wherever there are people involved in a process as a sign that something is broken and needs to be fixed.
"That's not because a person is more expensive, it's because it is indicative of a bad customer experience, a bad user experience," Long said. "If there is a person involved, then there is less control at user interface. So the opex savings is really a function of creating a superior product experience and you just happened to get better opex on the product as a byproduct."
There is also a shift in who pays for what, and a change in the places from which applications are delivered, he commented. Increasingly hardware costs are being born by managed service providers, infrastructure-as-a-service providers, network vendors and third parties, and not by enterprises and traditional service providers, he said.
Applications are being delivered from cloud and colocation providers, including carrier-dense colos, such as Equinix provides, and not as much from enterprise data centers and carrier hotels, Long said. The long-term shift is to virtual appliances with software controls.
— Carol Wilson, Editor-at-Large, Light Reading