Arris Tunes Up Moxi Box
11:35 AM -- Although direct-to-MSO sales is its forte,
Arris Group Inc.
(Nasdaq: ARRS) clearly intends to remain in the retail set-top business roughly six months after putting up $20 million to buy Digeo Inc. (See
Arris Digs Digeo
and
What Digeo Was Making
.)
The latest proof: Arris has begun to sell a new three-tuner version of the Moxi HD DVR that allows the recording of three channels simultaneously while watching a fourth program.
That box, which will grapple with high-end, broadband-connected DVRs from
TiVo Inc.
(Nasdaq: TIVO), sells for $599 on its own, or $799 when matched with one "Moxi Mate," a slimmed-down box that allows multi-room DVR applications over the home network. A package that bundles in two Moxi Mates goes for $999.
Arris still sells the two-tuner Moxi DVR for $499, and offers individual Moxi Mates for $299 each. Arris chopped $300 from the two-tuner product and $100 off the Moxi Mate device late last year as it geared up for the holiday shopping season. (See
Arris Slashes Moxi Retail Prices
.)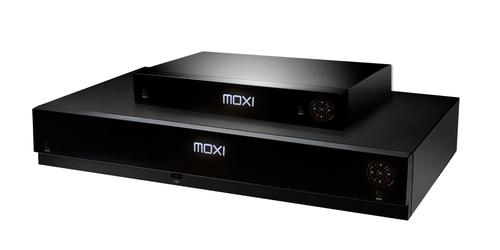 The sales debut of Arris's three-tuner box arrives the day before TiVo's promise to announce some "significant news" at an event set for Tuesday night in New York. No official word yet, but there's
speculation
that a new search capability that ties in Web video with traditional TV listings could be part of the fanfare. It's also possible that TiVo will be debuting a new box that
RCN Corp.
intends to market as its "primary" DVR later this year.
Comcast Corp.
(Nasdaq: CMCSA, CMCSK) has also announced intentions to do the same in one of its
tru2way
markets. (See
RCN Picks TiVo as 'Primary' DVR
.)
The primary Moxi HD DVR has enough storage for 75 hours of HD recordings, expandable up to 1,000 of hi-def content when matched with an external eSATA drive, along with access to over-the-top Web video from
Netflix Inc.
(Nasdaq: NFLX),
Hulu LLC
, and
YouTube Inc.
Arris also sells a more limited HD-DVR box directly to MSOs.
Looking ahead, Arris intends to leverage its purchase of Digeo to develop a new breed of Moxi-powered multimedia cable gateways that will be sold directly to operators and bundle in multiple Docsis tuners and QAM tuners, making the box capable of feeding in both IP- and RF-sourced video. (See
Digeo Gives Arris Multimedia Gateway Potential
.)
— Jeff Baumgartner, Site Editor,
Light Reading Cable