Network data is a key enabler for reaping the benefits of the digital transformation, but it has to be refined into smart data in order to feed lifecycle automation, service agility and monetization of new services.
That's a key obsession at NetScout Systems Inc. (Nasdaq: NTCT), and the idea of smart data driving the digital transformation in service providers' networks was the crux of a keynote by Vikram Saksena, the company's chief solutions architect, at Light Reading's recent NFV & Carrier SDN conference.
Service providers are adopting a data-driven operating model to advance digital transformation and their goals for SDN and NFV, but raw data is too "noisy" and has to be refined to deliver useful intelligence, Saksena said.
"Just like in oil, when you extract it from the ground it's not usable until you refine it ... to extract the intelligence that drives and powers these different applications in your network," he said. "This refinement process is what I call smart data."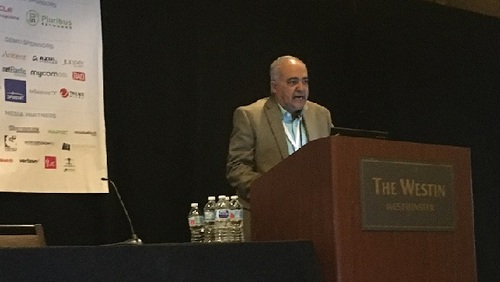 Pillars of digital transformation
Saksena described four pillars key to digital transformation: programmable networks, edge computing, life cycle automation and service agility. SDN and NFV are central to operators' ability to move to an environment where software is utilized to dynamically program networks, he explained. Edge computing is also gaining traction in the industry as service providers realize more services need to be deployed at the edge of the network to accommodate use cases like autonomous vehicles, for example. (See Edge Inertia Grips Telcos as Rival Interests Jockey for Position.)
Life-cycle automation, Saksena explained, brings predictability to operations in the entire life-cycle without disruption or manual intervention. Finally, pillar four is service agility -- the ability to deliver personalized services in real time, that can be created and changed on-demand to generate new revenue streams.
Foundational to these four pillars -- to driving edge computing and automation, for example -- is the ability to access the right data.
"The key to enabling the benefit of digital transformation is that you need a data-driven architecture and a data-driven operating model," said Saksena.
Creating smart data
NetScout, of course, offers a way to do this data refining, and it's based around metadata, as Saksena and John English, senior manager of service provider solutions marketing for NetScout, explained in an interview with Light Reading.
Service providers have access to a range of network data such as flow data from routers and switches, or data from session records and more granular data from log files. NetScout's InfiniSteamNG Smart Data Platform and Adaptive Service Intelligence Smart Data technology examine and extract the key attributes of the most granular source of data in service provider networks -- the user traffic -- and attach it to other related data sources to create contextual metadata.
"Metadata is the key attributes of the traffic itself," said Saksena. "Metadata is extracting value, which is the refining process. There is raw data and then metadata creates all the valuable attributes of that data."
Smart Data has attributes of being contextual, timely, relevant, structured and compact -- data in usable form that enables real-time decision-making, Saksena explained during his presentation.
Next page: Smart Data applications