Jabil Leverages Cloud to Improve Manufacturing
Jabil Leverages Cloud to Improve Manufacturing
Manufacturing giant tapping into cloud-based analytics from Microsoft Azure to reduce failures on the assembly line. Jabil Circuit is using cloud-based machine learning to improve manufacturing reliability by predicting product failures before they happen.
The $17.9 billion company, headquartered in St. Petersburg, Florida, provides contract manufacturing services in a broad range of industries, including defense, aerospace, automotive, computing and telecom, with 18,000 employees in 102 locations in 28 countries.
"The classic role we play is working with the top 25 brands, manufacturing products for them, providing design, manufacturing and supply chain expertise, and logistics to deliver products," Gary Cantrell, Jabil global CIO, tells Light Reading.
Jabil is leveraging Microsoft Corp. (Nasdaq: MSFT) Azure Machine Learning and Jabil's own historical data to reduce manufacturing failures, enhancing the customer experience and the manufacturing process. It's deployed the technology in pilots in Penang in Malaysia, and Guadalajara, Mexico.
Figure 1: Jabil Man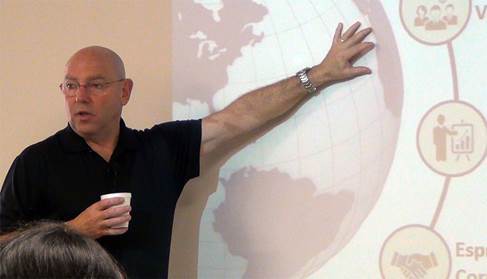 Gary Cantrell, Jabil global CIO
Azure-based predictive analytics enables Jabil to catch errors on step 2 or 3 of a 35-40-step circuit board manufacturing process, compared with step 15 or 20 previously. "If I stop the board at that point and pull it off, I've saved a huge amount of energy and processing time and I have less defects on the other end of the production line," Cantrell says. When an error is caught late in the manufacturing process, the board gets sent back for reworking, but when it's caught early, it's cost effective to simply discard the board.
The accuracy rate has been 80% in predicting failures, saving 17% in reworking cost and 10% in energy, Joanne Moretti, Jabil SVP marketing writes on LinkedIn.
"The earlier we can detect issues, the more efficient we can be, the faster our cycles will be, and the happier our customers will be," Cantrell says.
The next step is to combine predictive analytics with machine-to-machine control of the manufacturing equipment, to change the manufacturing process based on information about predicted failures.
Figure 2: On the Line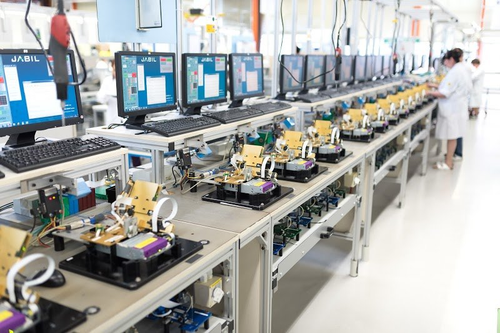 A Jabil manufacturing facility
"If we're smearing paste on a board, and we find out we need to increase the down pressure by some number, right now what happens is we stop the line and make decisions," Cantrell says. "There's no reason we can't have the machines self-adjust at that point."
He adds, "It sounds easier than it turns out to be."
Jabil went with the cloud rather than an on-premises solution to achieve greater speed and efficiency, eliminating the need to build infrastructure to support the service. And it was also looking to gain experience with cloud apps, Cantrell says
Jabil makes many acquisitions, and the cloud makes it easier to integrate their IT infrastructure into the parent. Likewise, the cloud is better suited to mobile applications, which make workers more productive, Cantrell said.
Moreover, the cloud is part of Jabil's effort to broaden and deepen customer relationships, not just manufacturing products but also collaborating on design for manufacturability. "We're starting to think more and more around using digital within Jabil to make that customer connection and stickiness even stickier."
Want to know more about the cloud? Visit Light Reading Enterprise Cloud. The Internet of Things is a big part of that strategy. "We will be in the mix on building the sensors and a lot of that activity," Cantrell says. Jabil is also looking to partner with customers on how to best use those sensors. Jabil has been been "fairly aggressive" in adopting cloud apps for non-core business functions, such as expense and talent management and productivity. Jabil has also been aggressive on virtualizing its computing environment in the private cloud, and analysis on putting additional workloads in the public cloud. Figure 3: Cantrell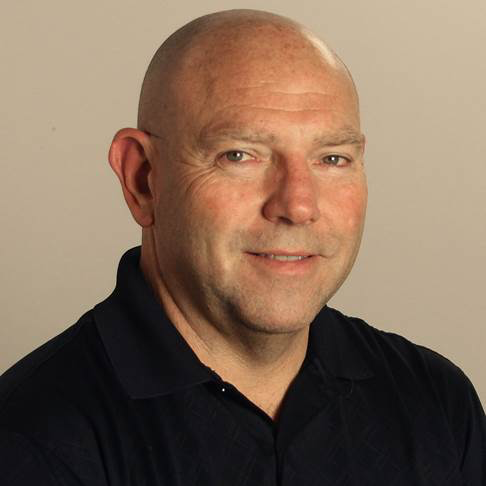 "The earlier we can detect issues, the more efficient we can be, the faster our cycles will be, and the happier our customers will be." The analytics trial has been a validation of the cloud for a new level of business processes at Jabil, Cantrell says. "The key thing for us was when we started this thing there was how much you could do in the cloud. Would our existing systems allow us to do the analytics in the cloud in a practical way and in a way that would lets us feed it back to the production line?" Cantrell said. Apps that might move to the public cloud in the future include supply chain and shop floor optimization, which have historically been on-premises. Jabil has largely overcome its security concerns, but still wants to be sure that response time will be adequate for cloud apps. "I'm systematically going through the portfolio," Cantrell says. "I'm starting with low-risk apps where the data isn't sensitive, and it's not an integral part of the manufacturing process as far as keeping the jobs running." — Mitch Wagner,
, Editor, Light Reading Enterprise Cloud.
Subscribe and receive the latest news from the industry.
Join 62,000+ members. Yes it's completely free.
You May Also Like
---