Google Placing Multiple Bets on AI – Reports
Google Placing Multiple Bets on AI – Reports
Google will start a new fund specifically to invest in artificial intelligence and AI startups. Google has seen the future and it's artificial intelligence. Now, however, the search engine giant is putting its financial muscles behind a new venture capital fund that will filter money to a number of new AI startups.
The company hasn't said much about this new fund, although multiple reports indicate that Anna Patterson, a vice president of engineering at Google who specializes in AI, will oversee the new fund. These reports also indicate that this fund will be driven by engineers rather than the money men and women typically associated with this type of venture, with the company also looking to supply mentorship, advice and even working space.
The fund is expected to make investments of $1 million to $10 million depending on the startup.
The market for AI, machine learning and analytics startups has been getting attention lately thanks to two significant acquisitions. In May, Apple confirmed it bought Lattice Dark, a company that specializes in analyzing "dark data" for an undisclosed sum. (See Apple Quietly Acquires Machine Learning Specialist Lattice Dark.)
Figure 1: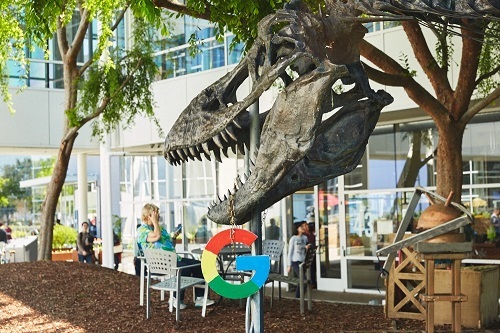 Not a tech dinosaur.
(Source: Google)
At about the same time, Cisco announced it would pay $125 million for MindMeld, another startup that is developing AI and natural language applications. Cisco plans to use some of this technology within its Spark cloud computing collaboration products. (See Cisco Buying AI Specialist MindMeld for $125M.)
By getting into specific AI investments, Google is joining a number of big tech firms putting money into the technology, as well as a number of independent venture capital firms, including Y Combinator, Sequoia Capital and Andreessen Horowitz.
M&A activity is turning the cloud upside down. Find out what you need to know in our special report: Mergers, Acquisitions & IPOs are Rocking the Cloud. However, it's not clear why Google hasn't talked much about this, especially since its Google Ventures fund is well known. In addition, the company talked openly about how AI fits into its plans during its recent I/O 2017 conference, including an update to its Tensor Processing Unit (TPU) chips that is expected to push the limits of machine learning. (See Google's TPU Chips Beef Up Machine Learning.) One possibility is that Google might want a first crack at buying these startups. Also of note, the new fund and its executives will report up through Google proper, and not through Alphabet -- the overall corporate umbrella. Related posts: AI Is Coming for Highly Skilled Jobs, Too Google's Pichai: Cloud's One of Our 'Biggest Bets' Oracle Adds AI to Its Customer Experience Cloud — Scott Ferguson, Editor, Enterprise Cloud News. Follow him on Twitter @sferguson_LR.
Subscribe and receive the latest news from the industry.
Join 62,000+ members. Yes it's completely free.
You May Also Like
---