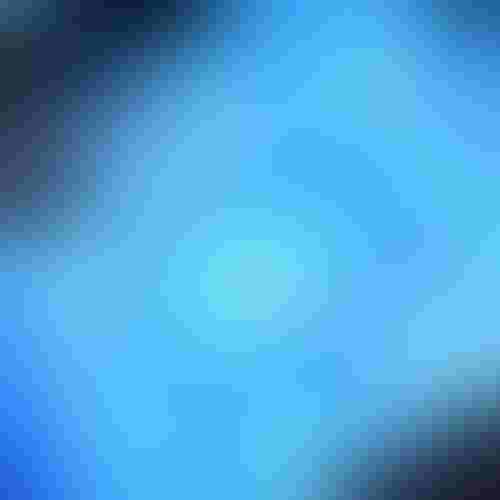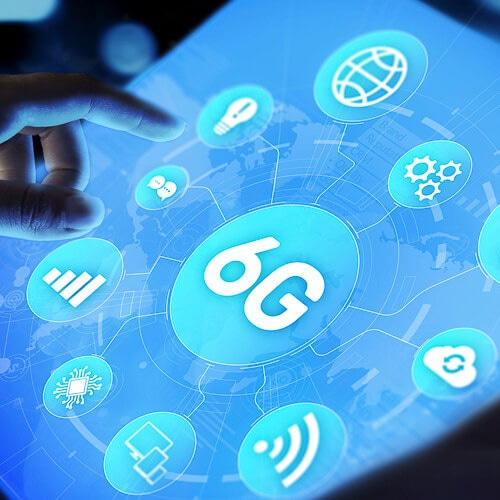 Every ten years, after lots of noisy hook-ups in darkened rooms under the supervisory eye of standards bodies like the 3GPP, the global telecom industry gives birth to a new wailing generation of mobile technology. For anyone who's been hibernating this decade, we're currently about three or four years into the fifth of these generations (5G), which means everyone should naturally expect 6G to emerge from the womb of the industry in about 2030. Vendors that need to replace their dwindling 5G revenues might be eager to see it arrive. The operators may feel otherwise.
At least, it was hard not to come away from this week's 6G Symposium, an event organized by 6G World and held at the University of Surrey, with that impression uppermost in mind. "Today, whether we like it or not, we are not making much money with current technology and have gone through lots of rip and replace," said Andrea Dona, the chief networks officer of Vodafone UK, on a panel about 6G that featured several technology executives from some of the world's biggest telcos. "It cannot be another hardware replacement. It needs to be a software overlay that brings the full potential of 5G."
Dona's remarks neatly encapsulate the frustration of the telcos. Billions of dollars have been invested in 5G and yet there has been little or no discernible impact on telco sales. Forget self-driving cars, remote-control surgery and other outlandish visions – for most telcos, it has barely moved the needle in the business sector so far. The best that can be said is that 5G, as a more capacity-rich technology, is more efficient than its predecessors and has helped to keep operating costs from spiraling. But with 5G's value in doubt, the last thing many telcos want to hear is 6G hype.
Figure 1: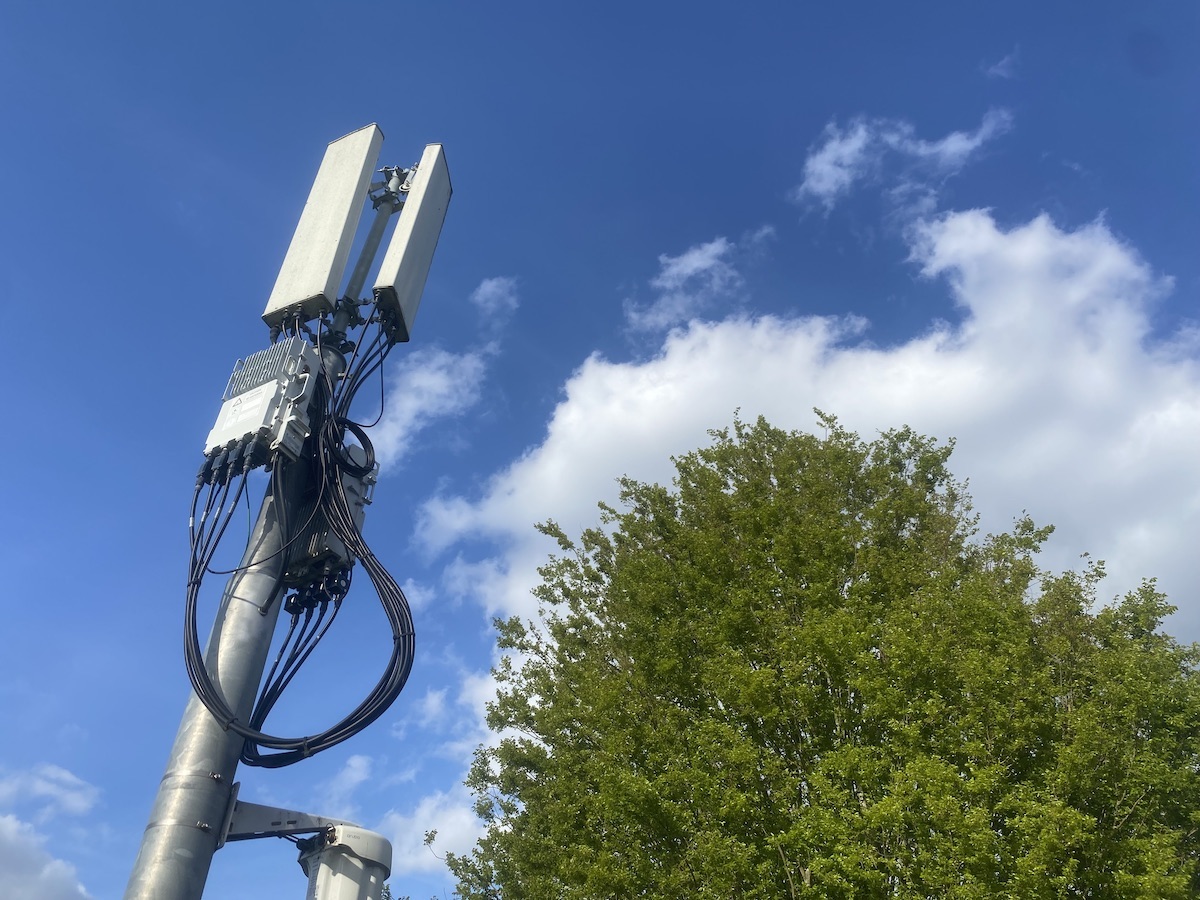 Mobile mast at the University of Surrey in Guildford.
(Source: Iain Morris/Light Reading)
"I don't think the way we're going – with ten-year cycles and ten times better than the previous cycle and whatever the KPIs [key performance indicators] might be – is a sustainable model," said Maria Cuevas, who heads mobility research for BT. Her remarks on this week's panel come weeks after Howard Watson, BT's chief security and networks officer, looked horrified at the suggestion 6G might entail another huge investment splurge. "We're not doing that again," he told Light Reading at Mobile World Congress.
BT and Vodafone are not the only UK-headquartered telcos demanding a rethink of the habitual approach. "It is time to stop talking about 5G, 6G, 7G, whatever the G is," said Kirsty Bright, the director of network innovation and transformation for Virgin Media O2. Rather than making a "big razzmatazz" about each new G, the industry should drop the ten-year upgrade cycle and focus on technology evolution instead.
Vendors under fire

This is probably not what parts of the equipment sector want to hear, and this week's event had its share of hype from that community. Some degree of consensus seems to have formed that 6G's biggest innovation will be sensing, whereby objects and clothes that feature hundreds of tiny sensors will be able to upload data to the network about their dimensions, location, movement and status.
With this, companies could spin up digital twins, virtual representations of physical objects that can be used to generate insights about them or even run simulations. "I see Iron Man doing things with 3D holograms and designing his outfit using 3D printing and it makes me think I'd love to have these types of technology today, but that is what it will hopefully bring," said Milind Kulkarni, the vice president of engineering for Interdigital, a research company.
Today's radio technology would not be able to support this feature, Kulkarni told Light Reading, noting that a new air interface or waveform might even be needed. But that is certainly not a given, he said, and operators have repeatedly downplayed the need for change. Orthogonal frequency division multiplexing (OFDM), the basis of today's 4G and 5G networks, has few obvious challengers. "There is no new radio access technology," said Dona.
Figure 2:
Interdigital's Milind Kulkarni (left) signs a 6G collaboration agreement with representatives of the University of Surrey.
(Source: Iain Morris/Light Reading)
There is clearly support from within vendors for the idea that 6G will not involve tinkering with the waveform. "When we're looking at changes to the fundamental waveform, we need to be a little bit careful with scenarios," said Matthew Baker, the head of RAN standardization at Nokia. "In terms of macro-cellular, wide-area, high-data-rate coverage, then Shannon's limit remains Shannon's limit. That hasn't changed and tweaks around the air interface are not necessarily going to give massive gains." Shannon's limit – or Shannon's Law, as it is usually called – specifies physical constraints in radio technology.
The industry also appears to have lost much of its previous appetite for pushing the technology into much higher spectrum bands. A lot of the earlier 6G talk was about making use of Terahertz bands, rich in spectrum but dire for coverage. After various 5G misfires in millimeter wave bands – lower than Terahertz but still much higher than the sub-6GHz bands that support most communications – attention has now turned to centimeter wave spectrum instead. "The pioneer band has to be 7 to 15 Gigahertz," said Baker.
None of this necessarily precludes big changes or innovations with 6G. Besides sensing, there is a general feeling that artificial intelligence (AI) will somehow play a big part in 6G. Yet proselytizers seem to have backed away from some of the wackier ideas. At the 6G Symposium on April 25, there was barely a mention of the Internet of Senses, a notion once popularized by Ericsson and the University of Surrey that would supposedly allow an operator to transmit taste, smell and touch over networks – rather than just sight and sound (go figure).
Brain-computer interfaces were cited in a 6G white paper from the NGMN, a telco group, about a year ago. The most extreme fictional example, perhaps, is Clint Eastwood piloting a stolen Russian fighter plane by thought in the 1982 movie Firefox. Such concepts obviously stray well outside the boundaries of what most people think of as telecom technology. Thankfully, they assumed a very low profile in Surrey this week.
Evolution, not revolution

Dan Warren, the director of advanced network research for Samsung, cautioned against a repeat of the hype that has plagued 5G ever since it was in embryonic form. He also appears sympathetic to the concept aired by telcos of mobile technology development as a continuous, evolutionary process – not something determined at ten-year intervals with excessive fanfare.
"In the majority of cases when you are doing research you don't care about Gs," he said. "You do work, and certain things get dropped in at certain points in time which are external to our control. The definition of a G is one of those things. You don't stop researching because a G finishes. You carry on and progress against a number of different topics."
His own efforts align neatly with Dona's request for 6G to be more of a software overlay than rip-and-replace job (Vodafone happens to be Samsung's only significant European telco customer). They include applying AI to the operation of the network for performance improvements and power savings. On the broader use of software in the network, he evidently believes the industry can go a lot further than it imagines with things like containers and microservices – software components intended to be more easily deployable.
"We have a practical implementation that is embracing containerization, but the containerization we are embracing is containers as defined by the 3GPP, and if you were to flip from telecom mode into IT there is no way you'd implement based on that definition," he said. "As core networks and radio networks and certainly parts of the back end of the radio network become increasingly softwarized, the homogenization of that softwarized layer becomes easier, and the orchestration of that can become more dynamic."
Figure 3: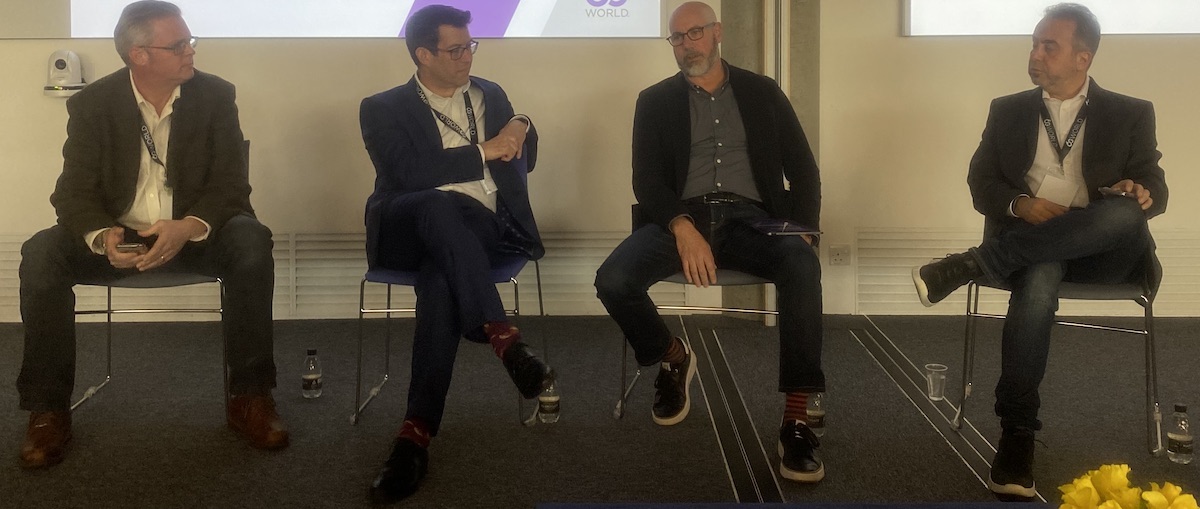 Panellists at 6G Symposium included (from left to right) Scott Bicheno of Telecoms.com, Samsung's Dan Warren, Viasat's Anton Monk and Dean Bubley of Disruptive Analysis.
(Source: Iain Morris/Light Reading)
These in-the-weeds remarks will be confusing enough to many people in the industry, let alone the average consumer, and they are certainly not aspects any sane telco marketer would highlight. But therein lies one of the problems with the Gs. Why should any smartphone user, VR headset wearer or business executive give two hoots about the plumbing of the network, especially if Gs become even more about improvements rather than replacement?
"I don't think consumers expect anything of a G anymore," said BT's Cuevas. "I think they want the coolest phone with the biggest camera and the best screen, and they want all the top applications that someone out there develops to work on their phone anywhere." Like Vodafone's Dona, she also subscribes to the view 6G must not entail sudden overhauls that are subsequently hard or impossible to reverse.
"It takes time to roll out networks and provide coverage and we need an element of pre-network investment, but we can develop technologies that are more modular and flexible and that allow us to deploy new features," she said. "If it is not doing what we want, we can withdraw it the next day – I am hoping with more openness and more software-based functions we can evolve in that direction."
No need for the Gs?

But if Gs are no longer useful for marketing purposes, and they are not critical for technology development, why are they needed at all? One risk, perhaps, is that the mobile standard fragments without the Gs as a coalescing force, already a danger given the current geopolitical tension. "With 5G, we have a single global standard and that has very substantial advantages for the end consumer in terms of the amount of technology that has to be in the handset," said Nokia's Baker. "It keeps the cost down in terms of R&D for a single technology and I think it is absolutely in everyone's interest that we achieve the same in 6G."
Even so, the most obvious beneficiaries are arguably the world's governments, which see an opportunity to auction spectrum at occasionally exorbitant rates whenever a G arrives and the hype reaches its zenith. The prospect of billion-dollar centimeter wave auctions in 2030, sparking another wave of investment, must fill telco bosses with dread.
Figure 4: Price per MHz pop ($) in 'mid-band' 5G auctions
(Source: companies, regulators, Light Reading)
Yet Dean Bubley, an analyst with Disruptive Analysis, is not convinced those will happen. "I think one of the big changes we'll see over the next few years is a real change to how spectrum gets allocated and assigned and paid for, partly because it is getting ever more difficult to clear spectrum bands because everyone else wants more spectrum as well," he said.
The disappearance of the routine government auction, a focus of mainstream press interest in the Gs, would raise further questions about the need for them and their ultimate survival. The industry might not be ready to dispense entirely with that approach, but its operators have never sounded so unhappy about it as they do today. For suppliers, it would be dangerous not to listen.
Related posts:
— Iain Morris, International Editor, Light Reading
Subscribe and receive the latest news from the industry.
Join 62,000+ members. Yes it's completely free.
You May Also Like
---