The Money Is in the Verticals – How Analytics Unlocks 5G Value
The Money Is in the Verticals – How Analytics Unlocks 5G Value
In 2019 the race to launch commercial 5G services was hot, with both the USA and South Korea claiming firsts. Gaining early competitive advantage was key for many communications service providers.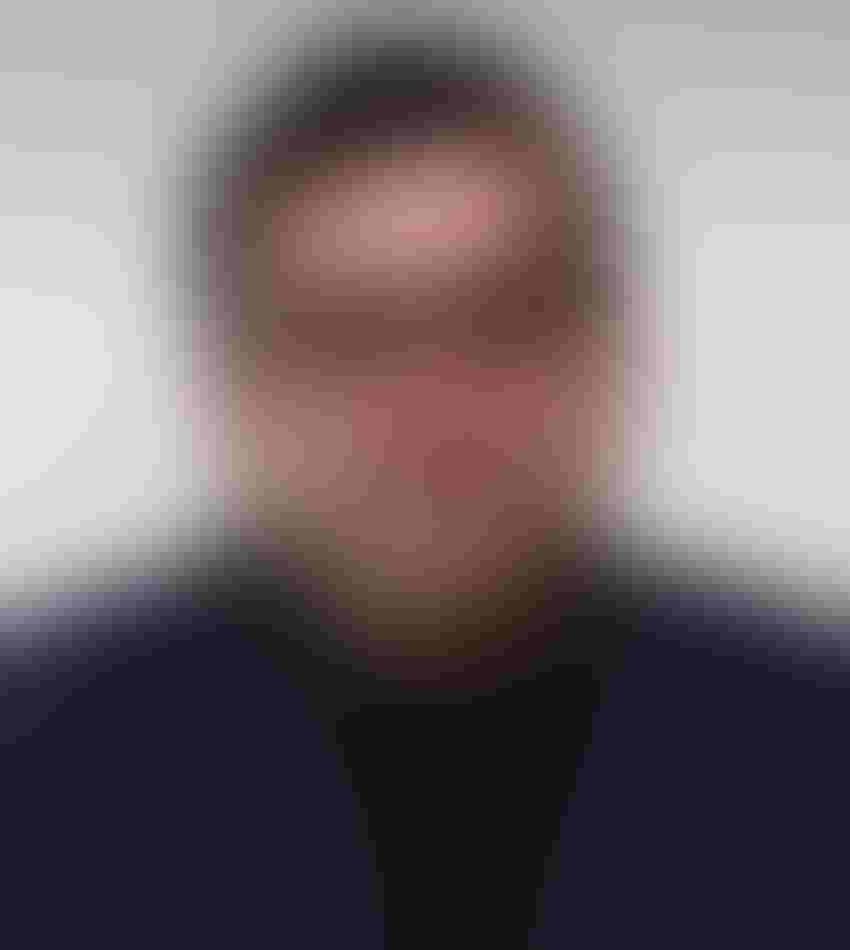 In 2019 the race to launch commercial 5G services was hot, with both the USA and South Korea claiming firsts. Gaining early competitive advantage was key for many communications service providers (CSPs). So much so that initial 5G subscription plans for consumers were in many cases set on a par with those for 4G or only slightly higher.
It all made sense. Consumers wanted the lowest prices and CSPs needed to win early market share. The focus was getting the 5G infrastructure built and able to deliver reliable consumer services. Yet consumer-friendly tariffs were never likely to deliver the revenue CSPs needed to recover their 5G network and spectrum investments. CSPs needed something more.
Things have since moved on. More capable 5G standalone (SA) is becoming available. In its January 2022 5G SA report, the Global Mobile Suppliers Association identifies 99 CSPs investing in public 5G SA networks, with at least 20 CSPs already having launched the technology commercially. The time is now right for CSPs to focus on the enterprise sector to win the revenue returns they need, as well as the value extraction phase to monetize their 5G investments.
Physical industries ripe for digitalization
Vertical enterprise sectors offer great opportunities, some more than others. That's because the pace of digitalization varies between industries. While verticals such as online retail, media and banking have realized much of their digitalization potential, physical industries like manufacturing, healthcare, transportation, logistics, mining and energy utilities have lagged significantly, until now that is.
According to Bell Labs Consulting1, digital investments enabled by 5G will hit $4.5 trillion globally in 2030, led primarily by physical industries undergoing massive digital transformation. These lagging verticals have huge potential to use digitalization to generate substantial value in terms of increased safety, productivity and efficiency (SPE). For example, mining can achieve five-fold 5G-driven SPE gains – for logistics the potential is up to 9x SPE gain, while in manufacturing the gain hits 11x SPE.
Figure 1: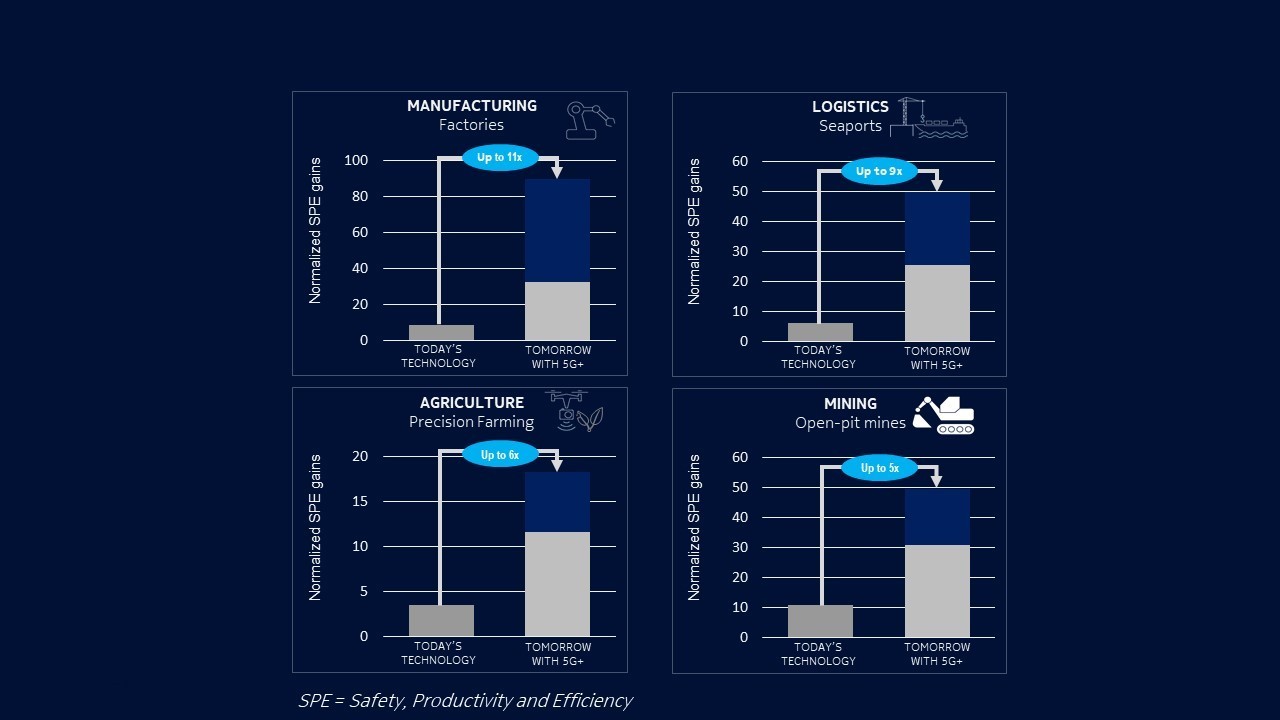 New levels of value/productivity growth are enabled by 5G, especially in manufacturing.
The power of network data
One of the prime ways for digitally lagging industries to achieve their potential SPE gains is through the Internet of Things (IoT). Billions of sensors and devices will be connected by 5G networks. That puts CSPs in a leading position to make use of the huge volume of network data generated to sell valuable insights to their enterprise customers.
Yet collecting and processing data from networks to gain meaningful insights often seems antiquated in today's cloud-native world. Extracting network data is typically done by probes, which can be costly and intrusive. Networks tend to be at times over-provisioned to handle the traffic from probes. This may even need the focus of an entire CSP department or outsourced teams to manage and monitor probes and monitoring systems.
Furthermore, the implementation of Artificial Intelligence / Machine Learning (AI/ML) to help make sense of all the data seems like an afterthought. Conventionally, CSPs have created their own vertically integrated capabilities, owning the complete value chain from networks to operational / service management to the point of value exchange with their customers. AI/ML capabilities to generate value from insights, while long recognized, are added on top and managed via separate projects and systems. Once again, the concept has its own merits, but has been a costly and cumbersome approach.
5G SA changes all that by implementing a service-based architecture and the road to value creation is not that steep because native AI/ML analytics capabilities fully harness the power of 5G and enable value extraction and creation for multiple vertical use cases.
Figure 2: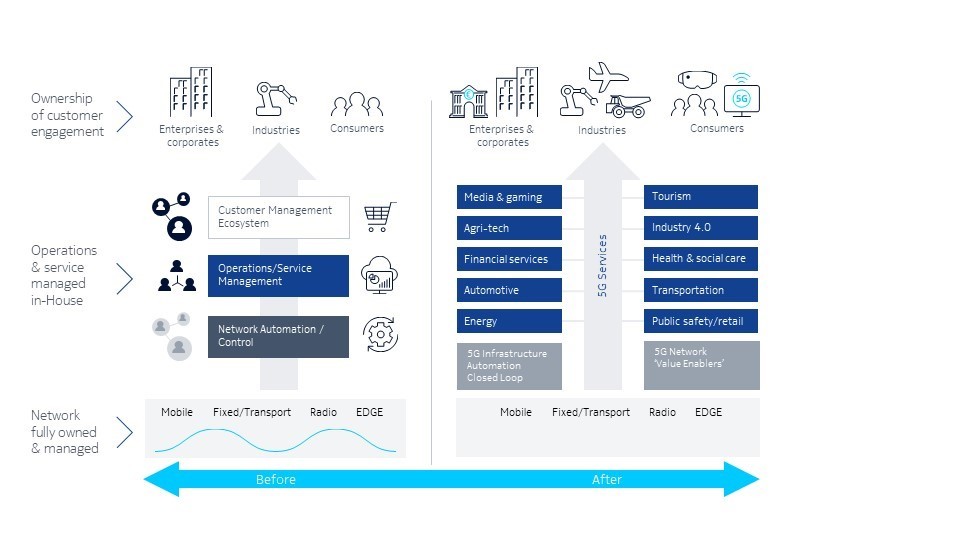 Shifting from the conventional CSP vertically integrated stack to a native analytics architecture that supports 5G "value enablers."
3GPP introduces 5G native analytics
When creating the 5G standards, the 3GPP thought carefully about the need for network data analytics and how it could generate value for CSPs. The result is a new function called the Network Data Analytics Function (NWDAF). The function offers a standard set of use cases based on 3GPP technical specifications. It also enables CSPs, vendors and ecosystem players to jointly create new cases that take advantage of technological developments to offer powerful propositions that go beyond the standards.
3GPP has standardized a number of use cases for NWDAF, for example UE related analytics scenarios such as UE mobility and abnormal behavior detection, Service experience analytics scenarios like QoS sustainability and Load & performance analytics such as identifying user data congestion and network performance.
The 3GPP specifications for the 5G SA Core standardize data use and analytics models to support product and service development. Costly probes in the core may no longer be needed and AI/ML analytics becomes a dedicated (SaaS native) function to achieve closed loop predictive and proactive network operations that improve customer experiences. As important, if not more so, CSPs can work with an open ecosystem of partners to address new sources of income from enterprise verticals.
APIs support open innovation
Open Application Programming Interfaces (APIs) play a crucial role here, allowing CSPs to give their own and external developers, as well as other partners, access to network data. This enables developers to take advantage of the 3GPP-compliant technical use cases to create additional valuable propositions.
In practice, a games developer, for example, could use the APIs and Software Development Kits (SDKs) which may use network data insights and create innovative gameplay, all without having to know how the underlying systems or processes work.
Creating open ecosystems is an opportunity not lost on a growing number of CSPs. The TM Forum reports more than 100 of the world's leading CSPs and technology suppliers have signed its Open API Manifesto2.
The new NWDAF provides the catalyst for CSPs to move from conventional capability creation, through the building of open ecosystems supported by open APIs to accelerate innovation, to an era of value creation in which they extend telco services into industry verticals.
The road to value creation: CSPs can evolve from simply creating capabilities, through ecosystem creation, on to value creation in which they jointly create new services to address the needs of vertical enterprise markets.
Analytics at the edge
Many of 5G's most exciting capabilities involve ultra-low latency use cases. Good examples include drones for public safety or industrial uses. These rely on 5G connectivity and low latency not just to livestream video, but also to calculate drone position, provide situational awareness, avoid collisions, and receive instructions from a remote operator – all in real time.
To support such use cases, analytics must be made available at the network edge. With this need in mind, Nokia created its AVA NWDAF architecture to incorporate both edge and central NWDAF instances. This distributed architecture enables CSPs to provide real-time analytics at the network edge to optimize the user experience for ultra-low latency use cases, thus creating new revenue possibilities with partners and customers. The architecture also helps to boost CSP productivity by providing insights directly from the NWDAF, as well as indirectly by feeding insights to CSP tools and processes.
Nokia AVA NWDAF was conceptualized as a SaaS native offering because SaaS in networks is becoming relevant and feasible with technological evolution. It also helps CSPs to use point capabilities much faster than conventional deployment models, which in turn helps rapid creation of new offerings. The SaaS deployment model is increasingly being recognized in the telco world as the most effective way for many CSPs to move quickly up the value chain. Most CSPs are already familiar with the benefits of SaaS in their customer-facing systems like Customer Relationship Management (CRM) solutions, which makes their adoption in the network more acceptable.
Data analytics technology has advanced spectacularly in recent years. Combining analytics with the possibilities created by cloud-native 5G SA is one of the most promising ways for CSPs to win new revenue from industry verticals with the greatest potential gains to be had from digitalization opportunities. But markets will not wait – it's time for CSPs to begin planning use cases and putting NWDAF capabilities to good use.
1 The big inversion. How 5G+ technologies will create new value for industries in a post-COVID world, Bell Labs Consulting
2 https://inform.tmforum.org/open-apis/2022/02/rapid-growth-in-open-api-certification-as-more-telcos-push-for-compliance/
This content is sponsored by Nokia.
Subscribe and receive the latest news from the industry.
Join 62,000+ members. Yes it's completely free.
You May Also Like
---