 Imagine a technology that is so scalable, low-cost and effective that operators could solve their capacity crunch without spending $45 billion on new spectrum or waiting for 5G. It may sound too good to be true (and at least a couple analysts question its claims), but an innovative startup claims that technology is available now, bringing with it 25 times the performance of cellular LTE from the same amount of spectrum.
"The biggest thing we realized in announcing this is that it is such a large leapfrog in terms of performance, power savings and cost savings that even if we show it to [operators] working and go through the math and science and have them bring in CTOs, we still get feedback that they see it work, but can't explain how anything can work so well," says Steve Perlman, founder and CEO of Artemis, and inventor of pCell.
Perlman says wireless operator CTOs are grappling with disbelief since the innovation was first introduced a year ago. pCell, which stands for personal cell, is the result of over a decade of research, but it's not in university labs or the research and development phase right now. Rather, it's currently being tested with operators and is on track to be commercially deployed this year.
Figure 1: pCell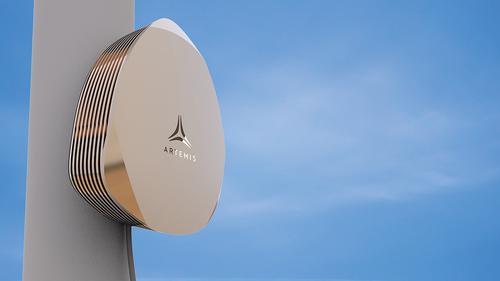 These small devices combine several signals to create interference patterns that have the net effect of giving each mobile user their own personal signal. Artemis says they work indoors or outdoors and can be mounted anywhere.
Here's how it works: Operators would deploy pWave radios with single-input, single-output (SISO) antennas using a centralized-radio access network (C-RAN) architecture wherever they have congestion. Rather than avoid interference as strategically placed cell towers do, Artemis's small pWave radios use that interference to take transmitted radio signals and synthesize them into higher-power signals for each individual mobile device, thus giving every user in that vicinity fiber-like speeds. (See Radio Revolutions on the Road to 5G.)
"The biggest benefit is that the users don't share one cell, so the capacity is divided and every user gets the full capacity of the spectrum simultaneously," Perlman says. The result, he adds, is 100 users sharing a cell get 100 times the access increase. See Artemis's own video explanation below for more.
It works with any existing LTE devices that use its SIM, and Perlman says it's frequency agile, so it will work on any spectrum band, including WiFi. And, the small size of the pWave radios -- about the size of a wireless router -- means they can be put anywhere indoors or outdoors, hidden or visible, although they are subject to the same leasing and backhaul requirements as small cells.
Demos in San Francisco, NYC and Texas have shown 25-times performance improvements in the network with the same amount of spectrum, Perlman claims. The company also tested its scalability by packing 32 antennas into an area of less than 2,000 square feet, each 2.5 meters apart from each other. Even with 16 iPhones fighting for capacity, as shown in the following video, Perlman says the system performed as promised.
"For a typical user, the main thing they will notice is that pCell always works -- no buffering or dead zones," he adds. "That's not something operators are able to offer. They can't make it reliable on their own."
Next Page: Questioning pCell's potential
Perlman has taken an unusual approach to introducing pCell to the market, which could explain why there's some skepticism about the product. There was no steady stream of R&D announcements, in-lab demos or publicity for its decade of patent filings; just a big product launch a year ago with much fanfare. Interestingly, he also chose not to attach it to the 5G moniker, which has been the focus of much hype, although little consensus on what it means.
Perlman admits some operators have been taken aback, but he adds it's in his DNA as an inventor and someone who does R&D to launch products, not research. Perlman was also the inventor of OnLive, WebTV and QuickTime, Apple Inc. (Nasdaq: AAPL) video encoding technology.
"MIMO took 15 to 20 years before it left the lab and was in a product, but I decided to just go and show our products," Perlman says. "I got tired of people not believing in it, [so we said], 'Here's the spec sheet, you can deploy it and see for yourself.' "
Current Analysis analyst Peter Jarich is among those who think pCell might sound a little too good to be true. He says this feeling is compounded by the fact that the startup isn't talking 5G nor referencing standardization. "If I were a start-up trying to garner interest from carriers, I'd make standards a central part of my story," Jarich says. "Standards are what keep technologies alive (hopefully) if the small company dies."
Ovum Ltd. analyst Daryl Schoolar also points out that pCell will have to get enough mobile ecosystem support to become part of 3rd Generation Partnership Project (3GPP) standards. Although Perlman says it hasn't worked with standards bodies because pCell is already 100% LTE and WiFi compatible.
Jarich also questions how the company will address siting issues, given that deployments will require a lot of pCells, as well as how a firm the size of Artemis will support large-scale deployments.
Want to know more about next-generation network technologies? Check out our dedicated 5G content channel here on Light Reading.
Artemis says it's poised to prove the naysayers wrong this year, and is moving forward with plans to expand to major markets in the US, Asia and Europe this year, as well as position pCell for developing markets. Unlike developed markets that would use the technology to reduce congestion, Perlman sees interest in pCell in developing regions as an alternative to deploying LTE in the first place.
"We come in and say this is cool because it's inexpensive to deploy, doesn't need fiber, doesn't need power, can use rooftops and doesn't need generators or battery backup, because these areas have backup issues," Perlman says. "If you lose one cell in cellular, the whole area loses power. With pCell you still have coverage if one goes away."
That's farther down the roadmap, however. Right now Perlman and Artemis are focused on continuing to convince wireless operators that their technology is viable and works as advertised. In addition, the company is talking to stadiums that see pCell as an alternative to small cells and DAS for both LTE and WiFi. Perlman says the company is also working with a "recognizable" in-building DAS provider to equip indoor locations with pCells.
It's also talking to the big vendors about partnering up to combine Artemis's CRAN with their radio equipment. Some are receptive; some see pCell as a competitor, Perlman says. Getting them on board will be a helpful step to convincing operators its system is actually just good enough to be true.
"Once we're over the credibility hump, it will be better," Perlman says, adding that Artemis has essentially been in trial for the last decade. "We've been pushing ourselves further than any partners have."
— Sarah Thomas, Editorial Operations Director, Light Reading
Subscribe and receive the latest news from the industry.
Join 62,000+ members. Yes it's completely free.
You May Also Like
---