 Nokia sounded the bell for round one of the pre-MWC 2018 media coverage joust with the unveiling of a new dedicated 5G infrastructure chipset, dubbed (thrillingly!) ReefShark, and an end-to-end 5G network architecture pitch in part based on the new component.
Nokia Corp. (NYSE: NOK)'s Future X architecture for 5G stretches from the data center core to the edge of the network and incorporates automated processes in what is essentially a telco cloud. With software-defined networking capabilities at its heart, it is designed to scale and adjust in line with the demands of traffic flows and the applications running over it, as well as enable "network slicing" (the creation of secure network partitions for designated services).
The architecture encompasses:
Radio Access Network (RAN) elements, including the vendor's 5G New Radio (NR) based on the recently released 3GPP specs, its modular AirScale RAN system, small cells and active antennas. An expanded SDN-enabled Anyhaul transport portfolio that covers fronthaul and backhaul deployments, using various technologies such as next-generation passive optical networking (PON), microwave, routing and optical transport to enable low latency, high-capacity traffic flows. "Cloud-native" integrated 5G core platforms that support wireless and fixed services and utilize the FP4 processor launched last year. (See Nokia heralds fastest network processor ever.) A range of alternative access technologies to complement 5G NR, including FTTx, cable broadband and wireless PON. (See Nokia Debuts First Fully Virtualized Cable Access Architecture.) A menu of "5G Acceleration Services" from consultancy to planning and other professional services. And the vendor is making a pretty big deal of the automation capabilities it can offer in the Future X for 5G proposition. "Automation is key to realizing the full operating potential of 5G and dealing with the massive number of network connections and their different requirements," states the vendor in its official announcement, before making some eyebrow-raising claims about its "advances in artificial intelligence and machine learning" and the potential to reduce opex by up to 30%. (Editor's note: Such a claim about opex savings would only stand up if independently verified, but is still worth noting. As for the automation capabilities, Nokia's pronouncements about AI and machine learning have been somewhat nebulous to date -- we are aiming to squeeze some details and insight from the company in the near future.) For much more on the full architecture, check out Nokia's press release. (See Nokia Unveils End-to-End 5G Architecture.) So will this capture the attention of mobile operators planning their 5G network strategies? It should do, as the proposition is extremely comprehensive, noted an experienced industry analyst. "The Future X architecture is probably the most complete end-to-end 'solution' we've seen for 5G, incorporating cloud -- NFV, orchestration, distribution and so on -- and transport -- SDN, X-haul and more -- with the 3GPP system architecture that includes the 5G RAN and 5G core," said Gabriel Brown, principal analyst for wireless data services and LTE at Heavy Reading. "This is one of the fruits of the Nokia and Alcatel combination. It's a great reference and very positive," he added. But is Nokia's end-to-end model somewhat ill-suited to the cloudified, open 5G world of the future? Brown suggests so. "Most operators will only deploy parts of it because they want multivendor networks. Larger operators will want to break the architecture down, at least into the major domains, and mix suppliers," he said. Figure 1: Fish & Chip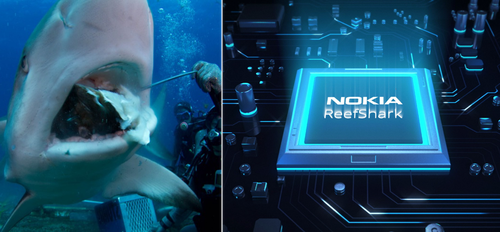 Spot the difference.... a Reef Shark and a ReefShark. Sinking its teeth into 5G
As part of the Future X architecture for 5G pitch, Nokia has announced its ReefShark chipset for 5G. The company claims this new in-house-developed component can boost cell site throughout threefold, significantly reduce massive MIMO antenna size and power consumption, use embedded AI capabilities to optimize radio resource usage and "support network slicing." The vendor says it is engaging with 30 operators on this development -- including BT/EE in the UK -- and plans to start shipping the chipset in volume during the third quarter of this year. For the full details, check out Nokia's lengthy press release. (See Nokia Unveils ReefShark 5G Chipsets.) This is an example of Nokia making the most of its strengths, said Brown. "This is in line with Nokia's view that in-house silicon can improve performance markedly. The FP4 chipset for high-end routing was a sign that the company would invest in silicon and so this doesn't come as a surprise. It's also interesting in that ReefShark is designed for the relatively new AirScale basestation platform, which Nokia had already positioned as 5G-ready." Brown added: "Operators and vendors are now thinking past the bare minimum they need to launch 5G [non-standalone mode] to the longer-term opportunities. A lot of the innovation in RAN -- virtualization, cloud, ultra-low-latency, massive MIMO and so on -- is compute-intensive and needs to be optimized in hardware for performance at scale. An in-house chipset solution is the preserve of the biggest RAN vendors... availability and timing of this solution are critical for Nokia." Nokia certainly appears to be playing to its strengths, combining its mobile network infrastructure heritage and know-how with the virtualization, cloud, transport and multi-mode access network strengths that came from Alcatel-Lucent, in addition to the chipset smarts and R&D capabilities of Bell Labs. All of those factors have been in the mix for years, and this 5G-related proposition is just one manifestation of Nokia's work: The company, and specifically CTO Marcus Weldon, has been talking about Future X Network "paradigm" as a meta-architecture for a few years and has worked alongside operators such as Orange as it has been developed. (See Nokia: Why Web Scale Alone Can't Win, Orange, Nokia Collaborate on 5G R&D and Bell Labs' Weldon on Infinite Bandwidth.) So, a strong start to the Barcelona build-up for Nokia, which reports its fourth quarter and full financial year on Thursday February 1. Now let's see what Ericsson and Huawei have in their arsenals. — Ray Le Maistre, Editor-in-Chief, Light Reading
Subscribe and receive the latest news from the industry.
Join 62,000+ members. Yes it's completely free.
You May Also Like
---