 The impact of 5G from a data traffic and connectivity standpoint is expected to emerge in about three years' time, as a new Cisco Systems study predicts that nearly 12% of global mobile data traffic will come from 5G connections by 2022.
That's the result of 5G deployment activity that has already begun but which is set to become widespread by 2022, according to Cisco's latest Visual Networking Index (VNI) Global Mobile Data Traffic Forecast, 2017-2022, which is based on a mix of independent analyst forecasts and real-world network usage data.
Figure 1: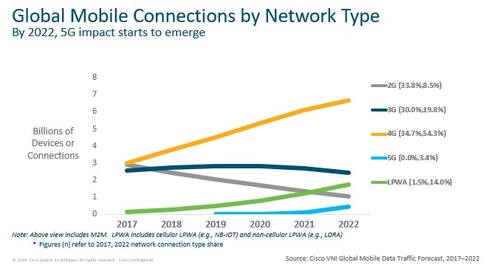 Cisco's new forecast also sees 5G connections representing just 3.4% of total global cellular connectivity by network type by 2022. That compares to 54% for 4G, 20% for 3G, 8% for 2G and 14% for LPWA (low-power wide area) networks that include both cellular (such as narrowband-IoT) and non-cellular technologies, such as LoRA.
Though 4G traffic will continue to grow and dominate the mobile landscape by a wide margin in 2022, it will start to enter a "stabilization era" as 5G enters the picture in a bigger way with trials and deployments, Shruti Jain, a senior analyst at Cisco, said.
Looking at specific regions, North America is expected to have the greatest proportion of 5G connections by 2022, with 8.9% of the region's total. Western Europe follows in second (6.4%), with Asia-Pacific (3.6%) and Latin America (1%) trailing behind.
Figure 2: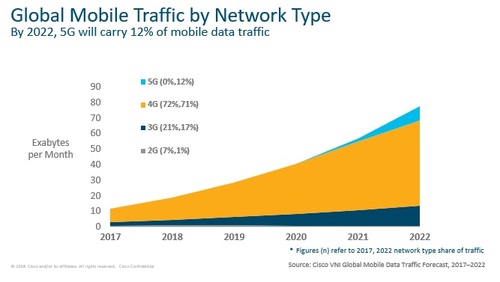 Average 5G speeds, meanwhile, are expected to rocket to 170 Mbit/s by 2022, compared to 76 Mbit/s in the early phases of the rollout in 2019. Meanwhile, average 4G speeds are expected to creep up to 44 Mbit/s by 2022, from 30 Mbit/s in 2017.
Those loftier speeds on 5G will also lead to a big expected increase in data consumption, with Cisco predicting that an average 5G connection in 2022 will generate about 22 Gbytes of data per month, roughly three times more than the 8 Gbytes per month generated by 4G connections.
Next Page: Video to dominate mobile traffic, plus M2M & WiFi trends

Video to dominate mobile traffic
Video, the study predicts, will represent 79% of mobile data traffic in 2022, up from 59% in 2017. By comparison, Cisco's latest Visual Networking Index (VNI) study, which was released in November 2018 and factors in both fixed and mobile traffic, predicts that video will represent 82% of global Internet traffic by 2022, up from 75% in 2017. (See Terabyte Households Surge as Video Eats the Internet .)
Figure 3: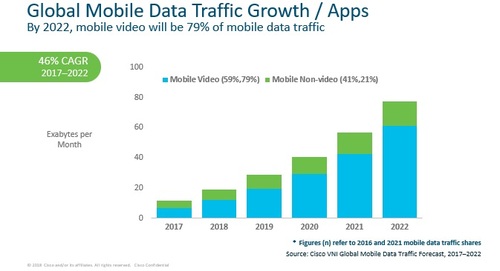 By 2022, Cisco also expects annual global mobile data to flirt with the zettabyte (1,000 exabytes) milestone, with an annual run rate of roughly 930 exabytes per year, which equates to 113 times the mobile traffic generated in all of 2012 (8.2 exabytes). By that time, mobile traffic will represent about 20% of global IP traffic, Cisco said.
Global average cellular speeds are also expected to surge -- to 28.5 Mbit/s in 2022, up from 8.7 Mbit/s in 2017. On a regional basis, Western Europe is forecast to lead the way with an average of 50.5 Mbit/s in 2022, followed by North America (42 Mbit/s), Asia-Pacific (28.8 Mbit/s) and Central/Eastern Europe (26.2 Mbit/s).
The study predicts that total mobile connections will grow from 8.6 billion in 2017 to 12.3 billion in 2022, At the same time, mobile data traffic will surge to 77 exabytes per month in 2022, representing a compound annual growth rate of 46% over the study's five-year snapshot.
The average traffic per mobile user (for all devices and service plans) is likewise expected to hit 13.3 gigabytes per month in 2022, up from 2.3 GB per month in 2017. The average traffic per connection, meanwhile, is seen surging from 1.3 Gbytes in 2017 to 6.3 Gbytes in 2022.
That usage data could cause some carriers to reassess their data-usage policies and the ways they monetize their networks, Thomas Barnett, director of service provider thought leadership at Cisco, said, "The demand for the networks never seems to go away... But it's about what the consumer is willing to pay."
Traffic for augmented reality and virtual reality apps and services will represent a small slice of the overall pie. But it's still expected to rise to 254.4 petabytes per month in 2022, compared to just 22.1 petabytes per month in 2017.
Smartphones -- including 'phablets' -- are set to exceed 50% of total mobile devices/connections by 2022, with machine-to-machine being the next closest category.
M2M trends
The study sees global M2M connections reaching 3.9 billion by 2022, up from 1 billion in 2017 -- a CAGR of 32%. Also by 2022, M2M modules will represent 31% of total global mobile devices and connections. But, given their small data usage, the modules will account for just 2% of mobile data traffic, according to Cisco's forecasts.
Among M2M categories, connected home will be the top use case, outpacing areas such as connected cars, connected healthcare, manufacturing and supply chain, and energy.
Figure 4: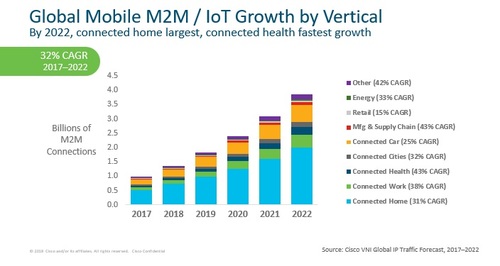 Also by 2022, Cisco believes that 9% of connected wearables will have embedded cellular connectivity, compared to 3.7% in 2017.
Whipping up more WiFi
Speeds over WiFi -- a technology that remains key to cable operator wireless strategies -- are set to double, from 24.5 Mbit/s in 2017 to 54.2 Mbit/s in 2022. Cisco's study predicts that 59% of mobile traffic will be offloaded by WiFi in 2022, a CAGR of 50%. Of note: In 2017, monthly WiFi offload traffic of 13 exabytes exceeded monthly mobile/cellular traffic of 12 exabytes.
The number of global public wireless LAN and community hotspots is expected to reach 549 million in 2022, up from 124 million in 2017, with the Asia-Pacific region to be home to 45% of them, Cisco's forecast found.
Offering a bigger view of the mix of fixed and mobile global IP traffic by 2022, Cisco said 29% will come from wired connections, 51% via WiFi and 20% from mobile/cellular.
— Jeff Baumgartner, Senior Editor, Light Reading
Subscribe and receive the latest news from the industry.
Join 62,000+ members. Yes it's completely free.
You May Also Like
---