 The race is on to build the first commercial 5G networks, but beyond providing ever faster mobile broadband connectivity, what type of applications and services will enable network operators to develop new revenue streams using their shiny new networks?
That's the question being addressed by a Spanish research lab called 5TONIC that was founded more than two years ago by Telefónica and not-for-profit research organization IMDEA Networks Institute, and which now includes the likes of CommScope, Ericsson, Intel and Red Hat amongst its members.
The focus of the initiative, which is funded by its members but which could access EU funds for specific projects, is to identify useful applications for specific verticals, not to engage in yet more R&D on the underlying technology, notes Patrick Lopez, VP of networks innovation at Telefónica and a member of the 5TONIC steering board.
"We are identifying specific needs within verticals that are unresolved with current technology -- the big issue is that there's a lack of understanding among enterprises about what 5G could do for them," Lopez told Light Reading during the recent 5G World Summit in London. "Telecoms people tend to talk about the technology … it takes time to translate the opportunities created by the technology into benefits for users" and then be able to communicate that to those users. "We need to understand what kind of workaround companies are using today to achieve what they need to be done," and see how 5G could help make that more efficient and better.
Now entering its fifth year, the 2020 Vision Executive Summit is an exclusive meeting of global CSP executives focused on navigating the disruptive forces at work in telecom today. Join us in Lisbon on December 4-6 to meet with fellow experts as we define the future of next-gen communications and how to make it profitable.
Basically, then, 5TONIC is searching for 5G's raison d'être -- the use cases that will turn 5G into more than just 4G on steroids. (See 5G Still More Like Rocket Fuel Than a Mission to Mars.)
So what has 5TONIC done so far? It currently has three use cases: The first was focused on the use of augmented and virtual reality at tourism trade shows, which are big business in Spain; and the second was focused on providing device-to-device data communications between wearable technology -- will the 5G T-shirt be the next big industry giveaway? -- and healthcare workers.
Now 5TONIC has teamed up with ASTI Mobile Robotics to investigate how 5G systems could be used to manage and drive load-bearing autonomously guided vehicles (AGVs) around industrial settings in a more efficient way. In addition to goods they are carrying (up to several tons), AGVs currently incorporate a significant volume of compute equipment, including microcontrollers: 5TONIC and ASTI will look at how much of that IT could be centralized and the microcontroller tech virtualized, reducing the cost of the AGVs and improving the centralized management of the driverless vehicles as they follow their instructions about where they need to go next. (See this 5TONIC announcement for more details.)
Lopez says the early trials with ASTI, which involve technology from Ericsson, CommScope and edge computing specialist Saguna Networks , do not currently use a pure 5G topology -- the radio technology is still LTE, for example. As a result, the latency between the centralized compute assets and the AGVs is currently about 25 milliseconds, but that will reduce once a 5G radio technology is available and swapped in, he explains.
That shift to a full 5G set-up will likely come later this year, when ASTI plans to build on the early tests and set up a proof of concept in one of its own commercial factories, while any moves to take the concept to an external third party would not happen until some time in 2019.
Figure 1: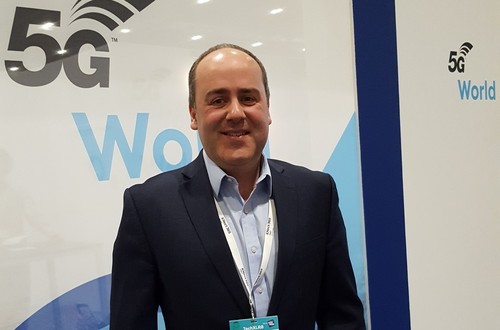 Telefónica's Patrick Lopez: 5TONIC is identifying specific needs within verticals that are unresolved with current technology.
Evaluating such use cases, then, clearly takes time… a lot of time. Lopez notes that each potential use case "has a significant incubation period" while the various parties involved analyze what is currently being achieved, what end users want, how the introduction of 5G could benefit enterprises and then how trials and tests could benefit all involved. Further trials are being considered but Lopez says 5TONIC isn't ready to discuss any details just yet.
In the meantime, Telefónica is engaging separately with ASTI Mobile Robotics to develop IoT products based around 4G capabilities and to jointly develop business opportunities in multiple verticals based on automated industrial processes in the European and Latin American markets where the Spanish operator giant is active. (See Telefónica, ASTI Mobile Robotics Team on Industrial IoT.)
— Ray Le Maistre, Editor-in-Chief, Light Reading
Subscribe and receive the latest news from the industry.
Join 62,000+ members. Yes it's completely free.
You May Also Like
---