 Fixed wireless access (FWA) technologies look increasingly important to operators' 5G deployment plans. It is clear that some operators plan to base early 5G networks on fixed wireless infrastructure rather than rolling out 5G networks to deliver full mobility. Why? Because FWA can be used to deliver broadband services into a neighborhood without the expense or effort of deploying fiber close to the home. It can typically be installed faster than new networks requiring fiber deployment to buildings. There is a business case for deployment that is easily understood.
But for FWA to work best in a 5G context (and indeed within LTE networks, too), significant challenges related to non-line-of-sight (NLoS) performance, motion, interference and lack of sufficient suitable spectrum need to be addressed. These issues have so far prevented much wider use of FWA technologies in sub-6GHz bands. In urban and suburban areas, they have meant that FWA networks simply have too many no-go zones to be viable.
A report published by Heavy Reading, Broadband Fixed Wireless: Overcoming Delivery Challenges, reviews a series of tests of fixed wireless access systems carried out over the summer and fall of 2017. These tests demonstrated it is technically possible to provide reliable high-speed broadband services over FWA networks where there is no line of sight -- even where issues such as motion or interference need to be overcome -- and without using dedicated, licensed spectrum.
The equipment that achieved this level of performance used distributed massive MIMO (DMM) technology along with digital beamforming, algorithms for 3D equalization, closed-loop beamforming, co-channel interference cancellation and adaptive interference cancellation. Broadband services providing, in some cases, throughput of hundreds of megabits per second to the customer premises equipment (CPE) in a 20MHz channel, were delivered in the course of a variety of tests in point-to-point and point-to-multipoint (PtMP) configurations.
The tests compared the performance of this "DMM plus algorithms" approach with other off-the-shelf FWA technologies. There are many systems which work in line-of-sight deployments; however, it is the more challenging conditions that wireless ISPs need to address if they are to make their services broadly available in mainstream residential markets. Here, where NLoS conditions are the rule, costs of deployment spiral if operators must deploy extra equipment to compensate for impeded or blocked lines-of-sight, interference and motion. "DMM plus algorithms" showed substantial increases in uplink (UL) and downlink (DL) performance in challenging scenarios, with the technology delivering throughput of hundred of megabits per second in cases where other solutions failed to work at all.
The chart below shows the results of the line-of-sight, near-line-of-sight, and non-line-of-sight point-to-point test results for the "DMM plus algorithms" approach and the best-performing of the other systems using 20MHz in the unlicensed spectrum band at 5.8GHz. Comparative results for tests involving motion, interference, and combinations of NLOS, interference and motion, as well as for point-to-multipoint network configurations, are available in the report.
Figure 1: FWA Distance & Visibility Tests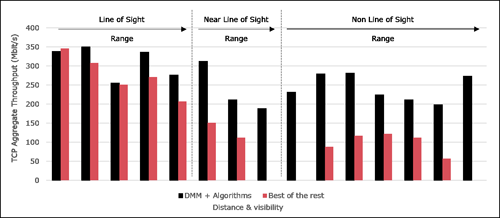 Click here for a full-sized version.
Basestation equipment was hosted by Etheric Networks, an enterprise service provider in California, with CPE deployed "out and about" in an urban environment according to the requirements of the various test cases. Etheric Networks used these tests to assess the best technology direction for its own enterprise access network expansion plans.
The results of these tests should be of interest to operators and regulators, as they mean that from a technical perspective, many markets or service objectives that previously could not realistically be targeted with fixed wireless broadband technology could potentially now be reconsidered, especially as additional sub-6GHz spectrum is likely to be made available for 5G services. There is the real prospect of FWA networks, powered by the right technology, to play a significant role in delivering the next generation of business and residential access services, ushering in the new era of gigabit broadband everyone would love to see.
The full report is available here: Broadband Fixed Wireless: Overcoming Delivery Challenges
This blog is sponsored by Etheric Networks
— Matthew Cramer, Managing Editor, Heavy Reading
Subscribe and receive the latest news from the industry.
Join 62,000+ members. Yes it's completely free.
You May Also Like
---