Watching a Roger Federer forehand in slow motion, or a Cristiano Ronaldo goal from every conceivable angle, today's armchair sports enthusiasts live in a golden age of television. But technology hurdles and investment challenges continue to restrict what broadcasters can achieve. Filming sports events at poorly equipped venues or in remote locations is often not feasible. Shooting footage in a more dynamic, "YouTuber" style can be just as problematic.
Now BT Group plc (NYSE: BT; London: BTA) is hoping to change all that with 5G, a forthcoming mobile technology promising faster and more reliable connections than older 3G and 4G networks can provide. In the UK operator's view, 5G could handily substitute for the rather costly satellite-based systems that broadcasters typically use to relay signals from sports venues to production facilities. Today, broadcasters usually need lots of installed equipment and large teams to film sports events. In future, all it might take is a few cameramen equipped with 5G gear.
BT demonstrated the technology this week at London's Wembley Stadium, the UK's most famous sports venue and a testbed for BT's forthcoming services. Reporters and analysts were shown a "first-generation" device from China's Huawei Technologies Co. Ltd. that provides connectivity between camera equipment and a 5G antenna high up in the stadium. From there, says Matt Stagg, BT's sports director of mobile strategy, the signal is "backhauled" over a fixed-line connection to BT's production facilities in Stratford. The Huawei 5G device would go into a backpack worn by the cameramen, he explains.
Figure 1: But Will It Work on a Rainy Night at Deepdale?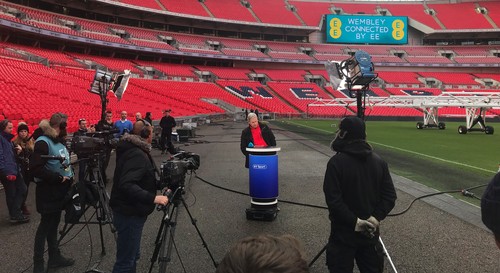 BT Sport Presenter Matt Smith participates in a demonstration of 5G technology at London's Wembley Stadium.
Outside the consumer market, where 5G will support higher-speed smartphone and broadband services, what BT calls "remote production" is the most well defined of any potential 5G use case, according to Stagg. It could provide a spur to BT's own TV business, allowing it to screen additional events (assuming rights issues are no barrier) or behind-the-scenes footage. Cameramen wearing their 5G backpacks could film interviews on a team bus traveling to a stadium -- a challenge with current technology -- before shooting the actual match, for example.
The bigger sales opportunity, though, could lie in selling a 5G remote production service to other broadcasters. "We already work with media and broadcast partners and so we have been meeting with them and saying what do you want," Stagg told Light Reading at Wembley. "We would be selling it to broadcasters now if we could do it."
Figure 2: Lights, Camera, Action...
Reporters and analysts gather round for BT's 5G display (the white cylinder in the foreground is the Huawei device that provides connectivity to the stadium antenna).
In eyeing up a mobile technology to support TV production, BT is effusive about the specific attractions of 5G. While its low signaling delay is often cited as the chief benefit outside the consumer market, that has little relevance in TV production, according to Stagg. By contrast, the guaranteed throughput BT could provide on a 5G network is evidently critical. "That has to be nailed up," he says. In taking advantage of a 5G technique called "network slicing," BT would be able to carve out a service for remote production that always delivers a minimum level of bandwidth. Such guarantees are simply not possible with today's 4G networks. (See 5G Still More Like Rocket Fuel Than a Mission to Mars.)
When and where this service will first become available is currently unclear. In what seems to be a commercial trial, BT will use 5G technology to broadcast a soccer match at Wembley Stadium featuring YouTubers and former professional footballers on November 25. Beyond that, service rollout will piggyback on BT's deployment of 5G for its smartphone and broadband customers. The company's broad aim is to launch 5G in 16 of the UK's largest cities next year. Sports facilities in those locations -- which include the four capital cities of Belfast, Cardiff, Edinburgh and London -- may get a 5G makeover as part of that deployment, hints Stagg. (See BT to Put 5G at 1,500 Sites in 2019, Beating Vodafone.)
Want to know more about 5G? Check out our dedicated 5G content channel here on
Light Reading.
Paolo Pescatore, the senior vice president of consumer services for MIDiA Research, says there are commercial opportunities beyond the sports segment. "BT could sell slices of the network to the BBC and CNN and other news agencies who rely on going out into the field," he tells Light Reading. "It is difficult to get a truck and a crew to a location, but two people could get on a train with a camera and report and produce."
Yet just as that would reduce costs for those organizations, the real interest for BT could lie in slashing its own production expenses through 5G technology, according to Pescatore. "They are in an increasingly competitive sports rights market where they have clearly walked away from certain rights they could have renewed," he says. "Another side benefit is reducing costs, which enables BT Sport to be in a better financial position. This could mean fewer people going to games, lower transportation costs and leveraging more of the assets back at BT's production facilities in Stratford. Furthermore, it will allow its staff to be more creative with the editorial output in real time, providing users with a more immersive experience."
Indeed, Stagg points out there is a finite amount of trucks and people that can be sent to remote locations. With 5G, BT would also avoid the need to set up and take down traditional broadcasting equipment at considerable expense. "It makes small camera productions look like big ones," says the BT executive. If that delights armchair sports fans and keeps a lid on costs, then BT will have scored a brace.
— Iain Morris, International Editor, Light Reading
Subscribe and receive the latest news from the industry.
Join 62,000+ members. Yes it's completely free.
You May Also Like
---