It's a strange, strange modern media world.
Through a series of acquisitions, AT&T Inc. (NYSE: T) could end up as a new kind of Disney customer, relying on the entertainment giant for streaming video infrastructure services. The result would have nothing to do with Walt Disney Co. (NYSE: DIS) providing content to AT&T, something the Mouse House already does through licensing agreements that feed AT&T's U-verse, DirecTV and DirecTV Now offerings. Instead, it would come about because of Disney's recent decision to acquire a majority ownership stake in BAMTech, the streaming technology company born out of MLBAM . (See Disney Joins OTT Bandwagon.)
Here's how the situation plays out. BAMTech is currently the streaming partner behind the HBO Now over-the-top video product. If Disney's buyout plan gains regulatory approval, that means Home Box Office Inc. (HBO) will become a Disney customer. Meanwhile, AT&T is in the process of closing a deal to acquire HBO parent company Time Warner Inc. (NYSE: TWX). Assuming that transaction also goes through, AT&T will automatically become a Disney customer through its Time Warner/HBO ownership.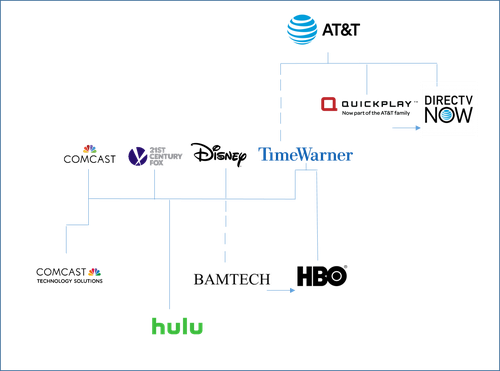 There is a catch, however. Reports suggest that HBO's contract with BAMTech is set to run out this year, and the entertainment provider already uses additional streaming services for other HBO products. It's entirely conceivable that HBO could be in the process of switching its supplier contract to another vendor, or moving the service in-house, even before the AT&T deal goes through.
Light Reading reached out to HBO for comment and was told: "We are still assessing but we have stated publicly that we do plan on consolidating all streaming products (we have five different ones around the globe) onto one internal platform."
For AT&T's part, the company doesn't appear to need BAMTech for streaming purposes. The telco acquired Canadian company Quickplay last year, and it's Quickplay's platform that underlies the DirecTV Now OTT service. AT&T has also said it's consolidating all of its video services on to a single platform, suggesting that Quickplay will be the primary technology support for any video streaming initiatives going forward. (See AT&T, Verizon Want to Wholesale IPTV.)
---
Want to know more about video and TV market trends? Check out our dedicated video services content channel here on Light Reading.
---
Disney's deal to acquire BAMTech and AT&T's earlier acquisition of Quickplay both emphasize the importance to video companies of owning not just content assets, but also delivery infrastructure. Several other large players in the industry have come to the same conclusion. That's why Verizon Communications Inc. (NYSE: VZ) formed its Digital Media Services group, Netflix Inc. (Nasdaq: NFLX) built its own content delivery network and Comcast Corp. (Nasdaq: CMCSA, CMCSK) created its Technology Solutions business. (See Comcast Intros a Whole New Kind of Bundle and Who's in the Media Merger Hunt?)
Meanwhile, it's worth noting that Disney is also a Verizon DMS customer in addition to partnering with (and soon owning) BAMTech. That fact illustrates just how complex the streaming ecosystem has grown, and how many parts of the video delivery chain overlap.
As another example of overlap and companies intertwining, Hulu LLC announced recently that it's using Amazon Web Services Inc. to power the Hulu live TV service. (See Hulu Hooks Up With AWS for Live TV.)
This despite the fact that Comcast is one of Hulu's owners, and also offers its own streaming video technology. But then again, Comcast also uses AWS for some of its own infrastructure purposes.
Also, keep in mind that Comcast, Time Warner and Disney, alongside 21st Century Fox, are all co-owners of Hulu. (See Comcast Ready for Clash With Hulu.)
And the web grows ever more tangled.
— Mari Silbey, Senior Editor, Cable/Video, Light Reading