Once the holidays are over, it's time for that glitzy gadget fest known as the International CES show to begin. And while many people like to complain that the event has lost its luster, the truth is that it's still a great reference point for understanding tech company priorities for the year.
In the TV and telecom industries, here are five trends that promise to be big not just during CES in Las Vegas, but throughout 2015.
1. The Smart Home
Ask anyone who's been on the receiving end of tech PR pitches during the past few months and they'll tell you that the Internet of Things (IoT) is the theme for this year's CES. But as a subset of IoT, smart home solutions are pretty high on the 'can't ignore' list. From Belkin Corp. to Broadcom Corp. (Nasdaq: BRCM) and Wink to Whirlpool, dozens of major brands are planning to show off connected devices that promise to let you monitor and control your home over IP connections: Samsung Electronics Co. Ltd. (Korea: SEC) has set the pace with its pre-CES smart TV platform announcement. Perhaps even more importantly, numerous industry groups and service providers, including ADT Corp. , AT&T Inc. (NYSE: T) and the Thread Group , will also have a presence at the show, promoting discussion of new smart home business models and how to manage complex IoT networking issues. Analyst firm Parks Associates is even hosting an entire Connections Summit within CES dedicated to "Monetizing Smart Home Solutions & Connected Devices." (See Tizen OS to Power All Samsung Smart TVs in 2015.)
2. New Pay-TV Platforms
Call it the Web, call it the cloud… But whatever you call it, IP video delivery is enabling a raft of new pay-TV services, many of which will be on display at CES. While companies such as Dish Network LLC (Nasdaq: DISH) and Sony Corp. (NYSE: SNE) have dominated media discussion coverage of new over-the-top (OTT) video services, plenty of other players are waiting in the wings, ready to tease their wares in Las Vegas. (See Sony Goes OTT With PlayStation Vue.)
Among them is Ericsson AB (Nasdaq: ERIC), which bolstered its TV and video business in 2013 with the acquisition of Microsoft's Mediaroom IPTV solution: The Swedish giant says it will offer a "behind-closed-doors showcase" at CES of MediaFirst, the new pay-TV platform it plans to launch in the second quarter of 2015. Channel Master, makers of Channel Master DVR+, announced it will unveil a "first-of-its-kind content delivery solution" that integrates with the existing subscription-free DVR+ platform. And even Layer3 TV, the ever-stealthy video start-up, will appear in public at the show this year, if only as part of a Digital Hollywood panel session. (See Layer3 TV Signs SeaChange, Signals RDK Plans, Ericsson Buys Cloud Video Firm for $95M, Ericsson Suffers IPTV Evolution Pains and Ericsson Buys Microsoft's IPTV Unit.)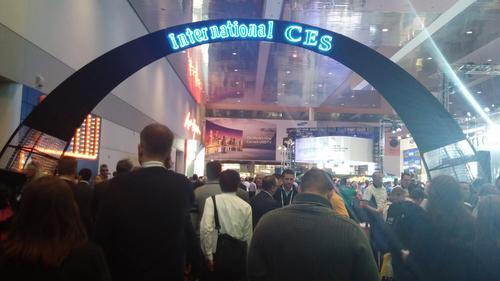 3. 4K TV Developments
Tired of 4K TV yet? Too bad. There's a lot more to come. 4K TV shipments surged at the end of 2014 (despite a continuing shortage of 4K content), and all of the major manufacturers, including Samsung Electronics, LG Electronics Inc. (London: LGLD; Korea: 6657.KS) and Hisense Group are big exhibitors at CES. (See 4K TV Shipments Surge After Slow Start.)
On the networking and video delivery side, several vendors will also be demonstrating how to manage the bandwidth demands of 4K video. Sckipio Technologies , for example, will showcase its G.fast chipsets, which are designed to make even legacy copper networks capable of handling Ultra High-Definition television. Quantenna Communications Inc. will highlight its 10-gigabit WiFi solutions and show how 4K video can be streamed wirelessly. And DivX Inc. will demo video encoding technology specifically built for 4K TV delivery. While High-Dynamic Range (HDR) TV may be what all the cool kids are talking about, there's still a lot of trade show mileage left in 4K. (See HDR: The Next Big Video Thing .)
4. WiFi Evolution (and availability)
WiFi takes on a special significance at CES -- there's never enough of it. This year, however, local service provider Cox Communications Inc. is upping the ante. The cable company announced a rollout of new WiFi hotspots in the Las Vegas metro area just before the end of the year. The deployment was undoubtedly timed with CES in mind, but whether it will have much of an effect on conference-goers remains to be seen.
In the meantime, vendors such as Alvarion Technologies Ltd. (Nasdaq: ALVR) and Celeno Communications are hoping to fill the WiFi gap, primarily with technology for better network management. And stay tuned for some interesting announcements from the Wi-Fi Alliance .
5. Wireless Charging
Wireless charging makes a splash every year around CES time, and while the technology isn't directly related to telecom, it could ultimately have a huge impact on network management. There are three big standards organization still duking it out for control of the market -- the Alliance for Wireless Power (A4WP), the Power Matters Alliance (PMA), and the Wireless Power Consortium (WPC) -- and all three will be present at CES in one form or another. The technology hasn't hit mainstream adoption yet, but when it does, it will be mean more devices powered up and connected even more of the time to broadband networks. CES should offer a nice preview of what that could look like in smart homes, smart offices, smart cars, and more.
Is there anything amazing you're expecting to see at, or hear about from, CES? Let us know on the message boards below.
— Mari Silbey, special to Light Reading