Sprint's Senior VP of IoT Ivo Rook was born to evangelize. He has the storytelling nature of a village elder, and the good sense to borrow and expand on ideas that others have already shared.
At the recent Smart Cities Connect event collocated with the US Ignite Application Summit, Rook took to the stage to talk about the need for advanced wireless research and its impact on smart cities in the US. Sprint Corp. (NYSE: S) is a corporate partner in the Platforms for Advanced Wireless Research (PAWR) program, and Rook's job was clearly to make the case not only for using government funding to further wireless development, but also to point out the ways in which a unifying entity could help the US get more effectively on track in the smart cities sector.
As background, PAWR was formed out of the Advanced Wireless Consortium with a combination of funding -- $100 million or more -- from the National Science Foundation (NSF) and leading companies in the wireless industry. The non-profit US Ignite and Northeastern University are administering the program, and the near-term goal is to create four city-size test-beds for trialing technology related to sensorized, programmable and software-defined networks. (See $100M at Stake in US Wireless RFP.)
Rook did not focus on PAWR specifically during his stage time, but he did address its purpose, and why we've hit a critical junction in the relationship between man and machine. Rook argued that the singularity -- the time when machines become smarter than humans -- is now a foregone conclusion, and that machines will develop senses (via sensors) over the next 25 years in a process that took living creatures 55 million years to undergo.
He also borrowed from Nokia Corp. (NYSE: NOK) CTO Marcus Weldon to underscore the role communications networking will play in our evolving reality, noting that latency in 5G networks will approach and even exceed human response times to stimuli. (See Nokia: Why Web Scale Alone Can't Win.)
Rook's main point, however, was to show how the US should be thinking now about the networking changes that are coming. Smart cities will be an important outcome of the evolution currently taking place, and Rook thinks there are challenges that the US has to overcome if it wants to be a successful steward of these new environments.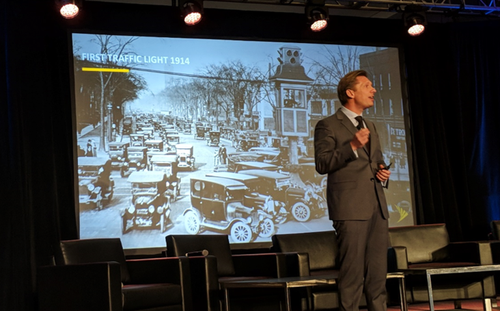 First, Rook sees a cost/benefit mismatch between those who benefit from smart city technology and those who have to pay for it.
"Today, the investment budgets for smart cities sit in one place, but the ones that actually benefit from some of the efficiencies sit in a complete different place," he points out. And he adds, "You need to find a way to keep the benefit and the investments in one and the same place. Otherwise you can stand up a pilot, but you won't be able to reinvest because it doesn't scale."
Second, Rook thinks there's no sense of urgency for citizens around smart cities because there's no crisis... yet.
"People are happy... [which] means that smart cities are solutions looking for a problem when you're an individual. Yes of course we've got a parking issue, but I've got parking. Of course there is a problem with climate, but my heating works perfectly." Rook reasons that the compelling case for developing smart cities needs to be brought down to an individual level.
Third and finally, the technology involved with smart cities is difficult, and industry experts have historically dealt with that issue by teaching people how to manage around those difficulties, rather than the reverse.
"We need to teach technology how to deal with people. And that's why these networks are now becoming important, because intuitive interaction between technology and people is mission-critical," says Rook.
He also emphasizes that technology should work for everyone, saying that it's the obligation of the people working on smart cities to make sure everyone has access to new services and applications. "There should not be a digital divide," says Rook. "And that's up to us."
---
You're invited to attend Light Reading's Big Communications Event -- the ONE event that delivers fresh perspective on the rapid transformation of the telecom industry and the road ahead. We'll see you May 14-16 in Austin -- communications service providers get in free!
---
Luckily, Rook believes that the challenges inherent in smart city development are also ones we're equipped to address. PAWR is an important part of that process.
"US Ignite is helping us enormously [by working to] centralize procurement and forcing standards, [which] is super important," says Rook. Combined with simplified contracting on the part of service providers, centralized procurement systems and new standards that municipalities can adopt will smooth the way for smart city implementations.
Beyond PAWR, Rook contends that the industry needs to do a better job of making the benefits of smart cities more tangible, and it needs to continue massive investments in artificial intelligence and robotics to improve human/machine communications.
Simple? Not in the least. But Rook suggests there's no choice in the matter. Either this is the path that the US technology community pursues, or the smart city opportunity will pass us by.
— Mari Silbey, Senior Editor, Light Reading