Cox Connects With 2 Smart Cities
US Ignite, the national non-profit focused on advanced networking technology, has expanded its Smart Gigabit Communities (SGC) program to include more than 20 communities around the country. The initiative, which is funded by the National Science Foundation, is designed to spur development of next-generation Internet applications. And at the recent Smart Cities Connect event, US Ignite announced the five newest additions to the program: Albuquerque, N.M.; Jackson, Tenn.; Phoenix, Ariz.; San Diego, Calif. and Washington, DC.
Of these cities, Cox Communications Inc. is sponsoring two, providing grants to fund development of new gigabit applications in Phoenix and San Diego.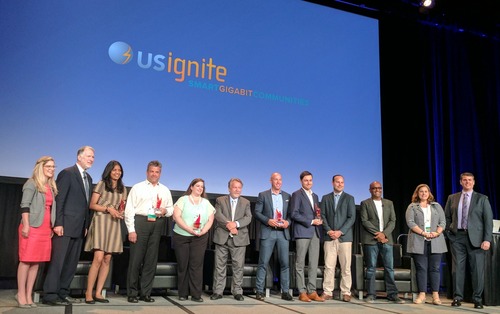 But why would a network operator sponsor application development?
"It's two-fold," says Cox Vice President Philip Nutsugah. First, funding Phoenix and San Diego helps those metro regions take advantage of Cox's gigabit infrastructure, which the company continues to expand. And second, it helps them become part of the broader gigabit applications ecosystem.
"They become part of a shared economy," Nutsugah explains.
The Cox partnership is part of a larger trend that shows telecom companies finding new ways to work with the municipalities they serve, whether through application grants, coordinated networking trials or smart city pilot projects. So far, Cox is the only major Internet service provider to join the SGC effort, but it's not the only one to team up with local governments to catalyze further development of the Internet economy. Not by a long shot.
AT&T Inc. (NYSE: T) has partnered on smart city projects in numerous cities and is simultaneously upgrading its networks from copper to fiber in many parts of the US. (See AT&T to Flog Smart City Tech to Other Carriers.)
Verizon Communications Inc. (NYSE: VZ) is experimenting with new types of municipal partnership agreements, teaming up so far with the cities of Boston and Sacramento to combine fiber investments with targeted strategies for wireless network development and smart city pilot projects. (See Verizon Takes 'One Fiber' to More Cities.)
And Comcast Corp. (Nasdaq: CMCSA, CMCSK) has gone so far as to create a new business division around smart city technologies at the same time it's expanding its fiber infrastructure with so-called hyperbuilds in major metropolitan regions. The company also has a long-standing effort underway to push fiber deeper into its existing residential broadband networks. (See Comcast Opens Up on Smart Cities & machineQ.)
As far as Cox goes, the company is keeping its involvement through the Smart Gigabit Communities program somewhat limited. In Phoenix, for example, Nutsugah says that while the company initially spent a lot of time talking to the mayor and CIO about what the region's smart city and gigabit application initiatives might look like, Cox is now stepping back into more of an advisor role.
Yet the very fact that Cox is funding application development shows that it recognizes the importance of collaborating with the public sector beyond just delivering broadband pipes.
The company is also not opposed to expanding its involvement in the future.
"We're always open to conversations," says Nutsugah.
---
For more broadband market coverage and insights, check out our dedicated gigabit/broadband content channel here on Light Reading.
---
For US Ignite, meanwhile, the goal has always been to merge public and private interests in the communications sector. Regarding the SGC program, US Ignite just announced that the National Science Foundation (NSF) is providing funding for two more cities to join the group, and additional communities may jump on board if, like Phoenix and San Diego, they find corporate sponsors.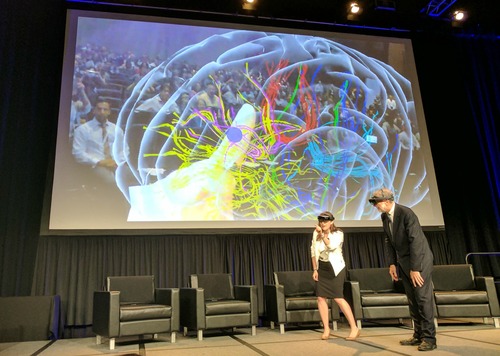 Now that the initiative is well into its second year, some interesting application projects have started to emerge as well, including a surgery simulation program being developed by Case Western Reserve University and the Cleveland Clinic. Shown in a demonstration at the Smart Cities Connect event in Austin last week (see above), the application uses a Microsoft Corp. (Nasdaq: MSFT) HoloLens to let students interact with virtual human anatomy. It will be made available at a new Case Western health education campus scheduled to open in 2019.
Since March of this year, US Ignite is also now helping to administer a separate program backed by the NSF called Platforms for Advanced Wireless Research. (See $100M at Stake in US Wireless RFP.)
The organization will help choose an estimated four teams to create PAWR test beds over the next several years, and the places those teams are located are likely to become leading centers for smart city development. Importantly, US Ignite is aiming to bring together key participants from local governments, private industry and academia to participate in PAWR. And it's the communities that are already planning for their connected futures that are bound to win out during the PAWR selection process -- cities potentially like Cox-sponsored Phoenix and San Diego.
Related posts:
— Mari Silbey, Senior Editor, Cable/Video, Light Reading
PARTNER PERSPECTIVES
- content from our sponsors