Cablevision Mobilizes Content Play
Cablevision Systems Corp.
(NYSE: CVC) has followed its ambitious WiFi rollout with the launch of a mobile version of its
Optimum.net
Web portal that's designed for all forms of cellular handsets but tailored for the MSO's 2.5 million cable modem subscribers.
The new mobile platform, accessible to handset browsers at m.optimum.net, is starting off with features including email, local traffic, weather, movie theater info, and access to Cablevision's digital TV lineup. Cablevision created the site with
Usablenet
. (See
Cablevision Intros Mobile Web Portal
.)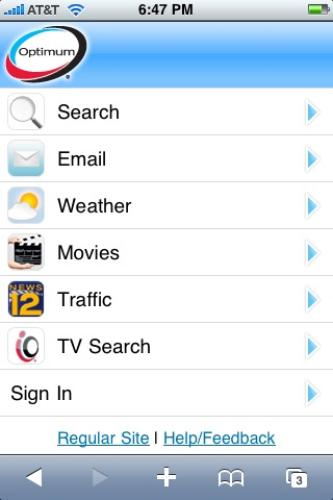 The mobile gateway might carve a path toward a broader mobile video service, but it's missing a crucial first step: the ability to program a home DVR remotely, something that
Verizon Communications Inc.
(NYSE: VZ), the telco battling Cablevision for broadband supremacy,
unveiled earlier this week
.
Cablevision has a remote DVR scheduler "in our plans," a spokesman said via email, but he didn't specify when the operator might launch it.
Although Cablevision has yet to adopt a formal cellular strategy, as some of its MSO brethren have, its latest content activities fall in line with the operator's big WiFi rollout in New York and New Jersey. Cablevision, which is using a surge in WiFi-capable handsets, laptops, and netbooks to its advantage, offers wireless access for free to its cable modem subscribers. (See
Why WiFi Is a Winner
,
Cablevision Hits 1M WiFi Hits
,
Cablevision WiFi Enters NJ
, and
Cablevision Plays WiFi Card
.)
In concert with the WiFi deployment, the MSO is wiring its plant for
Docsis 3.0
in a combined project estimated to cost $300 million, or $70 per home passed. Cablevision is expected to launch wideband services shortly, and recent rumors indicate it's
already testing a 100 Mbit/s cable modem service
. (See
Cablevision Says to Watch for Wideband
.)
— Jeff Baumgartner, Site Editor,
Cable Digital News
PARTNER PERSPECTIVES
- content from our sponsors