LONDON -- Lightspeed Europe 2001 -- Even in an industry downturn, switching and routing silicon is seeing substantial growth, RHK Inc.'s Russell Johnson told delegates at the Lightspeed Europe conference this week.

Russell's definition of "switching and routing semiconductors" (SRS) includes all the chips on a line card after the framer. In other words, the chips that perform processing functions on packet-based traffic, including classification, forwarding, traffic management, security, and switching.

Up until a few years ago, most systems vendors developed their own silicon in-house. But now there is another option -- to take hardware off the shelf and refocus resources on adding value to a product through the software.

Over the last few months, Russell has polled all the public and some of the private companies making switches and routers, taking down estimates for revenue generated from SRS in 1999, 2000, and the first half of 2001.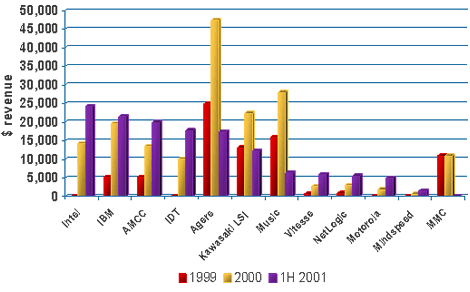 First, the good news. RHK's study found that total revenues leapt from $77 million in 1999 to $175 million in 2000. "And despite the economic downturn it looks like 2001 is going to be even bigger than 2000," Russell predicts. In the first half of 2001, revenues already top $140 million, he found.

One reason that SRS continues to forge ahead is because it can steal market share away from an existing, captive market, he says. It doesn't have the uphill task of creating a completely new market.

The bad news? More work is needed to woo systems vendors and prove that merchant silicon will be a sound investment. "We need a platform technology," Tom Beese, CEO of 40-Gbit/s network processor vendor ClearSpeed Technology Ltd., told the meeting. "If systems vendors take the risk, and move their business model to differentiating through software, they need to know they are going to get a return on their investment, one that's going to last through several product generations."

In both 1999 and 2000, the biggest portion of revenues came from table lookup engines, such as CAMs (content addressable memory). That explains the prominence of some of the companies in the public company chart, such as Integrated Device Technology Inc. (IDT) (Nasdaq: IDTI), Kawasaki LSI, and Music Semiconductors Inc.

The other best seller is switch fabrics. The majority of Agere Systems' SRS revenues in 1999 and 2000 were due to its Atlanta ATM-switch fabric chipset, according to Russell. Introduced in 1997, sales of that chip are falling off now.

A surprise to some is how small a share belongs to the focused telecom chip companies like Mindspeed Technologies, Motorola Inc. (NYSE: MOT), and Vitesse Semiconductor Corp. (Nasdaq: VTSS). Instead, computer chip giants IBM Corp. (NYSE: IBM) and Intel Corp. (Nasdaq: INTC) are top dogs.

Another small point to note about the chart is that Applied Micro Circuits Corp. (AMCC)'s (Nasdaq: AMCC), and MMC Networks' revenues are listed separately. AMCC bought MMC networks in mid 2000 (see Semiconductor Merger Mania).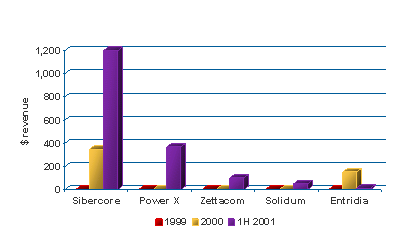 As far as private companies go, five were shipping product over the last two years: SiberCore Technologies, which makes a classification co-processor; Power X Networks Inc., and ZettaCom Inc., which are both shipping a switch fabric; and Solidum Systems Corp., which has a security co-processor. The fifth company, Entridia, has since gone out of business, having failed to close its next round of funding. Entridia had developed a network processor that's based on a reconfigurable, hardwired chip.

— Pauline Rigby, Senior Editor, Light Reading
http://www.lightreading.com