BT Division X boss says he's fighting an 'existential threat'
BT Division X boss says he's fighting an 'existential threat'
Tasked with finding new growth opportunities, Marc Overton arguably has the hardest job at the UK telecom incumbent.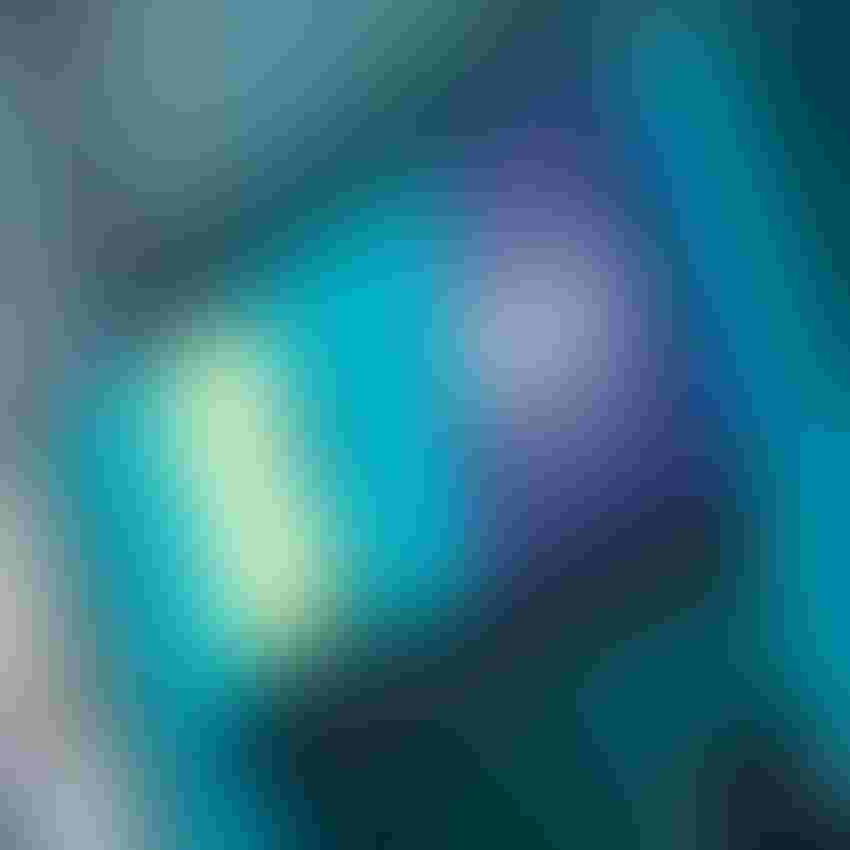 Division X is mentioned only a handful of times in the last annual report BT issued, covering the year to March 2022. The unit that recently celebrated its first birthday was, at the time, just a few months old, with hardly any experiences to share. But it is not even namechecked in BT's last earnings report for the first nine months of the current fiscal year. If there is a black ops part of BT, it would seem to be Division X.
The name is perhaps more suggestive of a superhero group popularized in comics and movies. Yet Marc Overton, its boss since early 2022, looked disarmingly normal and not about to sprout adamantium claws from the fleshy hollows between his knuckles when Light Reading met him at Mobile World Congress in Barcelona several weeks ago. As he had joked at BT's Adastral Park facility a few weeks before that, he doesn't even wear his underwear on the outside of his pants.
Figure 1: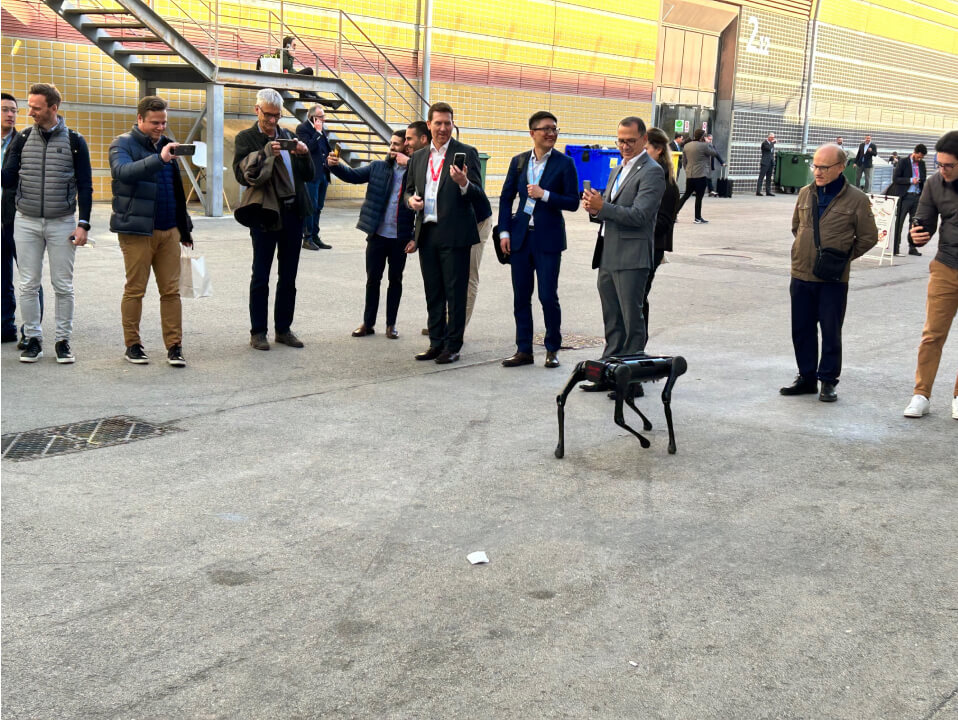 MWC visitors greet one of the Boston Dynamics robot dogs recently seen scampering around BT's Adastral Park research-and-development facility.
(Source: Kelsey Ziser/Light Reading)
But a superhero-like performance is what Overton's own bosses would undoubtedly like to see. Division X's broad mission is to move BT beyond the sale of basic connectivity services to business customers and into a much more exciting future of 5G-connected factories, hospitals and ports, where BT's networks power everything from flying drones to artificially intelligent robots. Overton arguably has the hardest job in the company, but also one of the most important.
The creation of Division X is not just about finding a new source of growth for an operator whose sales have hit a plateau in the age of ubiquitous connectivity. It is partly defensive. "We have an existential threat to our business model and that's where we need to focus," Overton told Light Reading in Barcelona. Big Tech is still advancing into the telecom space, and especially now the enterprise part of it, he explained. If BT isn't proactive, it could end up on the fringes of a market telcos once hoped to dominate.
Solution sandwich

Currently attached to BT's enterprise unit, Division X could eventually disappear like an absentee caped crusader once its catalyzing job is done. "Division X has a lifespan," said Overton. Since its creation, BT has announced plans to merge its enterprise and global units into one bigger group branded "BT Business." How that affects Division X was unclear when Light Reading met Overton. Potentially, though, it could be an opportunity to spread expertise across a bigger part of BT.
What Division X will plainly not attempt to do is turn BT into a cloud company, infrastructure provider or applications developer, even though BT talks of morphing from "a telco to a tech co" in its public statements about the new unit. Overton clearly thinks BT should continue to focus on its core strengths of connectivity and network security, leaving the other components of any business offering to partners.
Accordingly, it set up a partner advisory board in late 2022, introducing several other big names to address those areas in a consortium-like approach. For the cloud, there is Microsoft; for infrastructure, Ericsson. Atos fills the applications space while PwC is on board for professional services. Line them up and you have what Overton describes as a "solution sandwich."
The arrangement positions BT as the "convening power" and "facilitator," in Overton's words, if not the systems integrator, with Atos and PwC both contributing expertise there. This would seem to make sense in the UK, where BT still generates most of its revenues. On domestic soil, it is an instantly recognizable brand and – executives would like to think – one that is largely trusted in the business community, explaining the emphasis on security.
"You are probably not going to turn down a meeting with BT," said Overton. "Let's use that to ask people about the business. Let's get industry knowledge. In my experience, they are receptive to that." Prospective and existing clients can visit a customer experience center, tinker with 5G, artificial intelligence and IoT (Internet of Things) technologies and work on the co-creation of products.
Figure 2: BT's share price over the past year (pence sterling)
(Source: Google Finance)
Such co-creation represents a huge challenge for BT and any other service provider in this space. Telcos established themselves as large and profitable companies by selling the same product to millions of customers. Services developed in response to one business customer's needs are often much harder to scale, and some of the technologies recently showcased at an Adastral Park robotics festival look downright esoteric. A robot designed outside BT specifically to pick strawberries was one example.
The trick, said Overton, is finding the middle ground between mass market and bespoke. "You have to be very selective," he said. "The total addressable market has to be big enough to satisfy the investment, being and keeping as close to the core as possible, and I have challenged the team on this. We should build as little as we can. Too bespoke is not going to work."
Mehta-verse

The intriguing exception to his rule about sticking with connectivity and security, and leaving the rest to partners, is a kind of grey area between networks and devices on one side and the cloud on the other. "It is really difficult for an enterprise to get a device that's certified on a network with a service – with a device-management proposition – that gets the data they need off the device into their application," said Overton. It's only natural that BT should have a role in this area, he believes.
"It's logical in that you are getting more intelligence off the device and the network, and the visualization of that to manage your assets is going to become increasingly important," he explained. "I think the interface between the network and device and the cloud is still part of what we do."
Hence a close relationship between Division X and BT Digital, another newish part of BT largely responsible for software development, currently led by Harmeen Mehta, BT's chief digital and innovation officer. "The one area where we are getting more involved with Harmeen is the digital orchestration layer, the single pane of glass that goes across the top," said Overton.
The best example of that so far is a product developed for the NHS, the UK's national health service, allowing it to monitor and manage bed space in hospitals. By contrast, it left the development of a digital vision product used for crowd control in stadiums entirely to Atos. "That is using our network and security wrap and their application," said Overton. "There is a pipeline of 100 opportunities."
An area that clearly excites him is IoT. In the run-up to Christmas, as first reported by Telco Titans, he told attendees at the IoT Tech Expo event in London that BT would this year launch a nationwide service based on NB-IoT, a standard for low-power, wide area connectivity of the kind needed by smart meters, asset trackers and suchlike. That launch would happen "fairly soon," Overton told Light Reading at the end of February.
The market for connected drones is another big opportunity, especially if they become an option for everyday parcel deliveries. Across a private 5G network at Belfast Harbour, BT has already seen drones used for monitoring ships, said Overton. One obstacle to their wider use is the current lack of pathways approved by regulators where drones could fly, although BT was reported to have made a £5 million (US$6.2 billion) investment to facilitate the setup of one such corridor at the start of the year.
Telcos have a miserable track record when it comes to innovation, and they have generally done a poor job of expanding outside the mainstream connectivity area. The worry for any investor is that BT will eventually be muscled aside by larger technology firms with deeper pockets. But 5G factories, hospitals, ports and various other facilities are still in their infancy, and none will obviously be viable without secure networks. BT, meanwhile, has probably exhausted the growth opportunities in the saturated broadband and smartphone markets. For Overton and his colleagues, there is a lot at stake.
Related posts:
— Iain Morris, International Editor, Light Reading
Subscribe and receive the latest news from the industry.
Join 62,000+ members. Yes it's completely free.
You May Also Like
---