TelcoCraft Enables Network Automation Through Digital Services

Comment (0)
The business opportunities of digital services are driving operators to accelerate network cloudification. Ovum, a world-renowned consulting and analysis organization, released Market Opportunity Analysis: NFV/SDN in January 2018, which reported that operators are projected to continually increase their investments in NFV/SDN over the next five years. From 2017 to 2022, the compound annual growth rate (CAGR) of NFV/SDN investments is estimated to reach 28%. The development of new technologies, such as convergence of network and cloud, IoT, and 5G network, has generated a growing demand for differentiated services and new business application models in vertical industries. Therefore, nearly all leading operators around the globe have launched a digital transformation strategy focusing on elastic, automatic, and orchestrated cloud networks to act as a catalyst for digital business opportunities. This strategy when implemented will help clients quickly respond to market demands and achieve agile service rollout and automatic network O&M.
Brand Vision of TelcoCraft
With 30 years' experience in the communications industry, Huawei proudly launches TelcoCraft, a groundbreaking service solution perfectly designed for the varying challenges in the telecom cloud industry. Craft represents exquisite workmanship, implying that skillful, professional craftsmen follow strict procedures to continuously grind, assemble, and innovate raw components on the basis of operating platforms to make out exquisite artwork. Inspired by this concept, Huawei creates TelcoCraft to highlight its focus on telecom cloud. Based on extensive experience and innovation, TelcoCraft helps operators achieve three goals: "zero barrier" for maintenance and optimization, "zero code" for service development, and "zero" network O&M.
"Zero Barrier" for Maintenance and Optimization
The network production workflow involves various departments, such as planning, construction, engineering, and O&M. Huawei TelcoCraft enables operators to perform platform-based, digitized, and visualized operations for construction, maintenance, and optimization. The planning department of Huawei uses a graphical user interface (GUI) to plan and select data centers online. The construction department of Huawei obtains network design documents and deployment template files automatically generated by the platform. After completing the automatic test online, the engineering department of Huawei uses the platform deployment tool to deploy network elements and business to the production network using templates, streamlining the cross-department production process, and achieving E2E network resource readiness.
"Zero Code" for Business Development
For clients operating with traditional methods and devices, it can take months or even years to plan, design, develop, and deploy service systems specific to customers' demands. Based on software-defined network (SDN), TelcoCraft divides business into dozens or hundreds of basic network models covering all telecom network domains, including core network, transmission network, and access network. For those worried about potential complex operations, TelcoCraft allows business personnel responsible for solution design to simply select a basic network model from the asset database, and combine different business templates through drag-and-drop operations on the GUI, accelerating business rollout.
"Zero" Network O&M
In a traditional O&M model, both front-end users registering services online and back-end O&M teams locating problems and handling complaints require communication between experts in multiple domains, causing a large number of manual operations.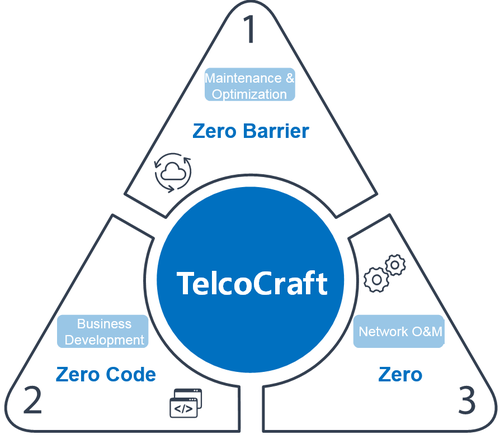 Take an enterprise wanting to register a private line as an example. In this case, traditional O&M methods mean the enterprise is likely to wait up to once month for manual configuration. Handling customers' complaints or network faults often involves multiple domains, such as wireless, transmission, IP, and core networks, and finding the root of the cause can cost several hours of analysis and positioning. However with cloud transformation, TelcoCraft supports automatic services provisioning once an order is placed, and enables the network to detect problems, locate root causes, and perform closed-loop correction automatically. In addition, TelcoCraft automatically optimizes network resources according to service SLAs. Automatic network O&M shortens the provisioning time of an enterprise mobile private line from several weeks to just a few minutes, and controls the self-healing time for fault locating and analysis at minute-level.
Services of Huawei TelcoCraft
TelcoCraft is Huawei's groundbreaking cloud solution that provides operators with the latest full-lifecycle telecom cloud technologies, helping operators effortlessly transform their services to digital operations. This digitization process of TelcoCraft is summarized in 3 solutions and 4 capabilities: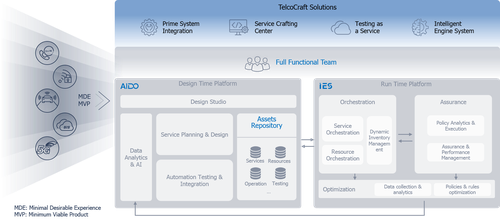 3 Solutions:

PSI (Prime System Integration): a telecom cloud network integration service helping operators plan, design, deploy, and rapidly construct telecom cloud networks for commercial use.

TestCraft (Testing as a Service): a business automation test service providing a unified test platform and extensive test to implement an automated test of telecom cloud's functions, performance, and reliability throughout its lifecycle.

SCC (Service Crafting Center): an intelligent center solution providing various business models. Flexible business and resource orchestration help operators create new business revenues and implement automatic service provisioning, seizing market opportunities. SCC is also capable of implementing cross-layer, cross-domain, and multi-vendor fault self-healing and network self-optimization, and using artificial intelligence (AI) analysis and forecasting technologies to realize self-driving network.
4 Capabilities:

AIDO (Agile intelligent design and orchestration): provides a full-process tool chain from planning, design, test, to deployment. Also AIDO uses graphical drag-and-drop and zero-code solution design and updates or modifies the service model in the service asset database, achieving the stable development of service assets.

IES (Intelligent engine system): imports resources required for business model orchestration from the AIDO to realize automatic service provisioning. IES monitors network status and KPI in real time and triggers fault self-healing, and uses network events to trigger O&M policies and optimize network resources and SLA. Further, it continuously collects network information, invokes the AI engine for analysis and forecasting, and constantly optimizes policies.

Full-function team: pools expert resources from various fields, such as network and business planning and design, O&M, software modeling, algorithm, and big data analysis. Also it provides extensive services comprising business modeling, design and orchestration, integration test, and continuous automatic O&M.

Service asset database: includes business models, test cases, and O&M policies. These business assets created by AIDO are tested, verified, and stored in the service asset database, which greatly improves the delivery efficiency. Huawei's service asset database covers all domains of the telecom network. Huawei has accumulated over 30 business models, 50 network models, more than 400 O&M policy models, and more than 6,000 test cases.
With the advent of the 5G era, operators will explore more business opportunities for open network capabilities to allow their partners to invoke network services based on standard interfaces. Huawei TelcoCraft opens up its capabilities to contract partners in compliance with ONAP open source architecture and open API standards, helping build an open ecosystem.
Huawei integrates 30 years' telecom experience with a large service asset database, making it one of only a few companies to provide reliability with groundbreaking technologies. With open AIDO and IES platforms, which are benchmarks in the industry today, Huawei offers business innovation with simplicity to its global operators and ecosystem partners. These platforms use a DevOps process featuring continuous design, testing, and delivery to meet market requirements, helping operators implement self-driving network and providing digital ROADS experience for end users.
— Hu Jianyu, General Manager, Telecom Cloud & Platform Integration Domain, Huawei