Ciena's hop over 1.2 Tbit/s trend could get pricey
Ciena skipped past the 1.2 Tbit/s industry marker with last month's announcement of WaveLogic 6, a 1.6 Tbit/s coherent optical service, which the company said is an "industry first."
However, being the first mover on any new technology comes with risk and can get expensive.
More capacity, more money, more risk
Since the optical industry already hit the Shannon Limit (the maximum amount of data transferred over a communication channel) with 7 nanometer chips over 800G, the focus has shifted to increasing capacity over longer distances versus overall capacity on a single fiber, explained Heavy Reading Senior Principal Analyst Sterling Perrin.
While Ciena is pulling ahead of competitors with 1.6 Tbit/s, the risk the company faces is investing in a more expensive optical service without having the product on the market yet – each new generation costs more to develop than the last. While Ciena didn't share specific costs, Perrin said the company "did confirm that the 3nm generation they're developing now is definitely more expensive than their past 7nm."
If Ciena runs into production delays, service providers could opt to go ahead with 1.2 Tbit/s services, said Perrin.
"To keep the advantage that they're making for themselves, they do need to hit that schedule that they've planned for," he added. "They are pioneering [1.6 Tbit/s] and they are the first so they still have risks. But they've probably gotten through a couple hurdles so far. It's ambitious."
1.2 Tbit/s vs. 1.6 Tbit/s
Perrin said the majority of optical vendors at last week's OFC show were focused on 1.2 Tbit/s capacity on 5nm chips versus Ciena's 1.6 Tbit/s on 3nm.
The focus on achieving 1.2 Tbit/s "is about getting the most bits, most efficiently out of the network," he explained. "These tend to go in subsea networks, long-haul terrestrial networks for communication service providers."
Ciena is the only optical vendor offering 1.6 Tbit/s, according to Perrin, although the WaveLogic 6 service won't be available until the first half of 2024.
"Ciena really surprised everybody by being the one that skipped a generation, so skipping right over 5nm and going right to 3nm, which is the 1.6 Tbit/s," said Perrin. "They're the only ones that have made that announcement, and they do appear to have a lead."
Acacia was first off the starting block for 1.2 Tbit/s services, and Nokia, Fujitsu and Infinera now have 1.2 Tbit/s services as well, according to Perrin. Infinera launched its 1.2 Tbit/s optical engine ICE7 earlier this month, which the company said reduces cost per bit by as much as 30% and power per bit by as much as 60%.
"If you look at where the biggest cost reductions in building networks occur, it's not generational progression of optical engines. It's architectural shifts in networking," Robert Shore, SVP of marketing for Infinera, recently told Light Reading.
"What's really going to move the needle is enabling people to make architectural shifts," Shore added. "This is where pluggables are starting to have an impact."
Infinera also recently announced a transmission over Arelion's network between Dallas, Memphis and Chattanooga of "400 Gbit/s wavelengths using a QSFP-DD pluggable coherent transceiver over 1,800 kilometers (km) of SMF-28 fiber in a live production network." The point-to-point transmission was achieved using Infinera's ICE-X 400G ZR+ intelligent pluggable coherent transceiver.
Ciena's WaveLogic 6 launch
Ciena said its WaveLogic 6 platform uses 3nm silicon technology and supports 1.6 Tbit/s "single-carrier wavelengths for metro ROADM deployments, 800 Gbit/s over the longest links, and energy-efficient 800G pluggables across 1,000km distances."
"If you followed our whole kind of sound bite around 400G everywhere, which came with WaveLogic 5, this will start toward the 800G everywhere world," CTO Steve Alexander told Light Reading at this year's Mobile World Congress event. "You basically double capacity, cut the cost per bit/power per bit more or less in half, improve on spectral efficiency. You get all the things that you typically do as you improve the performance of the (digital signal processor) DSP."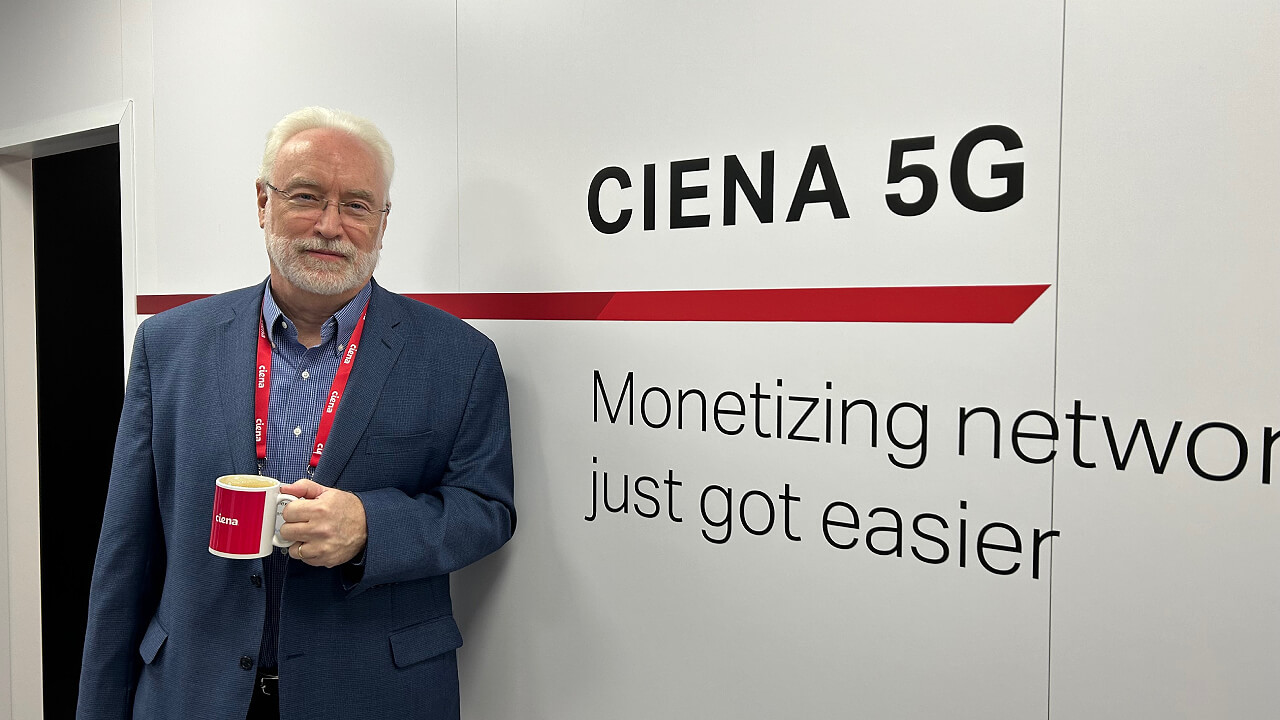 WaveLogic 6 Extreme (WL6e) can be utilized in 800G links, provides 15% improvement in spectral efficiency over WaveLogic 5 and operates at 200GBaud. The Extreme will be for long-haul subsea and terrestrial use cases, which applies to both CSP and hyperscaler use cases, said Perrin.
WaveLogic 6 Nano (WL6n), a more compact version of the service, includes 400G-800G coherent pluggables in 400G long-haul and 800G metro/regional applications, and 800ZR data center interconnect (DCI) applications.
For customers that "want something that is pluggable, that is fit for function for multiple kind of metro short reach and intermediate reach applications, that's where the Nano comes in," said Ciena's Alexander.
Perrin said the Nano will have "a bit less performance than the high-end [Extreme] and there will be power constraints because it needs to fit in a pluggable format."
"Hyperscalers will always go for as many bits as you can get. The communication service providers are going for distance and what's the maximum amount of bits they can get out of that distance," said Perrin. "It's different needs, but they're all on the high-end."
Ciena also said the WaveLogic 6 will be available for use in third-party vendor platforms.
Related posts:
— Kelsey Kusterer Ziser, Senior Editor, Light Reading
EDUCATIONAL RESOURCES


PARTNER PERSPECTIVES
- content from our sponsors