2017 Storms May Mean Network Rethink
Major hurricanes, even ones as powerful and large as Hurricane Irma, don't disrupt subsea cables, according to industry executives. But that doesn't mean traffic crossing those cables won't be disrupted by the damage from hurricanes, warns one data center operator.
Gil Santaliz, founder and managing director of New Jersey Fiber Exchange (NJFX) , the New Jersey-based data center located next to the Tata cable landing station in Wall, N.J., says the impact of storms such as the US and the Caribbean have seen this fall isn't in the damage done to cables or even cable landing stations. It's in what happens to traffic after it leaves those places. He's expecting the global industry to take a long look at how traffic is managed going forward.
"It's the aftermath of the hurricane, it's the widespread electric outages, it's the buildings the subsea cables go to that nobody knows they go to," he says in an interview. "What we should have braced for was what happens a day or two after the storm. There are subsea landing stations on the east coast, Florida, but what folks in St. Louis, Chicago and Denver don't realize is that all of that traffic from subsea networks ends up going to central hubs -- and those were the places where large-scale power outages can have catastrophic effects on our networks."
Businesses that were impacted when these traffic hubs went without commercial power for multiple days will now be motivated to take a closer look at how their networks are set up and rethink their diversity plans, Santaliz says. As a result, the fall's destructive hurricane season may have an impact on how businesses -- and carriers -- plan network diversity, in much the same way that the 9/11 attacks on the World Trade Center in 2001 changed how the industry viewed New York City as a natural location for data centers, he notes.
"Post-9/11, there was a massive data center exodus out of New York City," Santaliz says. "Then [Hurricane] Sandy came along and all of that flooding that happened in lower Manhattan was affecting the two buildings that were critical for the Europeans to connect to everyone in North America -- 60 Hudson St. and 32 Avenue of the Americas."
The result was that connections between Europe and Chicago or even New Jersey were impacted by the flooding in Manhattan, he says. And that led to businesses seeking diverse routes for that traffic as well. Now this round of hurricanes will prompt a closer examination of where the massive amount of traffic that comes through the Caribbean and lands in the US in Florida goes, once it leaves the landing station.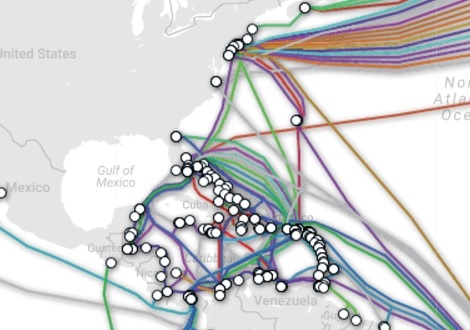 "What these storms are now pointing out is that you probably should take the due diligence to know how your network really works," he says. "On a global basis, we expect our connectivity to always work but if we don't ask hard questions, and make sure there is true diversity, then there are going to be unpleasant surprises."
The cable landing stations themselves are, much like the subsea cables, likely to withstand even a Category 5 hurricane such as Irma, says Nigel Bayliff, CEO of Aqua Comms and a non-executive board member for Deep Blue Cable, developer of a subsea fiber optic system in the Caribbean.
"The cables are very much more secure underground and underwater," he says. "There is a slight chance of movement of seabed caused by severe storm surge. The issue is, even if we are not affected, virtually everything else is. Potentially the landing stations can be, but we build them to withstand category 4-category 5 hurricanes. It's everything you connect to next that you really can't do something about."
Bayliff also points to better construction of facilities, including interconnection and data center facilities themselves, to withstand storms and be prepared to go without commercial power for longer periods as powerful storms hit more frequently.
---
Want to know more about telecom data center strategies? Check out our dedicated data center content channel here on Light Reading.
---
Santaliz says that reality may force many companies to re-write their playbooks for how they prepare for natural disasters of this type.
"These events we are having now are so wide-scale, things aren't on the procedure books to deal with them," he says. That includes dealing with situations where most of a state, or even an entire island nation, is without power for a substantial period of time. "This is a process that is just beginning. If you are operating a hub, and it's going to go on generator, situations like this will test your ability to get fuel and for your employees to get to work."
At the same time, businesses are less likely to accept prolonged outages, he adds. "You can't tell your customers, 'We are going to have an outage and it will take me two days to fix it,' because in some industries, that's a non-starter," he says.
— Carol Wilson, Editor-at-Large, Light Reading
UPCOMING LIVE EVENTS
June 6-8, 2023, Digital Symposium
June 21, 2023, Digital Symposium
December 6-7, 2023, New York City
All Upcoming Live Events
PARTNER PERSPECTIVES
- content from our sponsors