Web-Scale Business Fuels Ciena's Growth but Stock Takes a Hit
Sometimes, even market-busting growth isn't enough for investors.
Ciena today reported a 17.3% year-on-year rise in fiscal third-quarter revenues to $960.6 million and adjusted earnings per share of $0.71, way better than the $932.5 million in sales and $0.57 in adjusted earnings that Wall Street analysts, on average, had been expecting for the quarter that ended late July.
In addition, the company noted that it expects to report full financial year sales growth of about 15% when it reports its fourth-quarter numbers later this year: That's way ahead of the overall expected growth of up to 3% for the optical and data transport market in which Ciena a leading player.
Pretty amazing numbers, you'd think.
But not good enough for investors: Even though Ciena is beating estimates, growing faster than the market, taking market share off rivals and seemingly doing everything right in terms of its technology roadmap and strategic positioning, its share price dipped more than 6% to $38.56 in early trading. Tough crowd!
Why? It appears to be a reaction to the fiscal fourth-quarter forecast and possibly next year's expected growth. Ciena is expecting revenues in the fiscal fourth quarter that ends in late October to be between $945 million and $975 million, so not much different from the third quarter, possible even lower sequentially. But it would still be a year-on-year gain of between 5% and 8%, better than overall market growth. For next year, Ciena is expecting revenue growth of between 6-8%, which, although not as stunning as the 15% expected this year, is still very impressive.
CFO Jim Moylan said the company has "never been more confident that we will grow market share" and grow faster than the market. "We will have 15% growth this year -- that is extraordinary. I would ask you to look at that annual growth, not at the difference between the third quarter and the fourth quarter."
But the numbers, it seems, are not impressive enough and investors couldn't get over that flat sales projection for the fiscal fourth quarter. The Ciena management team must wonder what they have to do…
Share price aside, Ciena is absolutely killing it.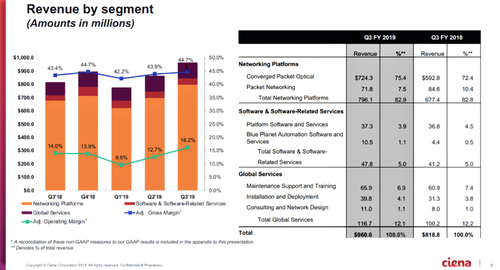 "Our top customer is a web-scale, closely followed by a Tier 1 operator," noted Ciena CEO Gary Smith on the earnings call. That Tier 1 is Verizon, it emerged later in the call, with the two top customers both delivering between 12% and 13% of total revenues, so in the region of $120 million in revenues during the quarter. AT&T was almost, but not quite, a 10% revenue customer. Smith also noted that the impact on demand from major operator 5G transport strategies was yet to play out and he expected demand associated with a capacity expansion related to 5G services to kick in during the next three years.
Smith puts the company's success down to its diversity across geographies and customer segments (as well as its product portfolio and roadmap, of course). He noted that in the third quarter, the top ten customers by revenue comprised:
Three web-scale customers
Three North American telcos
Two international telcos
One MSO (cable operator)
One wholesale network operator
Of particular note is the volume of sales being driven by non-telco customers (41% of all revenues in the third quarter) and by the web-scale customers -- the likes of Facebook, AWS, Microsoft, Google as well as smaller data center operators -- in particular. The web-scale companies generated 27% of third quarter revenues, amounting to almost $260 million.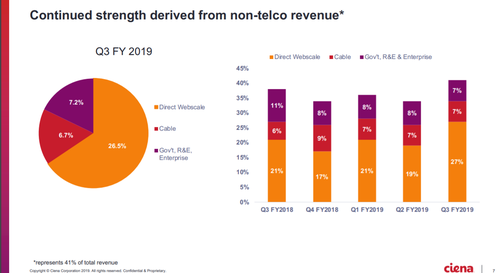 And that market segment is set to grow for Ciena, noted Smith, as smaller data center players become new customers and as demand for data center interconnect (DCI) platforms continues to be strong.
The CEO believes Ciena already has a transport network equipment market share of more than 50% in terms of business from web-scale companies, with that share growing (not good news for the likes of Infinera, Nokia and Huawei). "We have established incumbency [with the web-scale companies] and have a great roadmap for them," he boasted.
Meeting the optical network capacity demands of all kinds of network operators is at the heart of Ciena's business, of course, and it has been continuing to develop new products that can help operators drive their cost-per-bit delivered ever lower. Smith said the company was on track to bring products based on its WaveLogic 5 programmable coherent modem (announced in February) to market by the end of the year and that a subsea customer in Asia had already signed a deal for the tech that can enable single-wavelength 800G connectivity.
"Ciena's strength has always been optics, and its leadership in high-performance coherent is unquestioned," noted Heavy Reading's principal analyst for optical networks and transport, Sterling Perrin. "The pool of competitors at the high end of coherent is shrinking, and the Huawei political situation will clearly benefit Ciena, as long as it continues."
And these days, of course, Ciena isn't just a transport hardware company. The CEO also noted that the Blue Planet software unit, best known for its software-defined network automation capabilities, was attracting new customers and was on track to hit full-year revenues of between $50-60 million: Ciena is expecting Blue Planet revenues of $100-120 million in the financial year that ends October 2021.
But will that level of business be enough for the future? "The challenge Ciena has always faced is expanding leadership beyond high-end optics," notes Heavy Reading's Perrin. "Despite Blue Planet and recent acquisitions in IP, Ciena has yet to really establish itself outside its core optics expertise. Revenue will continue to roll in on high-end optics, so the situation is not dire. But its strategy to boost margins hinges on software and packets, and share growth there is far from assured," added the analyst.
Perrin also noted there could be a speedbump looming for Ciena's growth juggernaut in the form of Cisco's acquisition of optical components specialist Acacia. He notes that while Ciena may pick up some of Acacia's merchant DSP business once the acquisition is completed, the combination of Cisco and Acacia will be a threat to Ciena's increasingly important web-scale business as the type of small DWDM boxes that Ciena supplies get "replaced by the IP-over-DWDM trend over time," which is where Cisco will be playing. One to watch for sure.
— Ray Le Maistre, Editor-in-Chief, Light Reading
PARTNER PERSPECTIVES
- content from our sponsors