Rakuten telco boss Tareq Amin quits for 'family reasons'
Rakuten telco boss Tareq Amin quits for 'family reasons'
Open RAN's number-one evangelist is out of the Japanese company amid an executive shakeup effective immediately.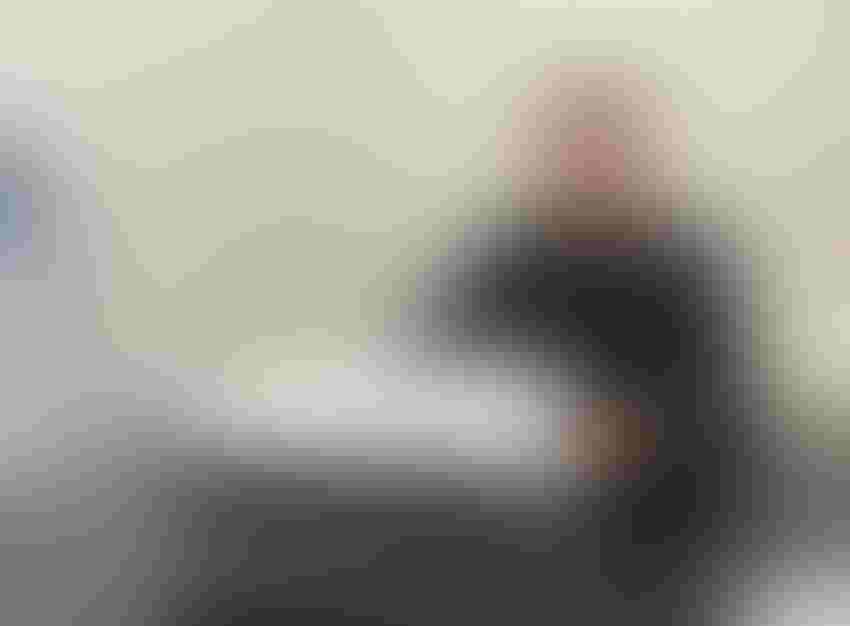 Rakuten's Tareq Amin shows off radio kit at Mobile World Congress 2022.
(Source: Iain Morris/Light Reading)
Ever since he made the transition from India's Reliance Jio to Japan's Rakuten, Tareq Amin has been the poster boy for open RAN and cloud transformation in the telecom sector. As of today, the movement appears to have lost its chief evangelist following news of a major shake-up within the executive ranks of both Rakuten Mobile and Rakuten Symphony, the two units Amin led. It leaves him nowhere to be seen.
Hiroshi (or Mickey) Mikitani, the founder and boss of Rakuten Group, has replaced Amin in the CEO role at Symphony, the part of Rakuten that sells network products. As for Mobile, Rakuten's own network in Japan, it is now being run by Kazuhiro Suzuki and Sharad Sriwastawa, named as co-CEOs under a new management structure effective from today. Sriwastawa will also continue to function as Rakuten Mobile's chief technology officer, the job he was doing before today's announcement.
The explanation from Rakuten's press department is that Amin has quit Rakuten due to family reasons. But his sudden disappearance robs the Japanese company of one of the sector's most charismatic and visionary leaders. It is fair to say that much of the global interest in open RAN and the telco cloud has been driven by Rakuten's activities under Amin's direction. Rakuten Mobile remains the only telco in a developed market with a nationwide network built on open RAN principles.
Whatever Amin does next, his departure from the high-profile Japanese company sounds like short-term bad news for Rakuten and the open RAN movement in general – and it comes at an awkward time for both. Industry-wide, open RAN has struggled to make headway outside a few greenfield deployments, of which Rakuten's is still the biggest. And the telecom equipment sector has run into a recessionary bog this year. Ericsson's sales in North America sank 37% year-on-year for the recent second quarter. Globally, its network business suffered a 13% drop on a constant-currency basis.
Mission incomplete

At a company level, Amin leaves before either Mobile or Symphony had truly delivered. Despite boasting near-ubiquitous population coverage when it last reported results, Mobile had then attracted fewer than 5 million subscribers in a country where NTT Docomo, the market leader, serves more than 80 million. This probably has more to do with Rakuten's lack of spectrum needed for inbuilding coverage than it does with technology choices, but that does not help Rakuten financially. Group losses have ballooned because of the mobile rollout, amounting to about $760 million for the first quarter of 2023 alone.
Symphony, meanwhile, has little to make a noise about. It counts Germany's 1&1 as its flagship customer, but that deployment has been mired in problems and remains way behind schedule. Blaming holdups on Vodafone and its Vantage Towers infrastructure subsidiary, 1&1 last week slashed its sites target this year to 1,000, from 1,200 previously. It was originally supposed to have 1,000 up and running in December but had only a handful in service at the beginning of the year.
A new deal between Symphony and VEON could buoy the Japanese supplier. Unveiled last week, it will initially target VEON's Kyivstar operation in war-torn Ukraine. Kaan Terzioglu, VEON's CEO, envisages a big role for Rakuten's open RAN technology as part of VEON's $600 million reconstruction effort, he told Light Reading. The problem for Rakuten is that reconstruction will not begin until the Russian invasion has ended – and that might not happen for years. Nor is there any guarantee that Putin's forces will be evicted.
While sales are growing fast at Symphony, they came to just $143 million for the first half of the current fiscal year. This looks insubstantial in an addressable market Rakuten has previously valued at between $80 billion and $100 billion for 2021. In April, Symphony claimed to have deployed about 300,000 cell sites worldwide, but this includes about 200,000 at Rakuten Mobile, the company has confirmed. The implication is that most of Symphony's revenues today are generated internally.
Rakuten's share price has tumbled from $13.20 in April 2021 to just $3.98 today as investors have pondered the wisdom of the telco move. Amin came into the company on a high, after spearheading a mobile deployment for Jio that has been an unequivocal success, helping that operator to become India's largest. He was unable to swiftly replicate that in Japan. The mission now falls to others.
Related posts:
— Iain Morris, International Editor, Light Reading
Subscribe and receive the latest news from the industry.
Join 62,000+ members. Yes it's completely free.
You May Also Like
---