Microsoft HoloLens: Virtual Reality That an Adult Would Actually Want to Use
Microsoft HoloLens: Virtual Reality That an Adult Would Actually Want to Use
Microsoft has actually found a practical purpose for the most overly hyped and silliest technology of the decade. Virtual reality to date has been about hype and kid stuff rather than practical applications. But Microsoft this week launched two new applications that put its "mixed reality" HoloLens technology to work, for field service technicians as well as helping to design commercial spaces such as factory floors and retail storefronts.
Microsoft's HoloLens is different from other VR for two reasons: First, it's not technically virtual reality. Microsoft calls it "mixed reality" (you also hear the phrase "augmented reality" thrown around by advocates). You wear a pair of goggles that lets you see the real world around you, and augment your vision with images and information generated by software. In virtual reality, the headset blocks out the real world entirely.
But that's a relatively minor distinction between mixed reality and virtual reality.
The really significant difference between HoloLens and other virtual reality is that HoloLens is good for something. It has a practical purpose.
HoloLens is designed to put technology to work for "first-line workers," Lorraine Bardeen, Microsoft GM studio manager for mixed reality, said in a presentation launching the new HoloLens technologies for journalists Tuesday. These "first-line workers" have enjoyed limited benefit from technology to date, simply because their jobs require them to use their hands to do other things -- using tools, or moving equipment around in a physical space.
These first-line workers comprise 80% of the global workforce, more than two billion people, Bardeen said.
Figure 1: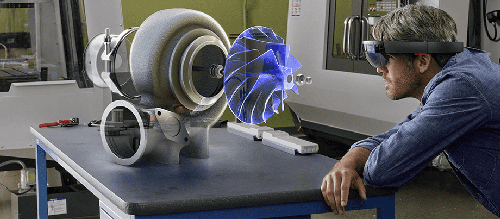 HoloLens at work. Photo by Microsoft.
Zinc, a San Francisco startup which makes collaboration tools for the same demographic, calls them "deskless workers," a group which includes field service technicians, home healthcare workers, and retail workers. (See Zinc Helps 'Deskless Workers' Find Their Voice.)
Business communications vendor Mitel Networks calls them "service" and "information" workers, and notes that they frequently wear uniforms -- think police and firefighters -- and often shower at the end of a workday rather than the beginning; their work literally gets them dirty. (See Mitel Asks: What Time of Day Do You Shower?)
When these people are on the job, they have to put down their electronics to get to work. "And then when they're at work and active, they don't have any context or data or information in front of them in their workspace. That can be really challenging in a number of scenarios," Bardeen says.
Mixed reality and HoloLens changes that, bringing "digital content right into the real world, so [workers] have exactly the data where they need to solve the problem," Bardeen said.
The first new application from Microsoft, Dynamics 365 Remote Assist, lets a worker call in a remote expert to help solve a problem. The remote expert appears in a virtual window floating in the worker's field of vision. The expert can see through the worker's eyes, via cameras located on the HoloLens goggles. And the expert and worker can call up documents together, and virtually "draw" on the work surface.
It's hard to get a feel for it by reading about it, but this demo video does a great job explaining:
The second application, Dynamics 365 Layout, is designed for space planners who work in manufacturing, retail, and intelligent warehousing, and need to design factory floors, storefronts and warehouses, Bardeen says. "The way you plan and lay out space is a competitive differentiator in many industries," she said. In manufacturing, for example, the flow of workers and equipment can dramatically affect efficiency of production. 2D design software lets the entire team get together and make rapid changes to design plans. Alternately, teams will do a physical buildout -- a mockup -- using cardboard or some similar material. That lets the team literally walk through the proposed design, but it's impossible to iterate rapidly through design changes.
Dynamics 365 Layout does the best of both worlds -- a software design that teams of people can walk through. Here's a demo video:
Why are the mixed reality applications part of the Dynamics 365 customer relationship management (CRM) suite? It's because they draw on enterprise information contained in the Microsoft application stack, Bardeen said.
Chevron described in a video how it's using mixed reality technology in the field. "We've acquired over 100 HoloLenses," says Ed Moore, Chevron chief technology strategist, in the video. "It's another device, just like our laptops and phones."
Mixed reality technology has broad implications for telcos and other service providers, which face the very problems that the current HoloLens applications are designed to solve. Service providers have equipment all over the world that needs servicing, by technicians who might benefit from Dynamics 365 Remote Assist. And they have data centers, central offices and retail outlets that need to be laid out, a process that could be improved by Dynamics 365 Layout.
Moreover, augmented reality technology requires low latency and broad bandwidth, which creates demand for business data services, and puts demand on service provider networks to deliver performance needed. That kind of performance will increase demand for 5G.
In addition to the HoloLens technology, Microsoft also introduced an AI application that works with Dynamics 365. (See Microsoft Takes Aim at Salesforce With Dynamics AI.)
Until this week, I've been only mildly impressed by most demonstrations of virtual reality and augmented reality, simply because they're focused on entertainment. I hear a lot of breathless predictions about how VR will be transformative, and almost nobody actually using it. I wrote about the hype gap in 2016 -- I don't see any reason to change my opinion today: Virtual Reality Distortion.
As for virtual reality: IDC says headset sales were down a whopping 30.5% year-over-year for the first quarter of 2018, but the market is poised to take off. We've heard that before.
Related posts:
— Mitch Wagner




Executive Editor, Light Reading
Subscribe and receive the latest news from the industry.
Join 62,000+ members. Yes it's completely free.
You May Also Like
---