T-Mobile's jobs pledge smells fishy
T-Mobile's jobs pledge smells fishy
Deutsche Telekom's promise that a T-Mobile and Sprint merger will create jobs has attracted plenty of scepticism, but not cutting jobs could raise difficult questions. These are apocalyptic days for the American telecom worker. The five largest US telcos have collectively shed more than 56,000 jobs in the last three years, nearly one in ten roles, as takeovers, divestments and the dreaded "automation" have squeezed out surplus staff along with the other industrial waste. The worst could be yet to come. Last week, the Department of Justice (DoJ), brushing off concern about the impact on jobs, gave a conditional thumbs-up to the $26.5 billion merger between T-Mobile and Sprint, the country's number three and four players. Employees at both companies will be sweating.
That is despite assurances by dealmakers that a merger would not trigger another round of layoffs. The combined company would, in fact, recruit additional staff, said Timotheus Höttges, the boss of T-Mobile's parent company Deutsche Telekom. "The overall plan is for the larger company to employ more staff than the two previous companies put together," he proclaimed in April 2018. "Additional call center capacity in rural areas will contribute to this, as will network build-out and rollout with the associated demand for staff, including for long-term maintenance. Numerous new stores are also to be opened in these areas."
2015 2016 2017 2018 AT&T 281,450 268,540 280,000 268,220 Verizon 177,700 160,900 155,400 144,500 T-Mobile US 50,000 50,000 51,000 52,000 CenturyLink 43,000 40,000 51,000 45,000 -Level 3 12,500 12,600 0 0 Sprint 30,000 28,000 30,000 28,500 Total 594,650 560,040 567,400 538,220 Source: companies, filings with Securities and Exchange Commission. Note: CenturyLink acquired Level 3 in 2017.
The trouble is that no one really believes him. Mergers nearly always lead to layoffs, because that is one of the main incentives to merge: A bigger business that eliminates duplicate roles can expect juicier profit margins. Because this is all quite unsavoury, senior executives prefer to use jargon like "synergies" when discussing cost savings. But they usually mean job cuts.
The Höttges pledge has attracted more than its fair share of skepticism for a few reasons. The first is the reference to synergies in Deutsche Telekom's original investor presentation on the deal. On the cost side (there is also such a thing as revenue synergies), Deutsche Telekom said it was expecting these to have a net present value of $43 billion. What that means annually is about $6 billion in cost savings, including $4 billion in networks, $1 billion in sales, service and marketing activities and another $1 billion in the back office.
In fairness to the operator, merging players do not have to cut jobs to save money. T-Mobile and Sprint expect to decommission sites and move onto the same IT systems (good luck with a seamless execution of that). "Store consolidation" (meaning store closures) is also promised in the investor presentation. But it does not take a web genius to figure out that fewer facilities and less IT complexity will require a smaller workforce.
Ah, but you are forgetting about 5G, the magical remedy for the world's problems, is the imagined response. Paired up, T-Mobile and Sprint will start their marriage with an investment splurge on the next-generation mobile technology, hiring lots of technicians to put up masts and other paraphernalia. And don't forget the Höttges assurance about more call centers and "numerous new stores," presumably canceling out the store closures in other areas.
While this sounds just about feasible, it doesn't smack of good "digital" business practice. Once the 5G network is finished, why would T-Mobile and Sprint need to retain the employees who built it? Höttges said extra workers would be required for "long-term maintenance." But if operators need additional maintenance staff every time they introduce a new technology, it's no wonder the industry is flailing. What happened to 5G automation and the promise that networks would be self-monitoring? That may seem like bunkum if the maintenance team gets bigger. And that will trouble investors. "If operators fail to automate fully, their business case for 5G in the period to 2024 will be severely compromised," says analyst firm Rethink Research, promoting a recent report on 5G automation this week.
Recruiting call center staff and opening retail outlets would also be at odds with the prevailing trends. Service providers like the UK's Vodafone have been slashing customer service roles as they make use of "chatbots," artificially intelligent software systems that can answer most customer queries. Norway's Telenor has said customers prefer these to real people. Similarly, consumers increasingly choose ordering phones online to walking around shops, which explains why town centers are emptying and people are getting fatter. Apologists for AI say it will create new roles, but none says these will be in call centers or bricks-and-mortar retail.
Want to know more about the Internet of Things? Check out our dedicated IoT content channel here on Light Reading. Eliminating basic overlap is the most common-sense reason to expect some cuts. T-Mobile and Sprint will have no more need for two CEOs than the US has for two presidents. "The idea of merging two companies without it resulting in redundancies is quite remote," said Bengt Nordström, the CEO of consulting firm Northstream and a former C-level telco executive, shortly after the merger plans were first announced last year. "You don't need two core network managers." Communications Workers of America (CWA), a trade union, anticipates a major cull. In a statement published at the end of last week, shortly after the DoJ's blessing, it warned of 30,000 job cuts. This figure is greater than Sprint's total headcount of 28,500, a fact the dealmakers have highlighted in trying to ridicule CWA's analysis, and would equal about 37% of the 80,500 employees across both companies. Yet CWA counts the expected impact on "authorized dealer retail stores" as well as corporate functions. Its analysis points to 25,500 retail cuts and 4,500 at company headquarters. Nor does CWA expect the deal with Dish Networks, a regulatory condition of the merger, to save roles. The TV company is paying $5 billion for Sprint's prepaid business and 800MHz spectrum, and now plans to build its own 5G network. CWA is unimpressed by the remedy. Dish will largely be one of T-Mobile's wholesale customers, not a true competitor, it says, arguing that such MVNOs (mobile virtual network operators) usually operate on low margins and lack their own retail presence. It also has harsh words about Charlie Ergen, Dish's co-founder and chairman, describing him as a spectrum hoarder with a history of failing to meet build-out requirements. Figure 1: Revenues per Employee ($)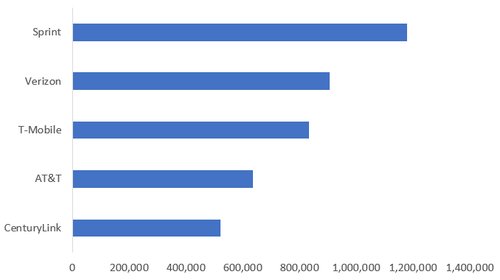 Source: companies. What does count in the merging companies' favor is an absence of any flabbiness today. T-Mobile makes about $833,000 in annual sales per employee, putting it well ahead of AT&T and CenturyLink on this efficiency measure. Sprint does even better, generating nearly $1.2 million in per-employee annual revenues, more than any other telco regularly tracked by Light Reading. Combined, they would have made about $955,000 last year, making them the most efficient of the main US operators. They could not reasonably be accused of lagging US or international peers. But that could still put dealmakers in a dilemma. Hacking away would break earlier promises and risk a backlash; bulking up may leave investors wondering why extra maintenance staff, customer service assistants and physical stores are needed in an automated, online world. One way or another, bosses may have some explaining to do. Related posts: T-Mobile/Sprint Merger Gets DoJ Approval Thanks to Dish's $5B Deal Big Telcos Have Slashed 107K Jobs Since 2015 Dish/T-Mobile/Sprint: Winners, Losers & What's Next Q&A With Dish's Charlie Ergen About His New 5G Strategy Dish Could Unseat T-Mobile as the Uncarrier — Iain Morris, International Editor, Light Reading
Subscribe and receive the latest news from the industry.
Join 62,000+ members. Yes it's completely free.
You May Also Like
---