Ovum Viewpoint: What's Next for WhatsApp as CEO & Co-Founder Jan Koum Resigns
Jan Koum's departure from WhatsApp will make it easier for Facebook CEO Mark Zuckerberg to introduce new business models to the world's most popular chat app, which may potentially mean dialling back some of its data privacy and security features. (See WhatsApp boss and co-founder Jan Koum to quit.)
WhatsApp now has 1.5 billion monthly active users, who primarily use it for communications and sharing content. By contrast, Facebook's other two chat apps, Facebook Messenger and Instagram, are much more commercially oriented, enabling advertising -- which WhatsApp has resisted since its inception -- and commerce.
With Koum's exit, it is likely that Facebook will seek to capitalize on WhatsApp's huge user base to introduce similar capabilities, especially since WhatsApp Business -- WhatsApp's first significant monetization effort -- has amassed only 5 million downloads on Google Play since launch in January 2018.
Fellow WhatsApp co-founder Brian Acton left WhatsApp in September 2017, and earlier this year co-founded non-profit The Signal Foundation.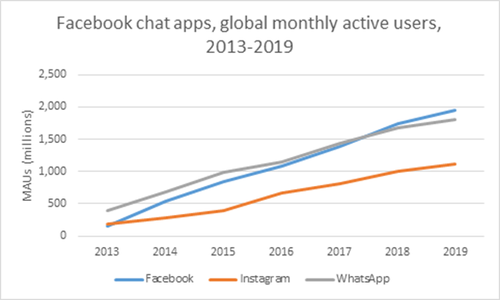 "The risk for Facebook is that if it does decide to restructure WhatsApp as a platform for commerce and content as well as communications, it may lose those users who value WhatsApp solely as a secure communications platform," said Pamela Clark-Dickson, practice leader of Communications and Social unit within Ovum's Consumer and Entertainment Services practice.
"WhatsApp does have significant penetration in many markets, which could initially insulate it from churn, since its users are deeply invested in the platform in terms of their contact list. Jan Koum protected WhatsApp from commercial models he regarded as detrimental to the app's users, and from incursions on their privacy. But with Koum gone the challenge is for Facebook to reassure WhatsApp users that future development of the platform will be beneficial, rather than intrusive. That's a big challenge for Facebook, following Cambridge Analytica and Facebook's response to the looming enforcement of GDPR in Europe.
"Another challenge for Facebook centers on what Koum does next, especially if he follows Acton to The Signal Foundation, as the Signal messaging app shares a similar ethos to WhatsApp in terms of enabling encrypted communications," added Clark-Dickson.
For further information, contact Alison Cross, Head of Marketing Communications, Ovum, at [email protected]