There's a parade of new tablet devices planned for the coming months, looking to take down Apple Inc. (Nasdaq: AAPL)'s iPad, but analyst firm IHS iSuppli believes their efforts will be in vain -- at least for the foreseeable future.

The latest tablet news to get leaked is the Samsung Electronics Co. Ltd. (Korea: SEC) Galaxy Tab, which was teased in a video this week and will hit Germany next week at Berlin's IFA conference. With a sleek 7-inch touchscreen, video calling, and Android 2.2, the device is clearly designed to compete with the iPad. But, according to iSuppli analyst Rhoda Alexander, the Galaxy Tab and others coming after it have little chance of beating the iPad at the game it created.

Apple will claim 74.1 percent of the tablet market in 2010 and will only fall to 61.7 percent of the market by 2012, iSuppli says, even though plenty of other tablets will be in the mix by then.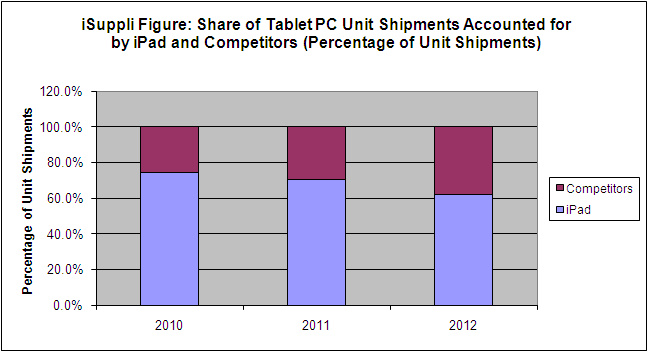 iSuppli came to this conclusion after observing the post-iPhone smartphone market since 2007. After the phone was first launched, the following two years saw several new "iPhone killers," including the little-known Samsung F700 and UTStarcom Inc. (Nasdaq: UTSI) XV6800, and the mildly successful Google (Nasdaq: GOOG) G1 and Palm Inc. Pre. It took three years before the competition even got close, with the Motorola Inc. (NYSE: MOT) Droid and High Tech Computer Corp. (HTC) (Taiwan: 2498) Evo.

So, without even considering features and functionality, the iPad will dominate the tablet market because it's had such a headstart over the influx of challengers, Alexander says.

And on the functionality front, it has the others beat, too. The iPad has the whole package, she says, something others will struggle to emulate. She believes the Galaxy Tab, like the rumored BlackBerry BlackPad, will represent viable alternatives, but still won't come close.

HP Inc. (NYSE: HPQ)'s webOS-based tablet, slated to be launched in 2011 and to focus more on the enterprise than on consumers, may come the closest to dethroning the king, she says.

Operators get tablet hungry
Even with Apple's significant headstart, new tablets coming to market will have wireless operators pushing their cause, as most have committed to extensive tablet portfolios.

Orange France plans to launch three tablets before the end of the year, including a low-cost Android device, the iPad, and another tablet yet to be determined, according to reports in a French publication.

AT&T Inc. (NYSE: T) CEO Ralph de la Vega also recently promised Bloomberg a "huge number of tablets, different sizes, different functions," but that's all he's saying. And Verizon Wireless , too, has talked big on the small computers for both its 3G and upcoming LTE networks. It is thought to have an Android-based Samsung tablet, perhaps the Galaxy Tab, in the works for its upcoming LTE network. (See Samsung Looking for Android-on-LTE Expertise, Tablets Prescribed for Verizon, Samsung Bets on Hardware, and Gadget Watch: Verizon May Be Google's Tablet Pal.)

For these operators, having a solid network reputation and subsidizing a device will be an important differentiator, although data caps might continue to drive others to WiFi-only devices, Alexander says.

On the hardware manufacturer side of things, more tablets are confirmed or at least expected from Acer Inc. , Dell Technologies (Nasdaq: DELL) in the form of the Streak, LG Electronics Inc. (London: LGLD; Korea: 6657.KS) , and even Cisco Systems Inc. (Nasdaq: CSCO), focusing on the enterprise. While they may not be able to one-up Apple's strong points, Alexander believes they could address its shortcomings.(See Cisco Debuts Android Tablet for the Enterprise, Cisco Joins the Tablet Crowd, Top 10 Non-Android Devices to Watch, Five Androids to Watch, and Microsoft Working on Tablet.)

"It's a mix of issues [vendors] are balancing," she says. "You will see products that have more features like Adobe Flash, a camera, USB port -- a lot of the issues that Apple got dinged on in their initial release. New tablets will be covering all those."

— Sarah Reedy, Senior Reporter, Light Reading Mobile