SK Telecom has welcomed in 2019 with a 5G broadcast of New Year celebrations as it continues to set the pace in the commercial development of the next-generation mobile technology. (See SK Telecom Trumpets First Live TV Broadcast Over 5G.)
The South Korean operator, which claimed to have switched on a commercial 5G network at the start of December, relied on the 5G service for an 11-minute broadcast of a New Year countdown, bell-ringing ceremony and interviews on the XtvN television channel. (See South Korea's 5G Lead May Bring Industrial Advantage.)
The broadcast appears to have made use of an in-house technology that SK Telecom (Nasdaq: SKM) (SKT) calls "T Live Caster," which allows videos taken on smartphones to be screened on TV channels over the operator's 4G and 5G networks.
In the case of the New Year broadcast, videos were shot on smartphones that featured the T Live Caster app and then sent over the operator's 5G infrastructure (basestations and routers) to XtvN's transmission system.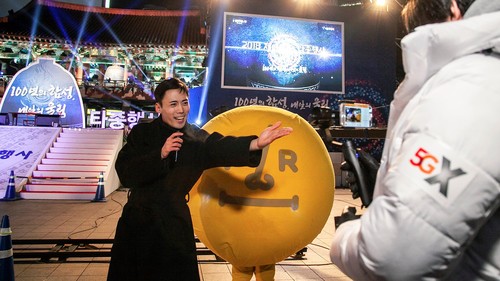 In a sign of its 5G intentions, SKT says T Live Caster could be used in the media industry for live streaming of sports and other events. It also sees a role for the technology in video surveillance to improve public safety.
This year the operator plans to work on connecting the technology to other broadcasting platforms and on ensuring it can support ultra-high-definition content. It will also, it says, tap into the "drone broadcasting" market, having already formed a partnership with a drone maker called DJI back in June 2018.
For skeptics, the big question may be: Why 5G? SKT says its New Year broadcast was transmitted with a signaling delay of less than a second, but such levels are easily achievable on 4G networks.
Moreover, while a 5G network could theoretically reduce "latency" to just a millisecond, there seems little need for that performance level in broadcasting.
---
Want to know more about 5G? Check out our dedicated 5G content channel here on
Light Reading.
---
But unlike 4G, a 5G service would be able to guarantee a certain performance threshold through a technique called network slicing, whereby a portion of the network is effectively reserved for a particular service or industrial use.
Matt Stagg, the sports director of mobile strategy for UK telecom incumbent BT Group plc (NYSE: BT; London: BTA), told Light Reading in November that a throughput guarantee is critical in the broadcasting industry. BT has similarly drawn attention to the broadcasting attractions of 5G technology and recently carried out trials at London's Wembley Stadium. Unlike SKT, BT has yet to launch a commercial 5G network, but hopes to make one available in the second half of 2019. (See BT Hopes to Score With 5G Broadcasting Push.)
Operators in other markets will have a close eye on SKT's early commercial work with 5G technology as they pray for a sales boost from the next-generation mobile technology.
Even though it has been hailed as one of the most successful generations of mobile technology, the 4G standard has failed to make a significant impact on telco revenues, which have remained flattish in developed mobile markets in recent years.
But the telecom industry is hopeful that 5G will bring connectivity into non-smartphone markets, providing data services for robots, cars, factory equipment and in a range of industry sectors.
With 5G smartphones yet to appear, SKT seems to have prioritized the rollout of 5G outside the consumer market that is usually an operator's chief focus. In early December, it revealed details of a partnership with Myunghwa Industry, a car parts supplier, which is using a 5G service from SKT to support process improvements at its factory.
Such 5G applications may give South Korean companies an edge over rivals in other markets. Europe's operators do not expect to launch 5G services until later this year, at the very earliest, while those in North America are currently focused on using 5G to support higher-speed broadband connections in the residential sector. (See AT&T's Nighthawk 5G: Potential Download Could Cover a Wide Range of Speeds.)
The biggest mobile operator in South Korea, SKT serves more than 30 million mobile customers and generated 17.52 trillion Korean won ($13.7 billion) in revenues in 2017.
— Iain Morris, International Editor, Light Reading