Also in today's EMEA regional roundup: EU officials raid Fox's London office; Nokia in talks with Google over airplane broadband sale; Orange Luxembourg goes with Comarch for BSS.
Telefónica has presented what it says is the first 5G demonstration that makes use of the 3.5GHz band for a mobility-related application: an autonomous electric minibus in the city of Talavera de la Reina. The demonstration forms part of the operator's 5G Technological Cities project launched last January. The minibus, from the EasyMile company, incorporates an Ericsson AB (Nasdaq: ERIC) 5G terminal and a CarMedia Solutions platform, which allows passengers to view tourism-related multimedia content, digital services and virtual office applications during their journey.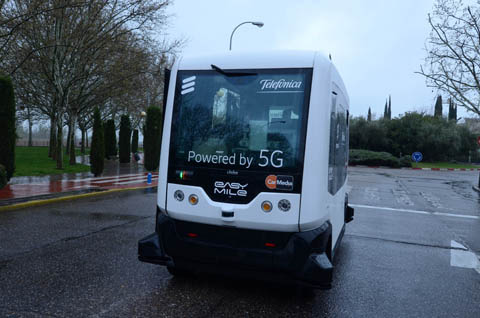 In what could be considered another significant sideshow to the Fox/Disney/Sky/Comcast takeover circus, European Commission officials have raided 21st Century Fox 's London offices as part of an investigation into suspected violations of antitrust rules relating to sports media rights, the BBC reports. In a statement, the European Commission confirmed that it was carrying out a wider investigation into the distribution of sports rights, with "unannounced inspections in several Member States." (See Comcast Bids $31B to Steal Sky From Fox, Disney, Eurobites: UK Media Plurality Concerns Block Fox-Sky Deal and 21st Century Fox Confirms $14.6B Bid for Sky.)
Nokia Corp. (NYSE: NOK) is in talks with Google (Nasdaq: GOOG) about the sale of its airplane broadband business, according to a Bloomberg report.
Staying with Nokia, the Finnish giant is teaming up with SK Telecom (Nasdaq: SKM) to trial LTE-based video and voice applications to enable first-responders in South Korea to communicate more effectively using video, data and voice. As its part of the deal, Nokia will deploy its ViTrust public safety offering, which includes LTE radio access and Cloud Packet Core, in the Pyeongchang, Jeongsun and Gangneung areas of the country.
Orange Luxembourg has chosen Poland's Comarch SA to overhaul its BSS set-up, with the focus on billing and customer management. After it has gone live, the new system will be hosted at Comarch's data center in Lille.
Elsewhere in Orange world, Orange Business Services has got the nod to provide "automated threat intelligence services" to CERT NZ, a cybersecurity unit within the New Zealand government.
Russia's Mobile TeleSystems OJSC (MTS) (NYSE: MBT) has made a number of changes to its senior management line-up, naming Alexander Gorbunov as vice president of strategy and development, Maxim Yanpolsky as vice president of financial technologies and Andrey Kamensky as vice president of finance, investments, mergers and acquisitions. The operator hopes that the new appointments will help with its drive into emerging areas such as fintech.
Dublin-based Openet Telecom Ltd. is trumpeting a policy management contract win with an unnamed Tier 1 APAC operator, ousting Cisco Systems Inc. (Nasdaq: CSCO)'s PCRF in the process. Openet says its offering will help the operator manage RAN congestion by throttling zero-rated video content in congested cells for post-paid subscribers, and throttling all traffic for the heaviest pre-paid users.
Telenor Maritime is to provide WiFi, 3G/4G and backhaul services to Stena Line's passenger ships. Stena offers its passengers a "premium" high-quality WiFi service alongside its tempting "free low-performance" WiFi option. (Their words not mine.)

— Paul Rainford, Assistant Editor, Europe, Light Reading