Certain US officials seem terrified that China will dominate 5G and use it as a springboard to world hegemony like some cat-stroking Bond villain with a dangerous new weapon. While the US prevaricates over a merger between Sprint and T-Mobile, and thirsts for mid-band spectrum, China is speeding ahead in a demonstration of state capitalism's effectiveness.
But recent earnings updates from China's big three operators show they are struggling to pay for their next-generation networks. Just like Europe's ailing, over-regulated telcos, China Telecom and China Unicom are even talking about sharing 5G networks to relieve the individual burden.
Unicom was the first to suggest that it needed a 5G ally when it referred to a "co-build, co-share" strategy in its most recent earnings presentation. A tie-up, it said, could deliver "material savings" in capital expenditure and operating costs. A glance through its headline numbers shows why cost saving is a priority. Year-on-year, Unicom's free cash flow fell 60% in the first half of 2019, to 15.8 billion Chinese yuan ($2.2 billion), due partly to a spending splurge.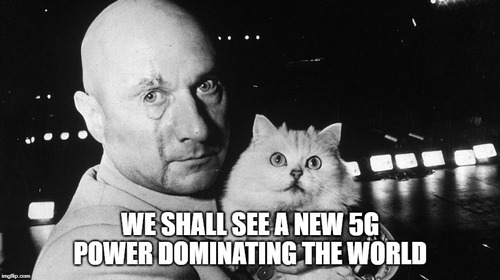 Now China Telecom is humming the same tune. As with Unicom, its earnings presentation this week says a "co-build" and "co-share" strategy would help to slash investment and future maintenance costs. Telecom's financials look healthier than Unicom's, with first-half sales up 2.8%, to about RMB182.6 billion (US$25.8 billion), and free cash flow dipping just 0.4%, to RMB18.3 billion ($2.6 billion). But the smartphone boom in the consumer market has had its day, and capex is rising. As it introduces 5G equipment into its networks, Telecom plans to spend RMB78 billion ($11 billion) this year, up from RMB74.9 billion ($10.6 billion) in 2018.
Mainstream press reports indicate that Telecom went even further during a call with analysts. The company has already reached a "tentative" agreement on sharing with Unicom, said Ke Ruiwen, Telecom's chairman, according to Reuters. While China Mobile, the country's largest operator, remains a loner, it is welcome to join the party, he also said. Networks shared three ways in sparsely populated areas would make economic sense.
But the details remain extremely hazy. The chief uncertainty is around exactly what the operators would share. Making use of the same towers, poles and other "passive" infrastructure would be no great leap. Through an infrastructure business called China Tower, all three operators have already pooled mobile towers to reduce costs. It has already received orders to install 65,000 5G basestations and expects the number to hit 100,000 by the end of the year, reports Reuters.
---
Want to know more about 5G? Check out our dedicated 5G content channel here on
Light Reading.
---
Sharing basestations and other "active" equipment would entail much closer collaboration. It would make service differentiation harder and mean relying on the same equipment vendor. Because Huawei is expected to land most of the 5G business with the country's operators, cost savings from active network sharing could ultimately mean less revenue for the Chinese manufacturer: Given the US-led backlash against Huawei in other countries, China's authorities might not want this to happen.
Despite their apparent difficulties, China's operators still expect to have a significant 5G footprint by the end of this year. Both Telecom and Unicom plan to install around 40,000 basestations each by the end of this year, while Mobile is aiming for more than 50,000. These figures look small next to their 4G deployments of 2.71 million basestations for Mobile, 1.52 million for Telecom and 1.35 million for Unicom. But to give them some context, Germany's Deutsche Telekom currently has fewer than 30,000 mobile sites in its domestic market, while BT has 19,000 4G sites in the UK. The ratio of 4G sites to people is about 1:500 for China Mobile. For BT, it is around 1:3,500.
How quickly China's 5G footprint grows next year will depend on the details of any network-sharing deals, as well as Chinese government priorities. In partnership, Telecom and Unicom could avoid site duplication and cover a bigger area faster. But active sharing in busy districts could hit service quality. And authorities may want to be careful that telco tie-ups do not put a further brake on Huawei, given its current international tribulations.
World 5G domination doesn't come easy.
Related posts:
— Iain Morris, International Editor, Light Reading