JDSU's Location Intelligence business unit Arieso is shedding some light on who would most benefit from mobile data rollover: Turns out it is the 1%.
Don't blame it on the rich -- it's the 1% of LTE users that are consuming 56% of all mobile data, the same 1% that JDSU (Nasdaq: JDSU; Toronto: JDU) found were responsible last year. At that time, the test and measurement company noted that LTE users were consuming ten times as much data than they did on 3G devices. (See LT-Extreme: 4G Subs Use 10X More Data and iPhone 5 Is Top Euro Data Hog.)
This is the fifth annual report Arieso, which JDSU acquired in 2013, has released. This year it studied where this extreme data use was happening as well and found that 50% occurs in .35% of the geographic area covered by a wireless operator. Even more interesting -- or concerning, depending on your point of view -- is the fact that 73% of mobile data in these so-called "extreme hotspots" is consumed in residential and industrial areas -- places you'd think WiFi predominates. (See JDSU Buys Mobile OSS Vendor for $85M.)
JDSU's study covered 17,000 square kilometers, including urban, suburban and rural areas and encompassed 1.6 million customers on Tier 1 mobile operator networks. The vendor found that in the top 100 areas of extreme data usage, 48% were residential and 25% were industrial. Dense urban areas only represented 13% of extreme data usage.
---
For more on mobile data usage, peruse our LTE content channel here on Light Reading.
---
Mobile operators use the data deluge to justify everything from their M&A to spectrum grabs to higher prices. It's clearly a real problem. However, studies like JDSU's are a good reminder of just how concentrated the data usage is, by users, but also by geographies. JDSU unsurprisingly concluded that network planning needs to be based on in-depth data usage and experience intelligence -- tools that one of its newly spun-out public companies, the one dubbed Viavi Solutions, provides. (See Let There Be Lumentum! JDSU Names Its New Empire.)
I took away a few other conclusions as well: one, small cells and targeted coverage solutions like DAS (distributed antennas solutions) are increasingly important ways to improve coverage and capacity in targeted areas where it's most needed, including indoors where blanket macro upgrades don't necessarily reach. (See LTE Small Cells Set to Be Big in 2015.)
Two, despite all the attention WiFi gets, there's still more that can be done to make it the default network of choice, starting at home. Devicescape Software Inc. 's past research has backed this up, too. The WiFi curator said in 2013 that as much as 30% of smartphones still aren't connecting to WiFi when users are at home, despite having secure networks set up. (See Investments on the Rise for Carrier-Grade WiFi and Devicescape Preps Auto WiFi-to-Cellular Software.)
Finally, I think the report findings reiterate that the new data rollover plans offered by T-Mobile US Inc. and AT&T Inc. (NYSE: T) are mainly just posturing for good PR. Most people don't use their allotted data plans, although the 1% that do really go all out. Those are the ones who would truly benefit from data rollover plans -- that is if operators can move them from the grandfathered-in unlimited plans they are probably still clinging to. (See AT&T Revives Its 'Rollover' for the Data Era and T-Mobile Deploys 700MHz, Starts Data Rollover .)
For more stats from JDSU's 2015 findings, check out its infographic below: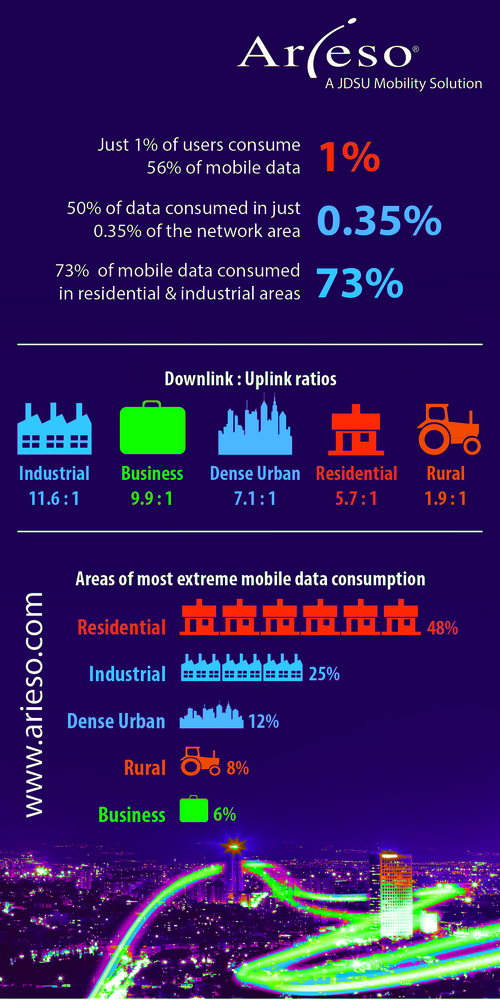 — Sarah Thomas,

, Editorial Operations Director, Light Reading