IBM Cloud Appliance Has Wheels & an Extendable Handle
IBM Cloud Appliance Has Wheels & an Extendable Handle
The IBM Cloud Mass Data Migration appliance rolls data from on-premises to an IBM Cloud data center. People who love travel gadgets and enterprise cloud will go nuts for the IBM Cloud Mass Data Migration appliance.
It's a 120TB storage appliance with wheels and an extendable handle, like your favorite rollaboard luggage. And it's about the size of a suitcase. You wheel it around your data center and plug it in to download data.
And when the device is full, you physically ship it to IBM Corp. (NYSE: IBM) via UPS, for the next step in your cloud migration.
It's designed for cloud migration in situations where slow or unreliable Internet connections make bulk data transfer over wide-area networks impractical, Michael Fork, distinguished engineer and director for cloud infrastructure, IBM Watson and cloud platform, tells Enterprise Cloud News.
Figure 1: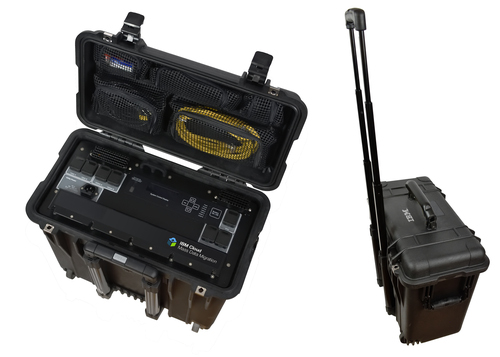 The IBM Cloud Mass Data Migration appliance.
The appliance is designed to be affordable, simple and easy to use, Fork says. It's $295 plus $100 for overnight shipping via UPS Air. "It shows up at your door, you plug it in, ship it back to us, we plug the data into IBM Cloud Object Storage, and expose it back to you," Fork says.
The device has 12 12TB drives with 120TB of usable storage running RAID-6 in a rugged, tamper-resistant, shockproof case. Without RAID-6, if you have a drive fail during transfer you have to start again. With RAID 6 you just keep going, Fork says.
The appliance supports AES 256 bit encryption and streaming compression; users can compress data on the fly, with no need to set aside resources in the data center to compress data prior to transfer.
Figure 2: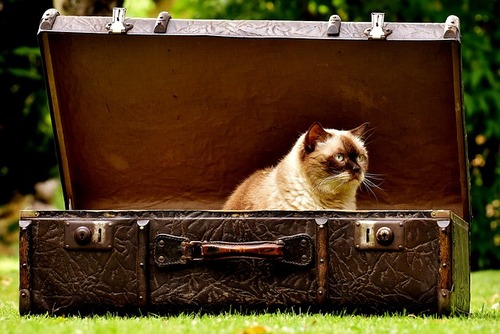 Unnecessary photo of a cat in a suitcase. Thanks, Max Pixel!
Keep up with the latest enterprise cloud news and insights. Sign up for the weekly Enterprise Cloud News newsletter.
As you wheel the appliance around your data center, you connect to the local network over 1- or 10-gigabit Ethernet connection. "When you're done you unplug it, put a shipping label on it, call UPS, they deliver to us and we ship to to our data center," Fork says.
But is it as sexy as Amazon Snowmobile, which transfers data in a tractor-trailer truck, each of which holds 100 petabytes of date? (See Gigabites: Amazon Truck Packs 100PB of Data.)
"We were building the most economical, portable storage device," Fork says. "We wanted to make it the most easy to use and transport the largest amount of data to the cloud. That's what we were going for."
The appliance complements IBM Aspera, a network-based transfer technology.
It also complements IBM's VMware Inc. (NYSE: VMW) partnership, where IBM runs enterprise VMware virtual machines on IBM Cloud. Enterprises can ship VMs from on-premises to IBM data centers using the IBM storage appliance, Fork says. (See IBM, VMware Cement Cloud Partnership.)
Related posts:
— Mitch Wagner




Editor, Enterprise Cloud News
Subscribe and receive the latest news from the industry.
Join 62,000+ members. Yes it's completely free.
You May Also Like
---